---
Reports & Resources
WateReuse Recycled Water Signage Guidelines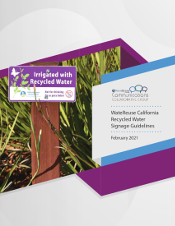 This WateReuse California Signage Guidelines provide guidance for creating a more uniform message to the public at properties where recycled water is in use.
The guidelines include suggestions for sign composition, color, font, size, and message. The guidelines also offer translations of frequently used messages on recycled water signs.
The document can be used to gather ideas for creative approaches to recycled water signs, or it can be used as a reference of sign options to consider using.
View the Guidelines document here.
Templates