---
Reports & Resources
Communicating about Pharmaceutical and CEC Management in Recycled Water
Learn more about how utilities discuss pharmaceuticals and contaminants of emerging concern when communicating about recycled water. The WateReuse California Communications Collaborative Group conducted a survey in 2021 to learn more about this issue, and published findings in support of the National Water Reuse Action Plan, Action 2.9: "Align policies and communication tools to promote best management of unused and expired pharmaceuticals to support water reuse and recycling."
Bay Area Recycled Water Landscape Guide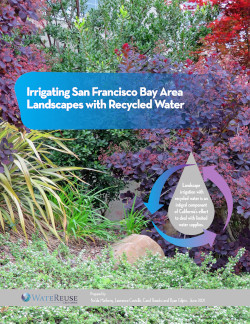 Irrigating San Francisco Bay Area Landscapes with Recycled Water is an easy-to-use 20-page document that includes a plant list for the Bay Area. WRCA encourages Bay Area members to post the guide on their websites and make it available to customers. The primary author is Nelda Matheny, who is a senior consultant with HortScience. Eric Hansen, formerly with Silicon Valley Clean Water, helped initiate and manage the project with support from Bay Area Clean Water Agencies and a number of individual agencies in the Bay Area. The guide is dedicated to the memory of Dr. Bahman Sheikh, who provided numerous editorial reviews.
WateReuse Recycled Water Signage Guidelines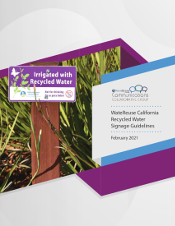 This WateReuse California Signage Guidelines provide guidance for creating a more uniform message to the public at properties where recycled water is in use.
The guidelines include suggestions for sign composition, color, font, size, and message. The guidelines also offer translations of frequently used messages on recycled water signs.
The document can be used to gather ideas for creative approaches to recycled water signs, or it can be used as a reference of sign options to consider using.
View the Guidelines document here.
Templates