---
WateReuse California
At no time in our history has the use of recycled water been more important than it is today, especially as California and Western United States are experiencing the worst drought in 500 years. To address the severe and persistent shortage of water, WateReuse California is actively engaged in working with our appointed and elected officials to pass legislation and develop regulations that will accelerate the implementation of water reuse. The depth and breadth of experience within the organization also makes us the go-to organization for communities who are advancing water reuse to meet local demand for water.
2017 Annual Conference
Join us for the 2017 WateReuse California Annual Conference, March 19-21, at the Westin San Diego. The conference will feature more than 60 technical sessions, poster presentations, a tour of Pure Water San Diego and the Claude "Bud" Lewis Carlsbad Desalination Plant, a reception at the House of Blues, an awards luncheon, the annual Gordon Cologne Breakfast, and a popular exhibit hall.
CASA and WateReuse CA Public Policy Forum
Wednesday, April 19, 2017
9:00 am to 1:30 pm | The Sutter Club | 1220 9th Street | Sacramento, CA 95814
Who should come? Upper Management, Board Members and Legislative Directors
This one day event begins with a half day session featur­ing prominent speakers and a policy briefing, followed by pre-arranged visits with your local legislators at the State Capitol.
DDW Briefing on Draft DPR Report to the CA Legislature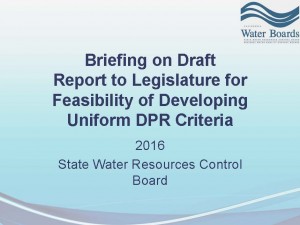 The State of California's Division of Drinking Water (DDW) released a draft report September 8 on the feasibility of developing statewide regulations for direct potable reuse of recycled water. The draft report is available for review and input during a 45-day public comment period.
WateReuse California hosted three briefings on the report with the support of representatives from  DDW, members of the DPR Expert Panel, the Advisory Panel, and others. To view the presentation from the briefings, click the image to the left.
Video: DDW/Expert and Advisory Panel Briefing on DPR (Northern California Chapter 9/29)
New Resource Available for Water Reuse Communications
With water reuse playing an increasingly important role in California's water supply portfolio, WateReuse California partnered with a working group of ACWA's Communications Committee and the California Association of Sanitation Agencies to develop a list of terms recommended for use in communicating about water reuse.  The Water Reuse Terminology includes commonly used terms and definitions intended to provide consistent and easy-to-understand messaging.
Apply for Proposition 1 Recycled Water Funding
Proposition 1 contained $625 million primarily for grants and loans for local recycled water projects.  Two percent of this funding will also go towards recycled water research.  If your agency has any interest in seeking Proposition 1 funding for recycled water, apply today by visiting the State Water Resources Control Board, Division of Financial Assistance website.
WateReuse California endorsed the bond when it appeared on the ballot in 2014.
California Direct Potable Reuse Initiative
In 2012, WateReuse California and WE&RF launched a strategic initiative to support the development of statewide criteria for direct potable reuse. For more information, visit Strategic Initiatives.
Contacts
Jennifer West, Managing Director
(916) 669-8401
Jwest@watereuse.org
1121 L Street, Suite 606
Sacramento, California 95814