---
WateReuse California
California has just experienced what may be the worst drought of the last 500 years. If history is a guide, however, the next drought may be just around the corner and we need to be prepared. WateReuse California is actively engaged in working with our appointed and elected officials to pass legislation and develop regulations that will accelerate the implementation of both non-potable and potable reuse. The depth and breadth of experience within the organization also makes us the go-to organization for communities who are advancing water reuse to meet local demand for water.
Water Board States Recycled Water is Safe from COVID-19
The California Water Board released a fact sheet explaining that California's recycled water and treated wastewater are safe from the COVID-19 virus. According to the fact sheet, sanitation experts have determined that existing treatment plant disinfection processes successfully disinfect wastewater containing the COVID-19 virus. Municipal wastewater treatment plants in California go beyond minimum requirements and provide additional tertiary filtration treatment to meet stringent State Water Board public health standards for water disposal or water recycling whenever there is a risk to the public.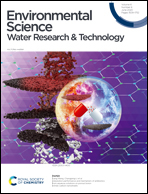 ESWRT Editorial: California's Robust Multi-Barrier Treatment Requirements Protect Potable Reuse Supplies from SARS CoV2
Please see the latest editorial in Environmental Science Water Research and Technology that examines how California's regulations, with their robust multi-barrier treatment processes, protect potable reuse supplies from emerging pathogens, including for SARS CoV2 (COVID-19). Learn what additional studies and actions are underway to assess the full impacts of COVID-19 on potable reuse supplies and future regulations for Direct Potable Reuse. Read More.
WateReuse California Celebrates 30 Years of Reuse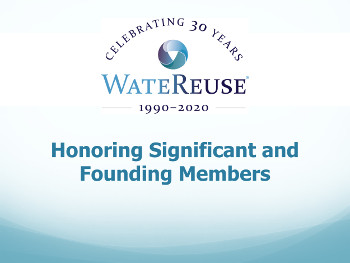 Thirty years ago water leaders in California founded the WateReuse Association.
"We were mavericks. No other association was willing to push the envelope for water recycling."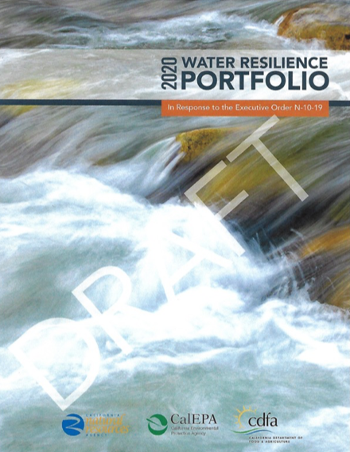 WRCA Comments on Governor's Water Resilience Portfolio
WRCA provided comments on Governor Gavin Newsom's draft 2020 Water Resilience Portfolio, which featured many recommendations contained in the California WateReuse Action Plan. Over the last six months members of the WRCA Board of Trustees and the Managing Director, Jennifer West, met the state Water Board, Cal-EPA, the California Resources Agency and the California Department of Food and Agriculture to discuss reuse issues and make recommendations for what should be included in the Portfolio.
WRCA and NWRI Release SOP Guidance Document for Bioassays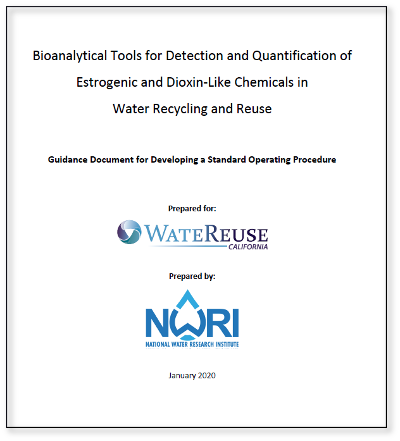 WateReuse California (WRCA) and National Water Research Institute (NWRI) released the first guidance document for developing a standard operating procedure (SOP) for bioanalytical testing for potable reuse. This document is intended to assist potable reuse agencies in complying with the bioassay monitoring requirement that will begin in 2020.
On December 11, 2018, the State Water Board amended the Recycled Water Policy to include requirements for facilities that produce recycled water for indirect potable reuse via groundwater recharge and reservoir water augmentation to monitor using two bioanalytical screening tools (ERα and AhR). WRCA commissioned NWRI to develop a guidance document for ERα and AhR bioassays monitoring tests.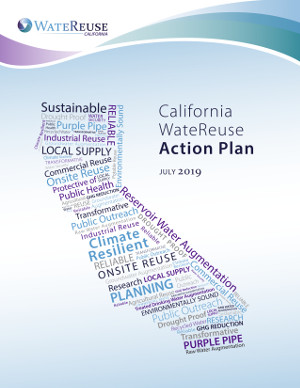 California WateReuse Action Plan
WateReuse California released the California WateReuse Action Plan — a comprehensive set of proposed actions that will more than double the use of water recycling in California and help prepare the state for the impacts of climate change. The Plan identifies four strategic areas for action: research, regulations, regional planning and funding and includes 20 specific recommendations.
For more information, please contact us:
Jennifer West, Managing Director
(916) 669-8401
Jwest@watereuse.org
1121 L Street, Suite 606
Sacramento, California 95814
Charles LaSalle, Regulatory and Legislative Affairs Manager
(916) 216-6015
clasalle@watereuse.org
1121 L Street, Suite 606
Sacramento, California 95814