---
Water Week and National Water Policy Fly-In
Save the Dates
WateReuse, AMWA, AWWA, NACWA, USWA, WEF, WRF, and WWEMA have agreed upon these future dates.

Water Week 2022 | April 24 – April 30
Water Week Website
Highlights from Water Week 2021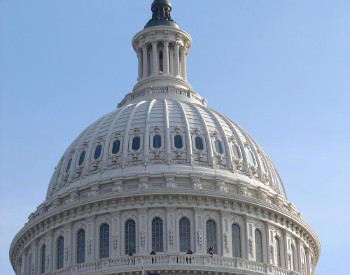 In April 2021, the water sector joined as one voice to elevate water as a national priority. In celebration of Water Week 2021, water leaders met with their congressional delegations, participated in events, and heard from government officials on the necessity to build back better by investing in water infrastructure, including water reuse. The WateReuse Association thanks all Association members who participated in this year's virtual Water Week.
Water Week Op-Ed: How Do You Create Resilient Communities? Invest in Water Reuse
To truly help America Build Back Better and ensure jobs creation, investment in water recycling is essential, according to a Water Week Op-Ed published in WaterWorld. WateReuse President Gilbert Trejo of El Paso Water and Executive Director Patricia Sinicropi urged Congress to invest in water reuse to not only help communities rebound from the pandemic, but also to provide them with the tools to build resilience to drought, flooding, and other impacts of climate change. Read more.
Top Agency Officials and Leaders in Water Reuse Mark One Year Anniversary of National Water Reuse Action Plan
The story of the Water Reuse Action Plan's first year of implementation is one of incredible dedication and determination by a growing community of over 100 different organizations. Over 300 participants joined for Resilience through Collaboration: First Year Highlights and Future Directions of the National Water Reuse Action Plan, a webcast featuring reflections of the past year and insight into the future of water reuse. Leaders from the U.S. EPA, Department of Energy, and other agencies joined to re-commit to the collaborative plan. Felicia Marcus, William C. Landreth Visiting Fellow at Stanford University's Water in the West Program and a WateReuse Board member, provided keynote remarks noting that this is "water reuse's moment." Dr. Sharon Nappier, EPA National Program Leader for Water Reuse, previewed the newly released National Water Reuse Action Plan: Update on Collaborative Progress and the successes of the last year, including the addition of 19 new collaborating organizations and 7 new WRAP actions.
EPA and Members of Congress Join Water Week Policy Zoom-In
The Water Week Policy Zoom-In served as an opportunity for the water sector to hear directly from key EPA officials and Members of Congress on the important regulatory and legislative water policies they are working on now and in the years ahead. U.S. EPA Administrator Michael Regan emphasized climate resiliency during his remarks and announced new funding under WIFIA, as well as the formation of an EPA council on PFAS. Regan also discussed the Administration's commitment to eliminate lead pipes and service lines. Radhika Fox, Principal Deputy Assistant Administrator in the Office of Water, noted that now is "water's time in the spotlight" and encouraged the water sector to engage with EPA. The moderator, Angela Licata, Deputy Commissioner of New York City Department of Environmental Protection, and EPA's Dr. Sharon Nappier, both highlighted the importance of water reuse and recycling's role in building resiliency. The webinar was hosted jointly by this year's Water Week Water Association Partners.