---
WateReuse Arizona
WateReuse Arizona is comprised of state water professionals working together to encourage and assist communities achieve sustainable water supplies through reclamation and reuse. WateReuse Arizona annually holds a Symposium.
FACT SHEET: Implications of COVID-19 for Water, Wastewater, and Water Reuse
Excerpt from Fact Sheet – How can water/wastewater/water reuse agencies get involved? As a water/wastewater/water reuse agency, there may be opportunities to actively participate in this important research effort. Although standard methods exist for clinical testing, there are no standard methods for environmental surveillance of SARS-CoV-2, and given the current 'stay-at-home' directives in many states, research is currently on hold in many places. However, there are still measures that can be adopted now to assist in future research efforts. One option is to freeze at least 1 liter of composite influent wastewater/raw sewage each week—or whatever frequency is practical for a given facility. If possible, this sampling should continue throughout the duration of the outbreak and beyond to account for unexpected spikes in COVID-19. Once activities resume at universities and other research agencies, there will be considerable demand for these samples so that the industry can learn from the current pandemic and adopt best practices for the future. There will be additional guidance from researchers and/or research foundations on how to participate in these future efforts. View the Fact Sheet.
2020 WateReuse Arizona Webinars
In lieu of an in-person meeting, WateReuse Arizona brought together experts on a series of webinars discussing brine management and the past, present, and future of Arizona's water portfolio. The webinars can be viewed here.
What Strikes Fear in the Hearts of Arizona Water and Wastewater Utilities? Brine Management
There has been a perception that brine management is a "down the road" issue for water providers in Arizona.  However, for the Phoenix Metro West Valley and the Tucson area water suppliers, that is not the case.  The "Easy button" to discharge to the sanitary sewer system is a short term fix that is not working.  Brine ponds smell and are expensive.  Regional solutions may be required.  An update on the Central Arizona Salinity Study options and new options will be reviewed with associated costs presented.  This update can provide a basis for the continuing collaborative brine management conversation.
Panel Discussion: Past, Present, & Future Reuse as Part of Arizona's Water Portfolio
Arizona's water managers and policy makers have long touted the practice of using treated wastewater in many areas of the state and putting it to beneficial use. However, every community uses effluent differently depending on their community's needs, history, and the make-up of the other sources in their water resources portfolio.
Differences range from the size and locations of their reclaimed purple pipe system, to recharge facilities for Long Term Storage Credits, to exchange agreements, and the next horizon of direct potable reuse. What kind of investments are communities making to secure their water future using effluent? How do these communities approach water reuse differently, what are the similarities, and why?
This panel explores how communities from Northern to Southern Arizona and from East to West Valley use treated effluent as a component of their water resources portfolio.
2019 Arizona Water Reuse Symposium
The 2019 Arizona Water Reuse Symposium co-hosted by WateReuse Arizona and AZ Water Association was held July 28 – 30, 2019 at Little America Hotel in Flagstaff, Arizona. Symposium attendees enjoyed participating in the 4th Annual Purple Water Balloon Battle and witnessing the transfer of the trophy from Team UofA to Team ASU. Besides a full program of sessions and videos from Arizona Senators Martha McSally and Krysten Sinema, attendees also enjoyed a sunset chair lift ride prior to dinner at the Hart Prairie Lodge at Arizona Snowbowl. The event ended with an optional tour of Arizona Snowbowl's Reclaim Water Snowmaking System. The presentations are available here including the Senator's videos. Photographs from the event are available here. Professional Development Certificates (PDH) are available by contacting Lisa Culbert.
*Presentations can be found here.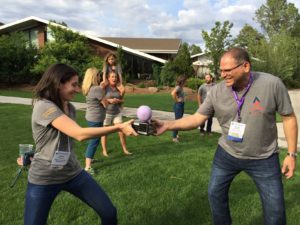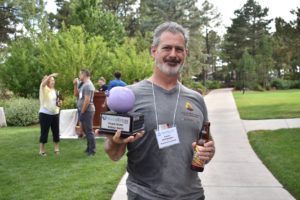 2019 WateReuse Arizona Awards
The Arizona section presented two awards during the 2019 Arizona Water Reuse Symposium in Flagstaff. The Project of the Year award was presented to the Town of Marana for their Water Reclamation Facility Recharge Project which is focused on recharge of recycled water, designed for future multi-benefit recreational and wildlife habitat and will help meet the future water needs of this southern Arizona community. The finer points of the project include:
1st Phase 2 MGD recharge capacity, master planned to 3.5 MGD
Project consists of deep recharge basins (>20 feet) to overcome poor infiltration rates at shallow depths; but used spoils to create relief at the facility for wildlife watching
Master Plan design will include educational features, ramadas, trails, birdwatching, etc.
Extends the riparian corridor along the Santa Cruz River
The challenges for this project included being located in a floodplain for complex permitting and the pipeline delivery system had to cross an active irrigation canal. Congratulations Town of Marana!
A special President's Award of Recognition was also presented to a very surprised Brad Hill! Brad is the Water Services Director for the City of Flagstaff and is planning to retire at the end of the year. This award recognizes his many years of outstanding dedication and commitment to the mission of the WateReuse Association and the responsible stewardship of water resources within the state of Arizona. Congratulations Brad!
2019 WateReuse Arizona Scholarship Recipients
WateReuse Arizona presented two scholarships of two-thousand five hundred dollars ($2,500) each to Arizona university and college students at our 2019 Arizona Water Reuse Symposium. Congratulations to Neha Gupta and Mallory McMurray!
Neha is currently a PhD candidate at the University of Arizona in the Department of Hydrology and Atmospheric Sciences. Mallory is a recent University of Arizona graduate with a B.S. in Environmental Engineering and is beginning her Master's in Chemical Engineering at the University of Arizona.
The Genius of Potable Reuse: California is Discovering that Wastewater has Incredible Value
An Op-Ed by University of Arizona professor Robert Glennon published in the Los Angeles Times discusses building resilience in water supplies. Read the article.
New Report Provides Recommendations for the Regulation of Direct Potable Reuse in Arizona
WateReuse Arizona, AZ Water Association, and the National Water Research Institute (NWRI) are pleased to announce the publication of Guidance Framework for Direct Potable Reuse in Arizona, a 114-page document meant to inform the State of Arizona as it develops regulations for direct potable reuse (DPR) that are protective of public health and effectively manage the state's water resources. Download Report.
Contacts
Lisa Culbert, Executive Administrator
(602) 332-3174
watereuseaz@cox.net
John Kmiec, Deputy Director
Tucson Water
john.kmiec@tucsonaz.gov