---
Public Health and Medical Community Initiative
Building Public Acceptance Among Medical and Health Professionals
Although water reuse is a proven, science-based process that has been used safely in communities around the world for decades, the public is often skeptical when the concept is first introduced into a community. Because of the nexus between water and health, the public naturally turns to the medical community for assurances about water quality. The medical community, in turn, relies on the scientific community and public health officials for their expertise in determining standards for water quality.
To build acceptance among medical and health professionals, WateReuse has launched the Medical Community Initiative. The effort has three goals:
Establish an online hub of informational resources that members can access to help educate medical and health professionals in their community.
Build partnerships with research universities, associations for medical and health professionals, and other advocacy organizations to create channels for communications to medical and health professions.
Participate in conferences for medical and health professionals.
For more information about the Medical Community Initiative, please contact Zachary Dorsey.
Communicating about Recycled Water and Public Health

Water and Health:
A Physician Looks at Water Reuse
This PowerPoint presented at the 2023 WateReuse Symposium includes presentations from the EPA, CDC, and the Santa Clara County Medical Association. The presentation highlights the successes of engaging medical professionals in Santa Clara County, CA and applies the medical profession's "Informed Consent" model to water reuse communications.

Prescription for Success:
Why and How to Engage the Medical Community
This 2018 PowerPoint explains the background and the importance of engaging our medical communities about water reuse. The topics include water scarcity, risk assessment, public perception, and potable reuse.

Profiles in Reuse:
Potable Reuse
This flyer informs medical professionals, ratepayers, elected officials, and other stakeholders about the safety and reliability of using purified water as part of the drinking water supply.

So Your Patients Ask about Potable Reuse
Below are some resources created by the medical and public health community for practitioners with questions about recycled water health and safety.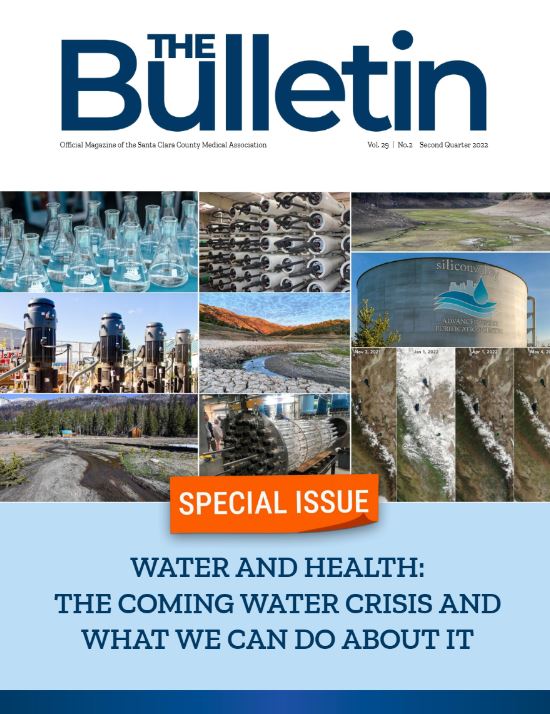 Read this special issue of the Santa Clara Medical Association Bulletin dedicated to recycled water and potable reuse. The articles provide general information of value to medical professionals explaining water quality to their patients, and a special focus on the local Valley Water program.
This article from San Diego Physician magazine provides guidance for San Diego area doctors that may receive questions about Pure Water San Diego, which will provide a third of San Diego's water supply by 2035.
COVID-19 and Water Reuse
Learn more about water treatment processes and the safety that these systems ensure against COVID-19 and other diseases.
Water Reuse Case Studies
El Paso Water's Advanced Water Purification Program
El Paso Water is designing an Advanced Water Purification Facility, which will produce up to 10 million gallons per day of water to supplement the city's drinking water supplies.
CNN's Dr. Sanjay Gupta visits El Paso Water.
Advanced Water Purification Facility Update
City of Wichita Falls, Texas
Wichita Falls returns purified effluent to Lake Arrowhead via a 17 mile pipeline to extend potable supplies. Medical professionals and others discuss the potable water reuse project.