---
WateReuse Nevada
2019 Scholarship
The Nevada WateReuse Association, an organization of water professionals throughout the state, is providing undergraduate and graduate scholarships in the amount of $1,000 to assist students attending a Nevada institution of higher education. Up to two (2) scholarships will be awarded to undergraduate students and up to five (5) scholarships will be awarded to graduate students.
Criteria
 Scholarships will be awarded to undergraduate or graduate students attending a Nevada (southern or northern) university or community college.
Qualified students must be pursuing a degree in a field related to water reuse.
Application Process
Student applicants must submit the following:
A completed Application Form
Curriculum Vita that emphasizes work/research experience, extracurricular activities, student organization involvement, past awards, etc.
Essay (see Scholarship Application Form for requirements)
Unofficial Transcript
Deadline
The 2019 application packet must be received by Friday, November 8th. Applications received after that date will not be considered. Applications must be received in electronic format.
Please attach all application documents to an email and send it to Brittany Radke at Brittany.Radke@stantec.com.
---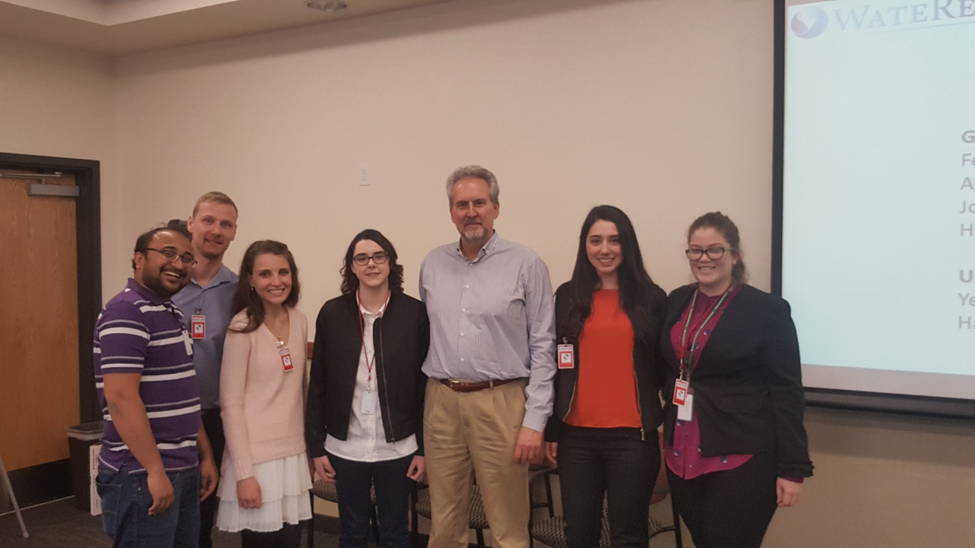 From Left: Harshad Oswal, Alisson Luiz Boeing, Brittany Radke (Scholarship Program Chair), Hannah Woods, Dan Fischer (WateReuse Nevada Section President), Fernanda Bacaro, and Yesika Otano Alonso.
In 2016, the Nevada WateReuse Association created a scholarship program for students enrolled in undergraduate and graduate programs at schools located in southern Nevada. The second scholarship cycle in 2017 had an impressive turnout receiving many competitive applications from students in a variety of programs of study. The scholarship introduces students to participating in WateReuse Nevada and supports them in preparing to become leaders in water reuse.
At the quarterly meeting held on January 10, 2018, the scholarship recipients were presented with their awards. Two undergraduate scholarships were awarded to Hannah Woods and Yesika Otano-Alonso. Four graduate scholarships were awarded to Fernanda Bacaro, Alisson Boeing, John Michael Gonzales, and Harshad Oswal. Each student received a certificate acknowledging their achievement along with a $1,000 scholarship to be used for their studies.
---
Vision
Water reuse leads to One Water.
Mission
WateReuse Nevada promotes a sustainable water cycle through collaborative resource stewardship.
Contact
Dan Fischer, President
Clark County Water Reclamation