---
Meetings & Events
There are no upcoming events to display at this time.
2016 Nevada Section WateReuse Scholarship Winners
In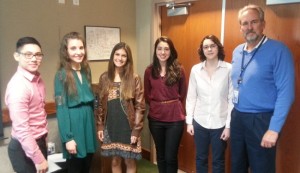 2016, the Nevada WateReuse Association created a scholarship program for students enrolled in undergraduate and graduate programs at schools located in southern Nevada. The inaugural scholarship cycle had an impressive turnout receiving many competitive applications from students in a variety of programs of study. The scholarship introduces students to participating in WateReuse Nevada and supports them in preparing to become leaders in water reuse.
At the quarterly meeting held on January 11, 2017, the scholarship recipients were presented with their awards. Two undergraduate scholarships were awarded to Hannah Woods and Ivan Crisologo and two graduate scholarships were awarded to Mayara Aquino and Fernanda Bacaro. Each student received a certificate acknowledging their achievement along with a $1,000 scholarship to be used for their studies.
Photo
From Left: Ivan Joseph Crisologo (Student), Brittany Radke (Scholarship Committee Chair), Mayara Aquino (Student), Fernanda Bacaro (Student), Hannah Woods (Student), Dan Fischer (President, Nevada WateReuse Section)