---
National Water Reuse Action Plan
The National Water Reuse Action Plan (WRAP) is a project of the U.S. Environmental Protection Agency (US EPA) along with federal agency and water sector partners to develop bold actions that accelerate the adoption of water recycling through integrated and collaborative water resources planning.
The WateReuse Association led a coalition of our members and partner water associations and to provide input on the plan, and we continue to lead on many WRAP actions.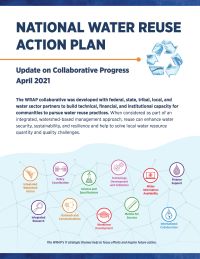 U.S. EPA WRAP Resources
WRAP Implementation
Update on Collaborative Progress: Document highlights accomplishments across the first year.
Printed Publication: A print version that profiles actions with committed leaders and summary-level information about each action implementation plan.
WRAP Online Platform: A web-based repository that includes all actions (developed and undeveloped) and full action implementation plan text, where applicable.
WateReuse Leadership
WateReuse is leading or co-leading a variety of actions, including developing a database to track and report state-level policies and regulations related to water reuse; establishing a water reuse award to recognize significant achievements in adopting and promoting water reuse in the industrial and corporate sectors; and helping to organize events related to stormwater reuse, inter-state collaboration, and workforce development.
Actions Leading/Co-leading
Action 1.2: Prepare case studies of successful water reuse applications within an integrated water resources management framework.
Action 2.1: Compile existing state policies and approaches to water reuse.
Action 2.16: Support local and regional reuse projects by identifying challenges, opportunities, and models for interagency collaboration.
Action 3.3: Convene experts to address opportunities and challenges related to urban stormwater capture and use. Action team developed a webinar series:
(new!) Action 5.5: Quantify the National Volumes of Water Potentially Available for Reuse
Take WEF's ReNEW Survey (Closes August 9th, 2021): If you are a wastewater recovery facility, please consider responding to WEF's ReNEW Survey. The information you provide will be used to inform the ReNEW Water Project Resource Recovery Baseline Report as part of WRAP Action 1.5.
Action 8.1: Compile and develop water reuse program outreach and communication materials.
Action 8.4: Establish a water reuse champion award program for private sector companies.
Action 9.2: Support and promote opportunities for creating a skilled workforce for water reuse applications.
Actions on which WateReuse will Partner
Action 1.4: Leverage EPA's water partnership programs to consider water reuse in the context of integrated water resources management at the watershed scale.
Action 2.2: Enhance state collaboration on water reuse.
Action 2.4: Enhance wastewater source control through local pretreatment programs to support water reuse opportunities for municipal wastewater.
Action 2.6: Develop informational materials to address how CWA NPDES permits can facilitate water reuse/capture.
Action 2.9: Align policies and communication tools to promote best management of unused and expired pharmaceuticals to support water reuse and recycling.
Action 3.1: Compile existing fit-for-purpose specifications.
Action 3.4: Develop research and tools to support the implementation of ONWS.
Action 4.5: Promote air-cooling condensate water reuse standards, methods, tools, and technologies for implementing systems in large buildings.
Action 7.2: Develop a coordinated national research strategy on water reuse.
Action 11.1: Facilitate U.S.-Israel collaboration on technology, science, and policy of water reuse.
Israel Water Reuse Virtual Event: In May 2021, the three-day event was hosted by Israeli Ministry for Environmental Protection, the Economic & Trade Mission at the Embassy of Israel, and U.S. Environmental Protection Agency in collaboration with the Israel Water Authority, Israel Ministry of Agriculture and Rural Development, Israel Ministry of Health, WaterEdge.IL, WateReuse Association, U.S. Department of Agriculture, and U.S. Food and Drug Administration.
Action 11.2: Raise global awareness and preparedness for water reuse and the Water Reuse Action Plan.
Additional action items that others will lead include developing a federal policy statement to support and encourage water reuse in watershed planning; establishing a New Mexico Produced Water Research Consortium to identify and fill science and technology gaps for off-field use of treated produced water; and compiling a list of federal funding sources to support water reuse projects. In addition, the National Blue Ribbon Commission for Onsite Non-potable Water Systems will develop research and tools to support the implementation of onsite systems.
WRAP Events
WRAP Launch: The EPA and collaborating partners released the National Water Reuse Action Plan on February 27, 2020 at EPA headquarters in Washington, DC. WateReuse President Gilbert Trejo of El Paso Water and Past President Paul Jones of Eastern Municipal Water District represented the association during the program.
WRAP One Year Event: The EPA and collaborating partners held a celebratory one-year event on April 29, 2021. WateReuse Past President Gilbert Trejo of El Paso Water represented the association during the program.
WRAP partners marked the anniversary by releasing the Update on Collaborative Progress document and the "Resilience Through Collaboration: First Year Highlights and Future Directions of the National Water Reuse Action Plan" webinar. The event brought together WRAP collaborators in a lively discussion and highlighted the accomplishments, including the completion of 165 implementation milestones.