---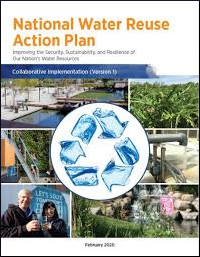 National Water Reuse Action Plan
The U.S. Environmental Protection Agency (EPA) and its federal partners released the National Water Reuse Action Plan: Collaborative Implementation on February 27, 2020. The plan leverages the expertise of both the private and public sectors to develop bold actions that accelerate the adoption of water recycling through integrated and collaborative water resources planning. The WateReuse Association led a coalition of partner water associations and our members to provide input on the plan.
The National Water Reuse Action Plan (WRAP) identifies 37 specific actions, across 11 strategic themes, to be implemented by a variety of federal, state, local and private sector partners.
WateReuse is leading or co-leading a variety of actions, including developing a database to track and report state-level policies and regulations related to water reuse; establishing a water reuse award to recognize significant achievements in adopting and promoting water reuse in the industrial and corporate sectors; and helping to organize events related to stormwater reuse, inter-state collaboration, and workforce development.
Additional action items that others will lead include developing a federal policy statement to support and encourage water reuse in watershed planning; establishing a New Mexico Produced Water Research Consortium to identify and fill science and technology gaps for off-field use of treated produced water; and compiling a list of federal funding sources to support water reuse projects. In addition, the National Blue Ribbon Commission for Onsite Non-potable Water Systems will develop research and tools to support the implementation of onsite systems.
Information for the actions included in the plan is available in two forms:
Printed Publication: A print version that profiles actions with committed leaders and summary-level information about each action implementation plan.
WRAP Online Platform: A web-based repository that includes all actions (developed and undeveloped) and full action implementation plan text, where applicable.
WateReuse Leadership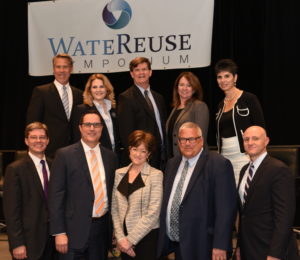 The release of the National Water Reuse Action Plan represents the culmination of one year of focused efforts to catalyze action related to water reuse and strong collaboration across the water sector to produce this plan.
Below are highlights of our work:
Developing and submitting joint water sector comments on the development of the action plan in July 2019;
Hosting the release of the draft action plan at the 34 Annual WateReuse Symposium in September 2019;
Developing and submitting joint water sector comments on the draft action plan in December 2019; and
Submitting WateReuse comments on the draft action plan in December 2019.
WRAP Launch Event
The EPA and collaborating partners released the National Water Reuse Action Plan on February 27, 2020 at EPA headquarters in Washington, DC. WateReuse President Gilbert Trejo of El Paso Water and Past President Paul Jones of Eastern Municipal Water District represented the association during the program.