---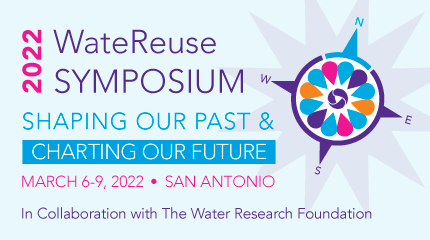 37th Annual WateReuse Symposium Call for Presentations: Share Your Knowledge
Position yourself as a water reuse thought leader at the 37th Annual WateReuse Symposium, March 6-9, 2022, in San Antonio, Texas and on the WateReuse Virtual Conference Platform. The WateReuse Association invites water reuse experts, practitioners, researchers, and young professionals to submit proposals for a place on the podium during the Symposium. WateReuse is looking for fresh presentations emphasizing the future of water reuse globally. View the Call for Presentations and submit proposals online by November 1, 2021.
A special super saver registration rate will be offered exclusively to WateReuse members beginning Monday, October 4, 2021—before early-bird registration opens to the general public. Read more.
Call for Nominations: WateReuse Awards for Excellence Honor Member Achievements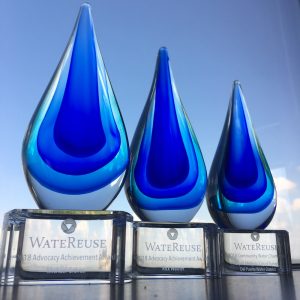 Get the recognition you deserve! The WateReuse Awards for Excellence recognize WateReuse members, their projects, and their partnerships for significant contributions in advancing water reuse.
Award recipients exhibit leadership in water reuse education, advocacy, technology, and/or implementation, showcasing innovative approaches that others can follow.
Award nominations are due October 22, 2021. Read more.
Washington Update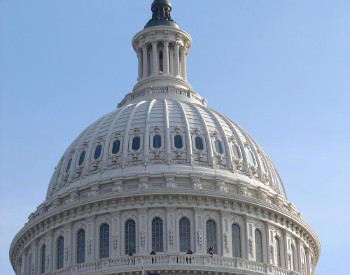 Congress Poised to Release Reconciliation Language – Take Action Now to Secure Water Recycling Funding
The House Transportation and Infrastructure Committee will begin debate on its portion of budget reconciliation legislation tomorrow. WateReuse has been working to secure funding for the nationwide Alternative Water Source Grants Pilot Program in the Transportation and Infrastructure package. The Alternative Water Source Grants Program would be the only nationwide program dedicated to helping communities adopt water reuse systems. We have yet to see the bill text, and so have not yet confirmed the inclusion of funding for the program.
Last week, the House Natural Resources Committee passed its portion of reconciliation legislation, including $100 million for a new grants program for large-scale water recycling projects in the West. This would come on top of the $1 billion that WateReuse helped secure for Western water recycling in the bipartisan infrastructure package that the Senate passed last month. Under the budget reconciliation process, a range of House and Senate committees are writing legislation to meet certain spending targets.
In the House, committees are debating and passing their portions of the legislation. Once each committee has reported out their respective bills, the language will be combined into a single reconciliation package on the House floor.
In the Senate, it is not yet clear whether committees will go through a formal mark up process. Instead, the committees of jurisdiction may develop legislation behind closed doors before combining the pieces into a single package for the Senate floor. WateReuse is working with the Senate Environment and Public Works Committee to secure funding for Alternative Water Source Grants in its portion of the package.
We will be reporting additional details and sending an updated action alert in the coming days. Stay tuned, as your help will be needed to ensure that water recycling funding gets across the finish line as Congress finalizes the reconciliation package!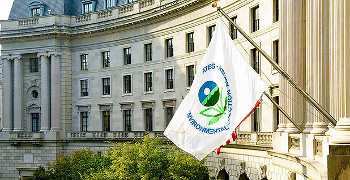 EPA Announces Plans for New Wastewater Regulations, PFAS and Nutrient Limits
Last week, the U.S. Environmental Protection Agency (EPA) released Preliminary Effluent Guidelines (ELG) Program Plan 15, which includes the first limits for PFAS and nutrients. The announcement notes EPA will undertake three new rulemakings including:
Organic Chemicals, Plastics and Synthetic Fibers category to address per- and polyfluoroalkyl substances (PFAS) discharges from facilities manufacturing PFAS.
Metal Finishing category to address PFAS discharges from chromium electroplating facilities.
Meat and Poultry Products category to address nutrient discharges.
The public comment period will be 30 days following the publication on the Federal Register. Read more.
State Updates and Member Profiles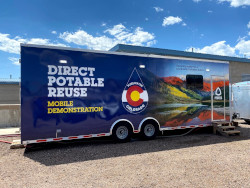 Spotlight: WateReuse Colorado Advances Science, Public Understanding of Potable Reuse
As regulators pursue rulemaking for direct potable reuse (DPR), Colorado's water reuse community is developing demonstration projects to advance the science while fostering a greater understanding among Coloradans. In a new LinkedIn article, WateReuse Colorado President John Rehring of Carollo Engineers discusses the ways in which Colorado is preparing for a future with DPR, from the 2018 PureWater Colorado DPR demonstration to the recently launched mobile demonstration facility housed at Colorado Springs Utilities in a 30-foot trailer. Read more.
AZ: Tucson Spotlighted for Environmental Restoration with Water Reuse
Tucson Water has been recycling water for uses like irrigation since 1984 but has more recently completed the Santa Cruz River Heritage Project in which recycled water is the main water supply to a river that is often otherwise dry. In this way, the recycled water in Tucson is supporting the riparian ecosystem along the Santa Cruz River. Read more.
CA: Eastern Municipal Water District's Recycled Water Retrofit Program Wins Award
Eastern Municipal Water District (EMWD) was honored as the winner of the 2021 California Municipal Utilities Association's Resource Efficiency and Community Service Award for large agencies in the water sector. This award was granted for EMWD's Recycled Water Accelerated Retrofit Program, which supports transitioning landscape areas to recycled water while promoting water conservation. Read more.
CO: WateReuse Colorado Supports Students Focused on Water Recycling
WateReuse Colorado recently launched its 2021 scholarship program, offering three scholarships to support students focused on water reclamation, water reuse, and/or desalination. Scholarship applications must be submitted by September 24, 2021, at 5pm MT. Each scholarship will be awarded in November 2021 to the highest-ranking applicants among undergraduate or graduate students enrolled in an accredited Colorado university or community college. Read more.
FL: One Water Florida Initiative Gains Visibility; Educates Public on Recycled Water
The Florida Weekly for Fort Meyers and for Palm Beach highlighted the new One Water Florida initiative, noting the safety of potable reuse and its importance in protecting the natural environment. This press comes alongside a Southwest Florida Water Management District interview discussing the need and process for producing recycled water. WateReuse Florida has been instrumental in supporting this outreach initiative. Read more.
WateReuse Member Engagement Opportunities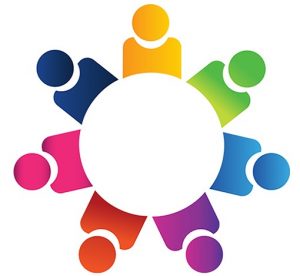 Interested in Becoming More Involved in WateReuse? Join a Committee!
Are you ready to become more involved with the WateReuse Association and share your water reuse expertise? Join one of our committees to drive industry thought leadership on water reuse related issues impacting your community or business, access best practices, and network with leaders focused on similar issues. All employees of WateReuse member organizations are eligible to participate. Mark you calendar for this upcoming meeting:
International Reuse Committee Meeting
September 14, 2021
2 pm – 3 pm ET | 11 am-12 pm PT
If you are interested in joining a committee, please email Heather Strathearn for more information.
WateReuse Member Resources and Benefits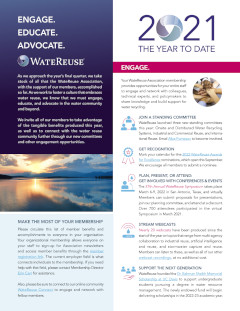 WateReuse Report Highlights Year-to-Date Accomplishments, Member Benefits
The WateReuse Association released a new report, 2021: WateReuse Year to Date, which catalogs all that the Association has accomplished so far this year with the support of members. From local engagement and new communications tools to extraordinary legislative wins, the Association has worked collaboratively with members to achieve tremendous gains in advancing water recycling and delivering benefits available to the entire staff of member organizations. Read the report.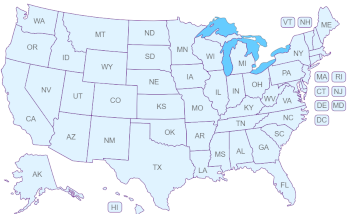 Interactive Map on State Water Reuse Policies and Regulations
Do you need information about water reuse policies and regulations from across the United States? Visit the state policy map on our website to find summaries of the regulatory landscape in key states, as well as links to specific polices and regulations. Clicking on a particular state opens a pop-up window with detailed information about the state. WateReuse invites members to help us fill in gaps in knowledge using the comment box provided on the page. The map will be updated periodically as new information is received and/or states update their regulations. View the state policy map here.
Water Reuse Conferences, Webcasts and Events
Webcast: The History and State of Water Reuse Policies, Technologies and Success Stories
September 14, 2021
11 am PT | 2 pm ET
In this first session of a three-part series, panelists will share inspiring progress made to date, the economics of water reuse and the collective intelligence being made available to support their potential incorporation of centralized and decentralized reuse. Each panelist provides essential knowledge and experience to set the context for the three-part series. Register here.
WateReuse Pacific Northwest Water Reuse Track at PNCWA 2021
Boise Centre | Boise, Idaho
September 12-15, 2021
WateReuse Pacific Northwest and the Pacific Northwest Clean Water Association (PNCWA) are partnering to bring members a 2021 conference technical program that includes sustainable approaches to water reuse as one of many one-water solutions. On Tuesday, September 14, a full day water reuse track will provide insight on the challenges and opportunities for water reuse in the region. Register here.
2021 WateReuse California Annual Conference
JW Marriott | Los Angeles, California
September 19-21, 2021
Do not miss the 2021 WateReuse California Annual Conference! Join us in-person at the JW Marriott LA Live in Los Angeles or participate virtually from the comfort of your office. Our Annual Conference is where California's water recycling community comes together each year to learn, network, and discover the latest trends in the design, management, operation, and use of water recycling facilities and projects. Learn more.
Webcast: Coast to Coast – Direct Potable Reuse Regulatory Development
September 29, 2021
11 am PT | 2 pm ET (1.5 hours)
In this webcast, a panel of experts will discuss the state regulatory development process for direct potable reuse in California and Florida. The panel will explore the nuanced differences in the development process, the regulations, and the future outlook of direct potable reuse across the country. Register here.
World Water-Tech North America Summit
Virtual
October 5-6, 2021
Join 350 stakeholders driving change across the water value chain, with speakers from utilities (public and private), billion-dollar venture funds, international engineering giants, and technology companies (start-ups and unicorns). Save a 10% with the WateReuse Association's discount code: WRA10. Register here.
Webcast: Exploring Agriculture Reuse
November 10, 2021
11 am PT | 2 pm ET (1 hour)
Join WateReuse California's Agriculture Reuse committee to discuss the benefits of agriculture reuse, programs and case-studies, regulations, and an outlook for the future. Register here.
Upcoming Events