---
36th Annual WateReuse Symposium Available for On-Demand Streaming — Register Today!
There is still time to participate in the complete 36th Annual WateReuse Symposium, streaming on-demand through April 23! Join roundtable discussions and technical sessions on public health, potable reuse, resiliency, operations, research, policy, and more. Organized around the theme, Resilience Redefined, the Symposium focuses on opportunities to use recycled water to create safe and resilient water supplies. Over 700 people are participating from 15 countries and 37 U.S. states. Register here.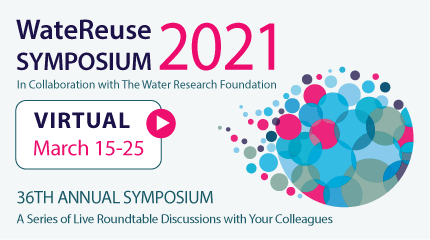 Share Your Feedback on the 2021 WateReuse Symposium
Did you attend the 36th Annual WateReuse Symposium? If so, please share your feedback so that we can continue to bring you high quality technical education and networking. Take our survey here.
WateReuse Association's Annual Meeting Highlights Successes and Vision for the Future; Electronic Ballot Presented to Membership
The WateReuse Association convened its 2021 Annual Business Meeting on March 22 at the virtual 36th Annual WateReuse Symposium. WateReuse President Gilbert Trejo shared the Board's vision for a fully-resourced and independent Association and WateReuse Executive Director Patricia Sinicropi highlighted key accomplishments over the past year. Trejo also presented proposed changes to the Association's bylaws that require approval of the membership and the nomination of Felicia Marcus, Landreth Fellow at Stanford University's Water in the West Program, to join the Board of Directors as the first NGO representative. The voting deadline is April 23, 2021 and each member organization has one vote.
Washington Update
WateReuse and Water Association Partners Urge Congress to Invest in Water, Wastewater, and Water Recycling Infrastructure
Last week, WateReuse Association and our national water association partners joined together to deliver a letter to Congress, urging quick action on an infrastructure package that includes water, wastewater, and water recycling investments. The Biden Administration is expected to release a roughly $3 trillion infrastructure and climate change proposal in the coming weeks, and Congress will likely move shortly thereafter to develop a package. The letter was signed by the WateReuse Association, American Public Works Association, American Water Works Association, Association of Metropolitan Water Agencies, Council of Infrastructure Financing Authorities, National Association of Clean Water Agencies, National Rural Water Association, Rural Community Assistance Partnership, Water Research Foundation, US Water Alliance, Water and Wastewater Equipment Manufacturers Association, and Water Environment Federation.
Senate Committee Advances Administration's Nominees to help Lead Climate and Water Agenda
The Senate EPW Committee voted last week to advance Brenda Mallory as the Biden Administration's nominee for Chair of the White House Council on Environmental Quality (CEQ) and Janet McCabe as the Deputy Administrator of the U.S. Environmental Protection Agency (EPA). Brenda Mallory brings decades of environmental policy experience to the role, previously serving at EPA and as General Counsel at CEQ. Janet McCabe previously served as Acting Assistant Administrator of the Office of Air and Radiation at EPA under President Obama and is a leader on environmental law and policy.
Bureau of Reclamation Announces Funding Availability for Title XVI-WIIN Water Reuse and Desalination Projects
The Bureau of Reclamation announced two funding opportunities open for projects eligible under the Water Infrastructure Improvements for the Nation (WIIN) Act. One funding opportunity is open to Title XVI water reuse project sponsors eligible to compete for funding under section 4009(c) of the WIIN Act. This funding opportunity is available on grants.gov by searching for opportunity number R21AS00429. The second funding opportunity is open to sponsors of seawater or brackish desalination projects eligible to compete for funding under section 4009(a) of the WIIN Act. This funding opportunity is available on grants.gov by searching for opportunity number R21AS00428. Applications under both funding opportunities are due on April 23, 2021, at 4:00 p.m. MDT. The WateReuse Association is actively advocating with Congress to both reauthorize and increase appropriated funding for the Title XVI-WIIN program before the end of the year, when program authority expires.
U.S. EPA Announces SRF Funding and Technical Assistance for Water Reuse
Last week, the U.S. EPA announced the availability of $1.1 billion for the Drinking Water State Revolving Fund and $1.6 billion for the Clean Water State Revolving Fund, as well as a new $12 million grant program for wastewater utilities that serve small, rural, and tribal communities. The new grant program, which Congress created in America's Water Infrastructure Act of 2018, supports training and technical assistance for small, rural, and tribal wastewater utility systems and onsite septic systems. Importantly, funding may be used to perform onsite training or technical assistance that focuses on water recycled for agriculture and irrigation, potable water supplies, groundwater replenishment, industrial processes, and environmental restoration among other applications. Applications must be received by EPA by May 17, 2021.
U.S. EPA Programs Recognize Students, Educators, and Schools for Environmental Stewardship
Two U.S. Environmental Protection Agency programs present opportunities for utilities to leverage relationships with local schools and educators that promote water reuse education. EPA is accepting applications for the President's Environmental Youth Award (PEYA) program and the Presidential Innovation Award for Environmental Educators (PIAEE). The programs recognize outstanding environmental stewardship in K-12 youth and teachers that promote awareness of our nation's natural resources. PEYA will assess applicant's environmental stewardship project and the PIAEE recognizes innovative environmental education approaches. Applications close April 30, 2021.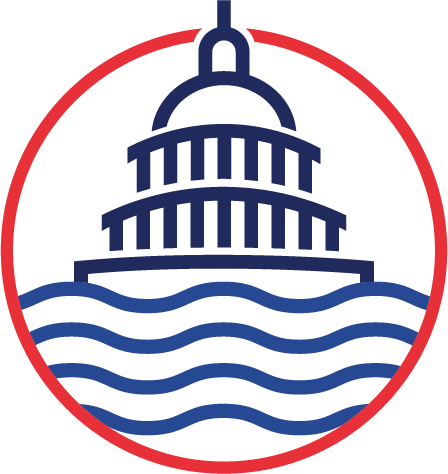 Elevate Water Reuse as a National Priority: Join the Water Week Virtual Events
Plan to engage virtually during Water Week 2021, April 25 – May 1! The Water Week partners will be virtual this year, and although we won't be gathering in-person, we will be working collaboratively as Water Week partners to bring you an informative, engaging Water Week virtual experience.
Join us for the Water Week Policy Zoom-In, on Tuesday, April 27 from 2:00 – 4:30 pm ET to hear directly from key EPA officials and Members of Congress on the important regulatory and legislative water policies they are working on now and in the years ahead. This free webcast is presented jointly by the Water Week association partners. Don't miss the chance to hear about the important and timely federal water initiatives taking shape in Washington, DC. Register here.
Join us again on the afternoon of April 29 for Resilience through Collaboration: First Year Highlights and Future Directions of the National Water Reuse Action Plan, a free webcast to celebrate the first year of the National Water Reuse Action Plan (WRAP), including accomplishments of action leaders and partners and anticipated 2021 outcomes. Register here.
State Updates and Member Profiles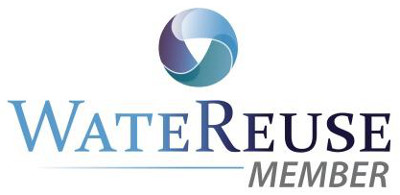 Welcome New Members!
The WateReuse Association welcomes the following new members:
California: State Water Board Releases Draft Criteria for Direct Potable Reuse
Florida: Small Community Upgrades Treatment Plant to Facilitate Increased Water Reuse
Green Cove Springs began the second phase of improvements to the Harbor Road Wastewater Treatment plant with the goals of reducing nutrient discharge into the St. Johns River, increasing the use of reclaimed water, and reducing the withdrawal of potable water from the Floridan Aquifer. The project entails new construction in addition to upgrades of the original wastewater system, with critical upgrades that facilitate the reduction of phosphorus and nitrogen that was previously leaking into the St. John's River. Read more.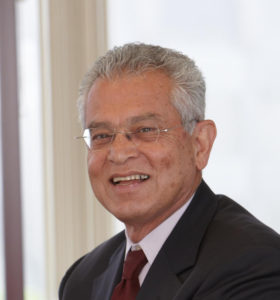 Member Spotlight: Bahman Sheikh Scholarship Nears Endowment Level
A scholarship to honor the legacy of water reuse pioneer Dr. Bahman Shiekh has received over $35,000 in donations to support students at the University of California, Davis. Established by the WateReuse Association and WateReuse California, the scholarship will help undergraduate students pursuing a degree at UC Davis focused on developing and implementing sustainable solutions for water resources management, including water recycling, that support agriculture, industry, and healthy communities. Dr. Sheikh (1939-2020) was a WateReuse lifetime honorary member and an internationally recognized expert on water reuse. The scholarship fund needs to reach $50,000 to become a permanent endowment. To donate to the fund, click here.
Research Update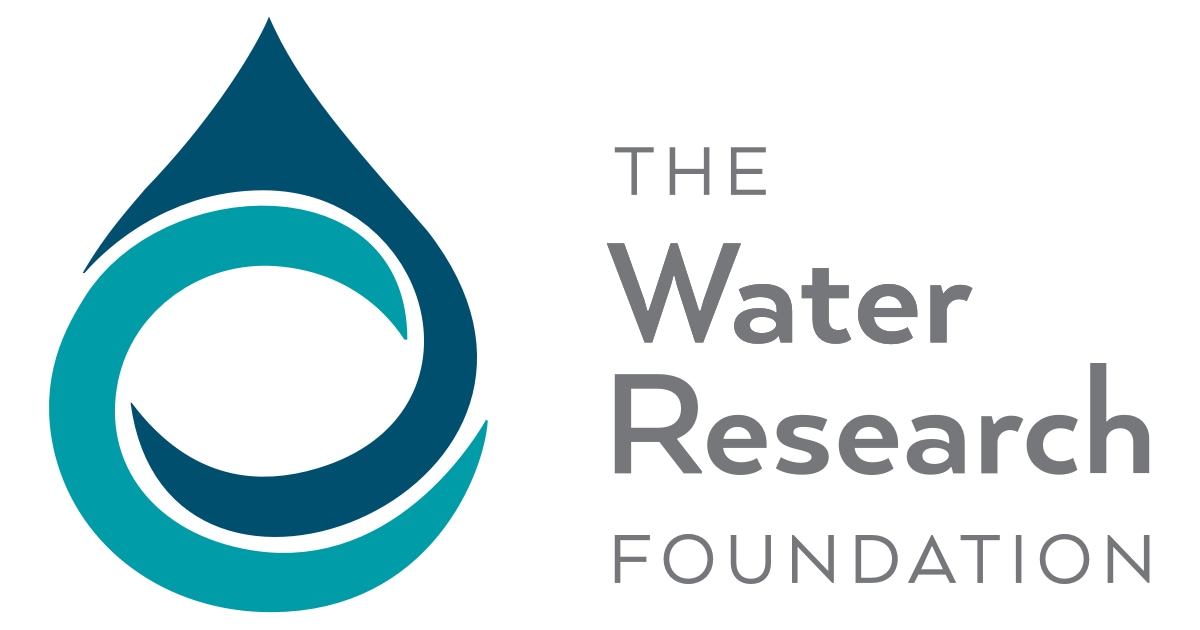 The Water Research Foundation Seeks Input on Desalination Research Needs
The Water Research Foundation (WRF) is interested in addressing scientific knowledge gaps and barriers present in the desalination industry today by producing effective tools and information for implementing desalination projects. WateReuse members are invited to participate in a survey to identify desalination research needs for a WRF desalination research program that will help advance desalination, both ocean and brackish, as a viable and sustainable water supply alternative in the U.S. To participate in the survey, click here.
Member Resources and Benefits
Profiles in Reuse: Flyer Explains Safety and Reliability of Potable Reuse
Use our flyer, Profiles in Reuse: Potable Reuse, to inform ratepayers, elected officials, and other stakeholders about the safety and reliability of using purified water as part of the drinking water supply. The flyer also supports WateReuse's Medical Community Initiative, which seeks to build support for potable reuse among medical and public health officials. This flyer is the first in a series of Profiles in Reuse that will serve as resources for member communication on water recycling. Download Flyer.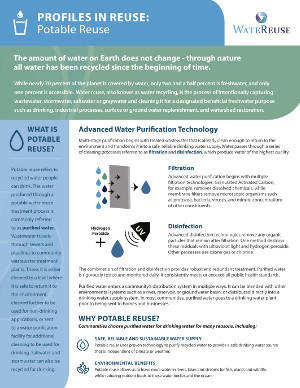 Job Opportunity from the WateReuse Career Center
Conferences, Webcasts and Events
EPA Webinar: Cultivating a Positive Workforce Culture from Apprenticeship to Career
April 1, 2021
9 am PT | 12 pm ET
The latest webinar in the "Creating the Water Workforce of the Future" series focuses on building an inclusive and supportive workplace that encourages employee growth to attract and retain the qualified candidates. The presenters will include Joone Lopez from Moulton-Niguel Water District, Tim Friday from Caste Rock Water, and Eric Dunker from Arapahoe Community College. View the event flyer or register here.
Webcast: From Across the Globe: The Many Facets of Industrial Water Reuse
April 14, 2021
9 am PT | 12 pm ET
Join the co-editors of Sustainable Industrial Water Use: Perspectives, Incentives and Tools, Eric Rosenblum and Cheryl Davis, as they discuss global perspectives with industry experts. In this 90-minute webcast, four different authors will summarize their articles featured in the book, describing the challenges they confront planning, financing, designing and implementing water reuse to conserve water and reduce industrial pollution. Register here.
Webcast: Digital Platform, Artificial Intelligence and Machine Learning in Potable Reuse Projects
June 1, 2021
11 am PT | 2 pm ET
In this webcast, our presenters will introduce how digital platforms including artificial intelligence (AI) and machine learning (ML) can be used to improve asset management strategies, operational efficiencies, enhance source control, validate unit process performance, predict product water quality and making sound decisions for assessing suitability of product water for human consumption. Register here.
Upcoming Events