---

Washington Update
Bureau of Reclamation Awards $9.5 million for Title XVI Water Reclamation and Reuse Projects
The U.S. Department of Interior's Bureau of Reclamation is providing $9.5 million for two congressionally authorized Title XVI projects in California and Hawaii. WateReuse member Elsinore Valley Municipal Water District received $8.9 million to support the expansion of its Regional Wastewater Reclamation Facility. The County of Hawaii, Kealakehe Wastewater Treatment Plant received over $500,000 for improvements to the distribution system, new pipelines, and expanded treatment. Read more.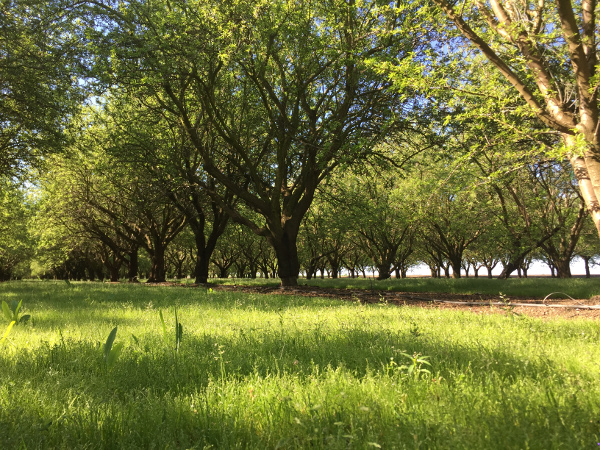 WateReuse Supports Agriculture-Water Coalition Effort to Increase Water Infrastructure Funding
WateReuse joined an agricultural-water coalition, which includes farm groups and water districts from 15 states, in urging the Biden Administration and new Congress to provide new funding to kick-start water recycling, reuse, and desalination projects. The coalition of more than 200 entities submitted letters to President Biden and Democrat and Republican congressional leadership calling federal investment in western water management "essential." The letters also recommended funding focusing on water conservation, water storage, new federal financing mechanism, and increased efficiency in regulating and permitting processes. The coalition was spearheaded by the California Farm Bureau, Association of California Water Agencies, Family Farm Alliance, National Water Resources Association and Western Growers. Read more.
U.S. EPA Releases Advance Notice of Proposed Rulemaking on PFOA and PFOS
The U.S. Environmental Protection Agency (EPA) released an advance notice of proposed rulemaking seeking comments on whether EPA should consider regulating perfluorooctanoic acid (PFOA) and perfluorooctanesulfonic acid (PFOS) under the Comprehensive Environmental Response, Compensation, and Liability Act (CERLCA) and Resource Conservation and Recovery Act (RCRA). Comments will be due 60 days after publication in the federal register. WateReuse supports the timely establishment of a federal Maximum Contaminant Level (MCL) for PFOA and PFOS in accordance with the established regulatory process under the Safe Drinking Water Act. Read more.
State Updates and Member Profiles
Welcome New Member!
The WateReuse Association welcomes the following new member: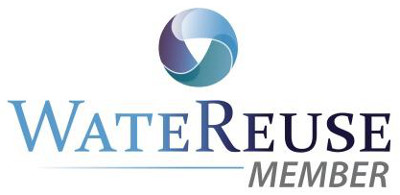 California: Diablo Water District Sets Sights on Recycled Water Program
The Diablo Water District Board of Directors announced a new five-year strategic plan, which includes "committing to partner with associated agencies to establish a recycled water program for our community, as part of the district's water supply portfolio." The strategic plan was developed through conversations around the environment, water supply resiliency, critical infrastructure of the district, and customers' needs. The plan also includes efforts to increase groundwater monitoring wells, explore alternative water rate structures, and establish policies to mitigate negative impacts on local groundwater. The district obtains, treats and supplies water for about 42,000 people, parks, schools and businesses in the Bay area. Read more.
Florida: Orange County Public Works Demonstrates Successful Stormwater Harvesting
Orange County Public Works is celebrating a successful 12-month stormwater harvesting demonstration project that increased groundwater recharge, offset potable water use, and prevented 150,000 gallons of stormwater runoff from leaving the site. The goal of the $70,000 project was to "demonstrate the volume reduction of potable or drinking water and water quality benefit of the stormwater system." To implement the project, Orange County Public Works partnered with Geosyntec Consultants, Inc., Environmental Conservations Solutions, Inc., and OptiRTC. Read more.
International Update
Dubai Unveils Terra Pavilion Powered with Recycled Water and Solar Power
A new Terra Pavilion, which uses a greywater recycling system and solar power, was unveiled last week ahead of Expo 2020 Dubai. Expo 2020 is a months-long event that features a series of pavilions to increase awareness about the challenges faced by humanity. Focused on sustainability and climate change, the Terra Pavilion incorporates a water recycling system that reduces irrigation water use by 75%. The facility is powered by 1,055 solar panels. Read more.
Indian City Looks to Water Recycling to Claim Recognition as Cleanest City
The Mysuru City Corporation (MCC) of India increased water recycling for gardening and fountain maintenance to 30%. The increase was motivated by a competition to claim the "cleanest city" tag during the Swachh Survekshan 2021 event. City officials believe their focused efforts on water recycling will bolster the city's "cleanliness quotient." Read more.
Member Resources and Benefits
Need to Illustrate the Value of Water Reuse Investment? Use Our Flyer and Infographic
Utilities must make a compelling case to ratepayers, policymakers, and other stakeholders that investment in water recycling is the right decision. Use our flyer and infographic to illustrate that Investment in water reuse builds communities that are modern, sustainable and stable—ready for families to flourish and businesses to grow. The infographic highlights examples of recycled water from coast to coast and documents the value they bring.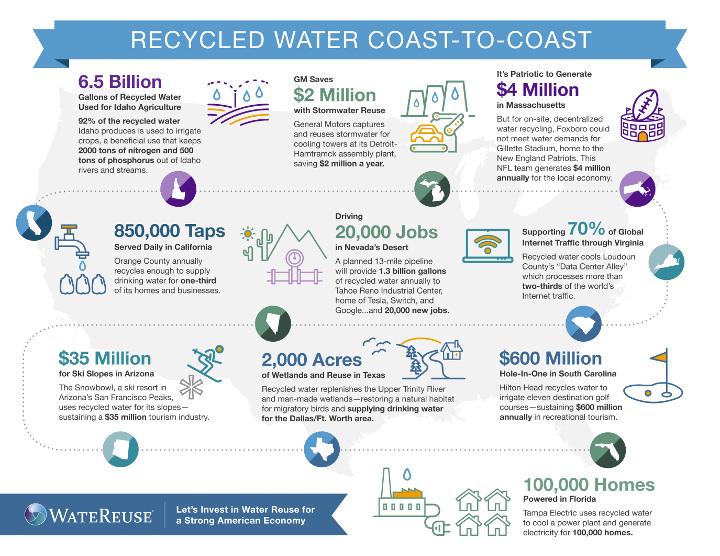 Conferences, Webcasts and Events
Webcast: Water Reuse Policy in the 117th Congress and Biden Administration
January 27, 2021
11 am PT | 2 pm ET
Please join us for a webcast with Washington insiders to examine what's on the congressional agenda for 2021 and what water-related priorities the Biden Administration is likely to push in its first year. Register here.
Webcast: Stormwater Capture Drivers, Impediments, and Future Visions
February 3, 2021
11 am PT | 2 pm ET
Join a group of stormwater management leaders from around the US to discuss stormwater capture motivations and drivers, barriers to progress, and future directions. The audience will learn about opportunities to market and advance stormwater capture. Register here.
Webcast: Communicating about Potable Reuse and Public Health –Tools for Success
February 17, 2021
11 am PT | 2 pm ET
This webcast will describe methods to communicate with stakeholders – including healthcare providers – regarding the human health safeguards associated with potable reuse implementation. Register here.
Upcoming Events