---
Washington Update
EPA Approves Water Reuse Efforts as Part of Virginia's Water Quality Improvement Plan
Virginia's $659 million water infrastructure improvements plan for Fiscal Year 2020, includes a $179 million loan to Hampton Roads Sanitation District's (HRSD) Sustainable Water Infrastructure Tomorrow (SWIFT) System and a $27.8 million loan to the Upper Occoquan Service Authority (UOSA), among four other projects.
At this year's WateReuse Symposium, you can learn more about HRSD's SWIFT system which treats water that would otherwise be discharged to the river to drinking water quality standards using advanced water treatment. The loan to UOSA will be used to upgrade the Millard H. Robbins, Jr. water reclamation facility with ozone and new electrical work and piping. The U.S. EPA approved Virginia's plan providing $32.5 million in funding.
USDA Announces Funding for Regional Conservation Partnership Program
The U.S. Department of Agriculture (USDA) released a notice of funding availability for up to $360 million for the Regional Conservation Partnership Program (RCPP) in fiscal years 2020 and 2021. RCPP funds partnerships between farmers and entities such as non-government organizations and municipal agencies to address local or regional natural resource concerns. For example, a utility could put together a project, in partnership with a local farm group or conservation district, to provide recycled water to farmers in their service area.
The National Resources Conservation Service (NCRS) seeks to co-invest with partners to implement projects that demonstrate innovative solutions to a range conservation challenges. View the grant funding opportunity here.
WateReuse Awards for Excellence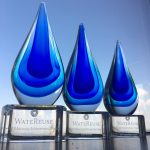 Submit a Nomination for the 2021 WateReuse Awards for Excellence by September 30
Is your utility or business demonstrating leadership in advancing water recycling? Or do you know of an organization, individual, or partnership that has implemented an innovative solution that will inspire others? If so, submit a nomination for the 2021 WateReuse Awards for Excellence to get the recognition you deserve. Nominations are due September 30, 2020.
The 2021 WateReuse Awards for Excellence will recognize accomplishments for 2019 and 2020. Winners will be recognized in conjunction with the 36th Annual WateReuse Symposium, March 14-17, 2021. Submit a nomination now!
State Updates and Member Profiles
Arizona: Recycled Water Provides Habitat for Endangered Fish
The Arizona Game and Fish Department is poised to release up to 1,000 endangered Gila topminnows in a once dry stretch of the Santa Cruz River that runs through downtown Tucson. Tucson Water has been releasing reclaimed water through its Santa Cruz River Heritage Project since June 2019. The fish already live 45 miles upstream of downtown Tucson in the Santa Cruz. Read More.
Member Spotlight: Reverse Osmosis Helps Yucaipa Provide Pure Recycled Water
Southern California's Yucaipa Valley Water District has found that the addition of reverse osmosis membranes at its Wochholz Regional Water Recycling Facility is providing the community with exceptionally pure recycled water. The membranes give the facility an advantage in water quality and control of the water treatment plant. The facility continues to test the effectiveness of removing viruses and has conducted whole scale system testing for pathogen removal. Read More.
California: Orange County Awarded $5 Million to Expand Potable Reuse
The Orange County Water District (OCWD) was awarded $5 million in grants from the California State Water Resources Control Board for use toward the construction of the Groundwater Replenishment System (GWRS) Final Expansion project. The GWRS came online in 2008, producing 70 million gallons per day (MGD) of near-distilled quality water. It underwent an expansion in 2015, increasing production to 100 MGD. Its second and final expansion began in 2019 and will increase capacity to 130 MGD. The GWRS is a joint project between OCWD and Orange County Sanitation District and is the world's largest water reuse project of its kind. Read More.
International Update
Australia: Recycled Water Plant Provides Water for a Planned Development
Property developer, Celestino, and a private water utility, Flow Systems, teamed up to build a recycled water treatment plant for a new residential development near Sydney. The initiative will provide non-potable recycled water to residents, avoiding any future water restrictions for the new community. Flow Systems believes recycled water is necessary to meet the region's growing water needs and to build drought resilience. Read More.
Canada: Brewery Uses Beer to Highlight Water Reuse's Role in a Sustainable Future
Village Brewery released a limited-edition Village Blonde Natural Golden Ale, brewed using recycled water to educate the public about water reuse. The brewery partnered with the University of Calgary's Advancing Canadian Water Assets and Xylem to ensure the treatment process, which included tertiary treatment with advanced oxidation and nanofiltration, met all safety and drinking water guidelines. Read More.
Member Resources and Benefits
Are Your Colleagues Connected? Take Advantage of Member Access for Your Entire Team
As a WateReuse Association member organization, your entire staff is entitled to receive our valuable member benefits including WateReuse Review delivered to your inbox, complimentary webcasts, conference discounts, and access to member-only content on the website. To make sure this newsletter and other member alerts reach your team, please circulate our Member Registration Link. Ask your staff to list their Current Employer exactly as shown in our Member Listing so our system recognizes them as a member. From there, we'll communicate with them directly about all of the resources, materials, and expertise available to WateReuse members.
Conferences and Events
Watch Now: WateReuse Members Discuss Recycled Water in California
WateReuse Association members participated in a panel discussion on recycled water in California during a recent virtual conference sponsored by the Building Industry Association of Southern California. Panelists included Shivaji Deshmukh, General Manager of Inland Empire Utilities Agency, and Brad Coffey, Water Resource Manager for the Metropolitan Water District of Southern California. Jennifer West, Managing Director of WateReuse California, moderated the session. Watch Here.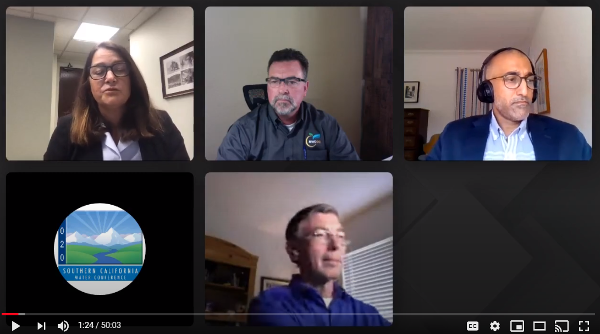 WateReuse Arizona Hosts Virtual Sessions on Key Arizona Issues
WateReuse Arizona hosted a panel discussion titled Past, Present and Future Reuse as Part of Arizona's Water Portfolio on July 30, 2020. The panel included representatives from cities of Scottsdale, Flagstaff, Phoenix, Goodyear, Town of Gilbert and Tucson Water and was moderated by Troy Walker of Hazen and Sawyer. The panel explored how communities from Northern to Southern Arizona and from East to West Valley use treated effluent as a component of their water resources portfolio.
The next Arizona section meeting will be held virtually on October 29, 2020. Maria Brady of Stantec Consulting will present: What Strikes Fear in the Hearts of Arizona Water and Wastewater Utilities? Brine Management. This is an important topic for Arizona utilities and useful for any utility facing similar salinity issues Learn More.
Upcoming Events