---
35th Annual WateReuse Symposium
Save the Date!
35th Annual WateReuse Symposium
Hilton Denver City Center
Denver, Colorado
September 13-16. 2020
Call for abstracts now open!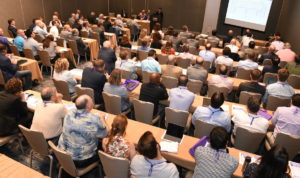 Join us September 13-16, 2020 in Denver, Colorado for education, knowledge-sharing, and networking at the 35th Annual WateReuse Symposium. The Annual WateReuse Symposium is the nation's premier conference on water recycling – attracting water professionals from across the country and around world for the latest information on water reuse technology, operations, policy, research, and public outreach.
This year's theme, Reaching New Heights in Water Reuse, will showcase the dramatic expansion of water recycling throughout the United States as it becomes a sought after solution for a range of water management challenges. Planned in collaboration with The Water Research Foundation, the 2020 Symposium will include presentations on the latest water reuse-related research.
Following the record-breaking success of the 2019 Symposium, the 35th Annual WateReuse Symposium in Denver is a "can't miss" event for anyone involved in water recycling.
Praise for the Annual WateReuse Symposium
"I appreciated the wide range of topics—from general to more detailed, useful for experienced programs to start-up programs."
"Thank you for your leadership and for the association. The national conference is the premier event in the water business and a highlight of the year."
"This was my first time at the WateReuse Symposium and it was an eye-opening experience. I feel that I have so much to continue to learn about water reuse!"