---

Charting our Future: Learn and Network at the 37th Annual WateReuse Symposium
Make plans to join us for the 37th Annual WateReuse Symposium, March 6-9, 2022, in San Antonio, Texas and on the WateReuse virtual conference platform. The Annual WateReuse Symposium is the premier conference on water recycling — attracting more than 800 water professionals globally for knowledge-sharing, networking, and intriguing discussions!
Super Saver Registration is open through October 31, exclusively for WateReuse members. If you normally take advantage of early-bird registration discounts, this year you can register earlier and save even more. Register now and save up to $200!
Call for Presentation Proposals: WateReuse invites water reuse experts, practitioners, researchers, and young professionals to submit proposals for a place on the podium during the Symposium. WateReuse is looking for fresh presentations emphasizing the future of water reuse globally. View the Call for Presentations and submit proposals online by November 1, 2021.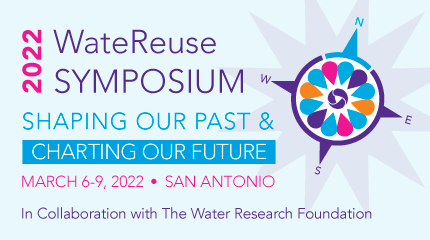 Call for Nominations: WateReuse Awards for Excellence to Honor Member Achievements
Get the recognition you deserve! The WateReuse Awards for Excellence honor WateReuse members, their projects, and their partnerships for significant contributions in advancing water reuse. Award recipients exhibit leadership in water reuse education, advocacy, technology, and/or implementation, showcasing innovative approaches that others can follow. Award nominations are due October 22, 2021. Learn more.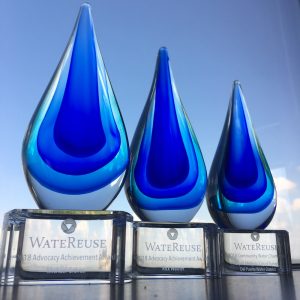 Washington Update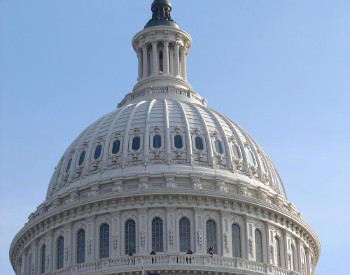 We Need You! Sign Letter Urging Congress to Act Now on Water Recycling Investment
The WateReuse Association has been working with Congress to enact landmark infrastructure legislation that invests in water recycling across the country. While we have secured more than $1 billion for water recycling in proposed legislation passed by the House and Senate, our work is not done!
Congress and the White House are in the final throws of negotiating the final versions of legislative packages that propose to invest significantly in infrastructure, including water recycling projects. We need your help today to ensure that funding for water recycling programs is retained in the final legislation.
Click here to add your organization to our sign-on letter urging Congress to act now! The deadline for signing is tomorrrow, Tuesday, October 19. Please contact WateReuse Association Policy Director, Greg Fogel with any questions.
Senate Hearings Highlight Need for Federal Water Infrastructure Investment in Small, Disadvantaged, and Rural Communities
The U.S. Senate Environment and Public Works (EPW) Committee held two field hearings last week, one in Delaware and another in West Virginia. Both hearings focused on the unique challenges that small, rural, and disadvantaged communities face in accessing and maintaining water and wastewater treatment services. Committee Chairman, Senator Tom Carper (D-DE), opened with remarks highlighting the importance of sending the Infrastructure and Jobs Act—the Senate-passed $550 billion infrastructure package—to the President's desk. The Committee heard from witnesses from state departments of health, state economic development councils, the Rural Water Association, and the Rural Community Assistance Project.
WRAP Update: EPA Releases Monthly Newsletter; Spotlights Climate Change
Earlier this month, the U.S. EPA water reuse team released the September update for the National Water Reuse Action Plan. The latest WRAP developments include a September convening on Catalyzing Stormwater Capture and Use and the announcement of the Water Security Grand Challenge Winners, among other activities. The newsletter also highlights WRAP efforts related to addressing climate change and profiles water reuse resource webpage. Read more.
EPA Releases Factsheets on Water Affordability and Partnerships to Support Financing Program
The U.S EPA released factsheets related to addressing water affordability and developing water system partnerships with the Drinking Water State Revolving Fund (DWSRF). The water affordability fact sheet provides details of DWSRF financing approaches that support affordability, along with case studies of communities in Oklahoma, South Carolina, New York, and Virginia that have used DWSRF funding to facilitate water affordability. The water systems partnership factsheet details examples of partnership funding in California, Oregon, West Virginia, Illinois, New York, and Washington. The factsheets build upon the Clean Water factsheet on funding resilient infrastructure earlier this year. Last month, the WateReuse Association also released a white paper examining how water recycling is helping communities address affordability challenges. The white paper was produced with support from Moonshot Missions.
State Updates and Member Profiles
Member Spotlight: Arcadis Reflects on WateReuse California Conference Takeaways
The WateReuse California Annual Conference brought together attendees both in person and virtually to discuss current and future opportunities for water recycling. WateReuse Member Arcadis highlighted the value of this conference, noting key takeaways that include the importance of One Water planning and development of regulations that are ushering in a future that includes direct potable reuse. Read more.
Research Update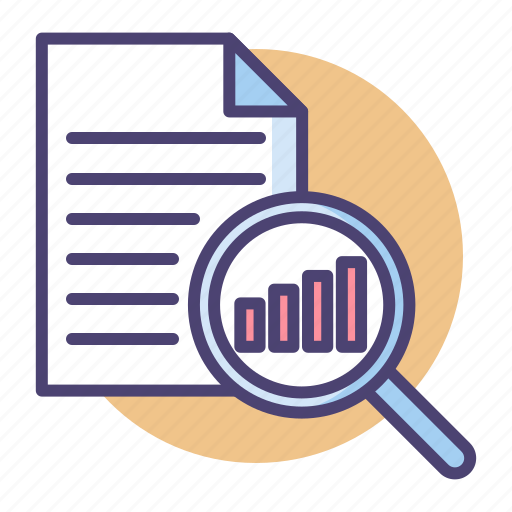 Water Reuse Pioneer Shane Snyder Wins National Water Research Institute Clarke Prize
Shane Snyder, a professor at Nanyang Technological University, Singapore and executive director of the Nanyang Environment and Water Research Institute, focuses much of his research around innovative water reuse technologies. "Over the past decades, I have been most inspired by the rapid proliferation of water recycling projects across the world. My hope for the near future is to enable and empower underserved communities to also embrace water recycling, along with the appropriate technologies and skills to improve access to reliable and safe water for those who currently suffer the most from inadequate water quantity and quality," Snyder said. Read more.
WateReuse Member Resources and Benefits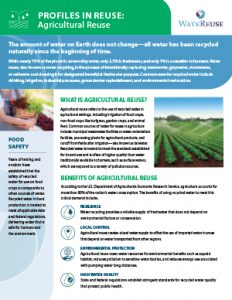 Profiles in Reuse: Agricultural Reuse
The latest flyer in the Profiles in Reuse series, Agricultural Reuse, discusses the ways in which recycled water provides a resilient water supply to support farmers. From Oregon, Idaho, and California to Florida and Maryland, the flyer presents some of the innovative ways communities are incorporating agricultural reuse to protect the environment, reduce energy use, and provide food security. The flyer is an easy-to-understand communications tools that can easily be shared with water customers, policymakers, and other stakeholders. View and download the flyer here.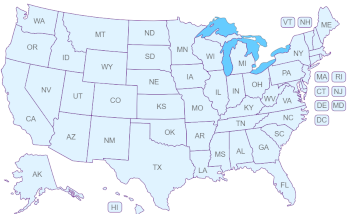 Interactive Map on State Water Reuse Policies and Regulations
Do you need information about water reuse policies and regulations from across the United States? Visit the state policy map on our website to find summaries of the regulatory landscape in key states, as well as links to specific polices and regulations. Clicking on a particular state opens a pop-up window with detailed information about the state. WateReuse invites members to help us fill in gaps in knowledge using the comment box provided on the page. The map is updated periodically as new information is received and/or states update their regulations. View the state policy map here.
Water Reuse Conferences, Webcasts, and Events
Upcoming Events
Webcast: Geochemical Considerations for Managed Aquifer Recharge Implementation in Potable Reuse
The Water Research Foundation
October 19, 2021
10 am PT | 1 pm ET (1 hour)
This webcast will summarize the results of Geochemical Considerations for Managed Aquifer Recharge (MAR) Implementation in Potable Reuse (project 5051). Results include a decision framework to evaluate potential physical and geochemical issues anticipated when applying potable reuse for MAR to basins or wells. Register here.
Webcast: Agricultural Reuse in California: Moving to the Next Level
November 10, 2021
11 am PT | 2 pm ET (1 hour)
Join WateReuse California's Agriculture Reuse committee to discuss the benefits of agriculture reuse, programs and case-studies, regulations, and an outlook for the future. Register here.
Calendar