---
Washington Update
Feedback Requested: WateReuse Seeks Member Guidance on WRAP Implementation
The WateReuse Association is seeking member guidance on implementation of the U.S. EPA's national Water Reuse Action Plan (WRAP). To help guide implementation of a range of actions, please complete our survey here.
The WRAP was developed in partnership with WateReuse and other stakeholders. WateReuse is leading or co-leading a variety of actions, including developing a database to track and report state-level policies and regulations related to water reuse; establishing a water reuse award to recognize significant achievements in adopting and promoting water reuse in the industrial and corporate sectors; and helping to organize events related to stormwater reuse, inter-state collaboration, and workforce development.
U.S. Department of Agriculture Invests $891 Million in Rural Water and Wastewater Infrastructure Improvements
Last week, the U.S. Department of Agriculture (USDA) announced $891 million to modernize rural drinking water and wastewater infrastructure in 43 states. There are over 220 projects funded through the Water and Waste Disposal Loan and Grant Program.
The grant program provides funding for clean and reliable drinking water systems, sanitary sewage disposal, sanitary solid waste disposal, and storm water drainage. Read more.
State Updates and Member Profiles
California: Report Highlights Water Recycling as Major Source of New Water Supply
The Public Policy Institute of California highlighted recycled water as a major source of new supplies in a report on Water Partnerships between Cities and Farms in Southern California and the San Joaquin Valley. The report notes that recycled water is a drought proof option that can provide recharge water at a lower cost than expanding or upgrading treatment facilities. In addition, the report pointed to the rise of stormwater capture as a benefit to local water supply. Read report.
California: Laguna County Begins Upgrades for New Water Recycling Program
The Laguna County Sanitation District has begun construction on a $53 million upgrade to its wastewater reclamation plant that will allow the facility to begin recycling water for irrigation and industrial purposes. The upgrades are part of a plan to create a drought-resistant water supply in the region. The facility is expected to begin producing recycled water in 2023. Read more.
New Mexico: Researchers Partner with Industry on Produced Water Reuse Research
The New Mexico Produced Water Research Consortium added Occidental Petroleum, a major oil and gas operator in the Permian Basin, as an industry partner in its produced water research initiative. The research consortium is a joint venture between the New Mexico Environment Department and New Mexico State University. Occidental Petroleum will provide field testing facilities for both oil production and produced water storage sites. The consortium plans to conduct a series of pilot projects to develop technologies that will enable the safe reuse of produced water for beneficial purposes. Read more.
Texas: Austin Pursues Regulations to Require Onsite Water Reuse for Commercial Developers
Austin Water is building support for regulations that will encourage commercial developers to use graywater, stormwater, and rainwater for non-potable purposes such as toilet flushing. The City Council is expected to consider an array of water-saving regulations at its December meeting. Previously, Austin's Water Forward Committee proposed a specific mandate for commercial buildings larger than 250,000 square feet but was unable to get it written into a Land Development code. Read more.
International Update
Europe: Evides to Provide Industrial Reuse Water to BASF
One of Europe's largest wastewater treatment and water reuse companies, Evides Industriewater, has extended its contract to supply recycled water to BASF's Antwerp facility. The companies signed a long-term contract providing reclaimed process water and demineralized water, ensuring that BASF will have a safe and reliable water supply. BASF is the world's largest chemical producer. Read more.
Member Resources and Benefits
Need to Illustrate the Value of Water Reuse Investment? Use Our Flyer and Infographic
Utilities must make a compelling case to ratepayers, policymakers, and other stakeholders that investment in water recycling is the right decision. Use our flyer and infographic to illustrate that Investment in water reuse builds communities that are modern, sustainable and stable—ready for families to flourish and businesses to grow. The infographic highlights examples of recycled water from coast to coast and documents the value they bring.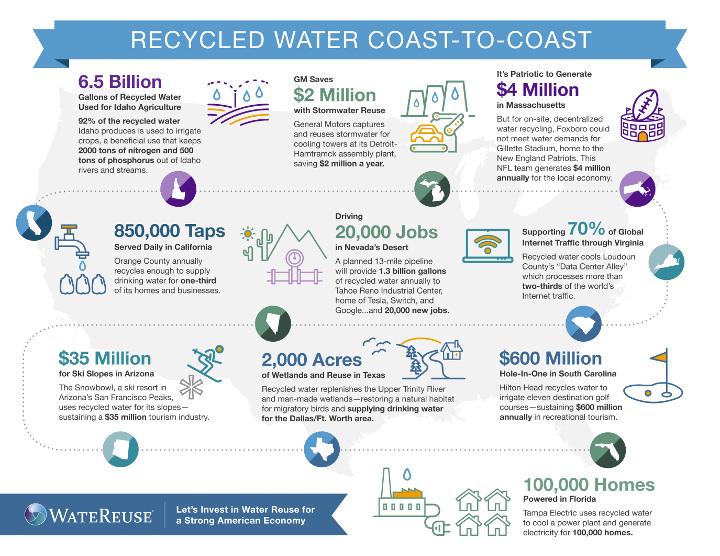 Conferences, Webcasts and Events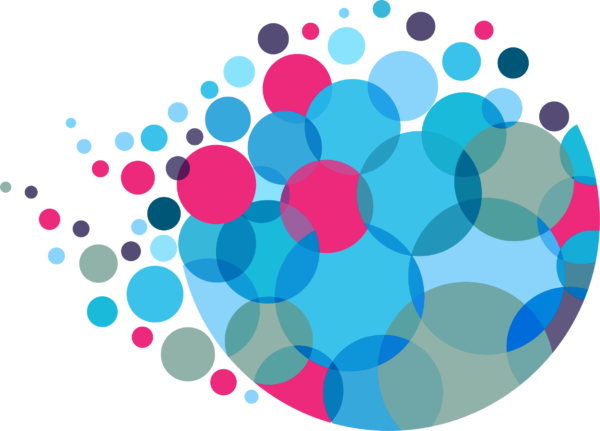 Save the Date: 36th Annual WateReuse Symposium – Resiliency Redefined
Mark your calendar for the 36th Annual WateReuse Symposium, presented virtually March 15-25, 2021 as a series of live, fully interactive roundtable discussions. Each live roundtable includes breakout rooms that allow you to turn on your camera and interact face-to-face with presenters and other attendees. To prepare attendees to fully participate in this unique interactive experience, a group of pre-recorded, on demand roundtables will provide prerequisite education. Experience the 2021 WateReuse Symposium from the comfort of your own office in manageable chunks, and earn professional development hours! A Call for Presentations will be released on November 4. Learn more.
Free Virtual Event: Water Utility Resilience Forum
Water utilities will come together on December 1-2, 2020 for a virtual discussion of how utilities can be resilient and sustainable now and for the next one hundred years. Featuring insights from industry leaders and subject-matter experts, the Water Utility Resilience Forum will be a rich dialogue on what utilities are doing today to be resilient and what a resilient future looks like. The Forum is free to attend and is being convened by the Association of Metropolitan Water Agencies (AMWA) and the National Association of Clean Water Agencies (NACWA) in partnership with the Water Research Foundation (WRF) and the Water Information Sharing and Analysis Center (WaterISAC). Learn more.
U.S. EPA Webinar: Workforce Technology Adoption – It's All About the People
Join the U.S. EPA and speakers from MCES (Minnesota) and the Water Tower (Georgia) on December 9 for a discussion of Technology Adoption to support the workforce of the future. The speakers will discuss the motivations, challenges, and benefits they are experiencing as they work with their own employees and others to ensure their people get the best support possible to meet the technology and water quality challenges of the 21st century. This presentation is part of an ongoing webinar series sponsored by EPA, with support from water associations. Register here.
Upcoming Events