---

Member Survey: Provide Your Feedback on WateReuse Advocacy, Communications, and Technical Programming!
Have you completed the WateReuse Association member survey? If not, please take a few moments now to help us ensure our advocacy, communications, and technical programming reflect our members' priorities and continue to provide value to you during the pandemic and beyond. It is important that we hear from you so that we can better support you. Take the survey now!
Washington Update
Congress Begins Discussions on Next Round of Stimulus Funding
This week the U.S. House of Representatives begins work to develop a nearly $2 trillion stimulus package, referred to as CARES 2. The package is intended to build upon the $2.2 trillion CARES Act, signed into law March 27. Democratic leaders have suggested the legislation will include billions to expand coronavirus testing, unemployment benefits, small business loans, and aid for state and local governments, including potential funding for water, wastewater and water recycling utilities. Congress aims to address medical and economic impacts of the coronavirus. Senate Majority Leader Mitch McConnell (R-KY), however, has suggested a "pause" in emergency aid.
Bureau of Reclamation Makes Funding Available for Water Reuse Treatment Technologies
Last week, the Bureau of Reclamation's Desalination and Water Purification Research Program announced the availability of up to $1 million in funding for innovative and cost-effective new water treatment technologies. Reclamation will fund the development of technologies that provide reductions in costs, energy use, or environmental impacts in treating impaired or unusable water for beneficial use, brackish groundwater, and seawater. Also eligible are technologies that improve the efficiency of the water treatment process, such as in pre-treatment, post-treatment, monitoring, and sensors. The funding opportunity is available at www.grants.gov by searching for funding opportunity number BOR-DO-20-F014. Applications are due by June 17, 2020, at 4:00 p.m. MDT. Selected applicants will be invited to participate in the "pitch" event on September 24 – 25, 2020.
Water Security Grand Challenge: U.S. Department of Energy Prizes Offer $1 Million for Water Reuse and $9 million for Desalination
The Department of Energy's Water Security Grand Challenge is making funding available for water reuse and desalination to advance safe, secure, and affordable water. The Water Resource Recovery prize offers up to $1 million in cash prizes and is designed to develop innovative, cutting-edge water treatment technology system configurations and business plans that will help lower the ultimate cost of water recycling. Submissions are due May 28, 2020. The $9 million American-Made Challenges: Solar Desalination Prize is designed to accelerate the development of low-cost desalination systems that use solar-thermal power to produce clean drinking water from salt water. Submissions are due July 1, 2020.
State Updates and Member Profiles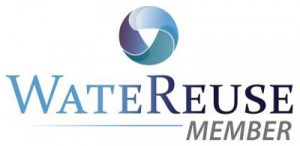 Welcome New Members!
The WateReuse Association welcomes the following new members:
California: Santa Monica and Morro Bay Award Reuse Design-Build Projects to H2O Innovation
WateReuse Association members the City of Santa Monica and the City of Morro Bay have awarded design-build projects to H2O Innovation. The Santa Monica indirect potable reuse project will treat up to 0.6 MGD for groundwater recharge. The Morro Bay water reuse system will treat 0.9 MGD for non-potable applications. Read More.
North Carolina: Stakeholder Group Explores Stormwater Capture and Recharge for Flood Protection
The Pew Charitable Trusts and the North Carolina Coastal Federation have set up a stakeholder engagement process that is looking at capturing stormwater to allow groundwater recharge through natural filtration and provide flood protection. The workgroup aims to find nature-based solutions to lower North Carolina's flood risk. Several strategies can be used to allow stormwater to filter into the ground via roads, agricultural and forest land, and residential or commercial sites, which could reduce runoff by 48-99%. Read More.
California: Students Win Grand Prize in Cal Water H20 Challenge with Rainwater Recycling Project
A sixth grade class from Hoover Elementary in Stockton won the grand prize in the 2020 Cal Water H20 Challenge with a project to recycle harvested rainwater to offset potable water use at school. The students earned $3,500 for their classroom, $1,000 scholarship each, and $100 gift card for each student. California Water Service Group, the North American Association for Environmental Education, and DoGoodery team up annually to issue the Cal Water H2O Challenge for 4-6 grades classrooms across California. Read More.
Water Reuse Systems Gain Popularity in Laundry Operations
The laundry industry has been shifting its focus to environmentally conscious practices that lower costs, and water reuse technologies help the industry achieve both goals. Water recycling can reduce water and sewer utility bills for many operations. In addition, water reuse treatment systems help ensure compliance for facilities.  Read More.
Member Spotlight: Black & Veatch CEO Discusses COVID-19 Impacts on Global Operations
In a letter to clients, Black & Veatch CEO Steve Edwards discusses how the company is adapting and innovating during these unprecedented times. Black & Veatch continues forging ahead taking precautions to ensure minimal impact on employees and clients. Read More.
WateReuse Communications Tools and Resources
Profiles in Reuse: Flyer Explains Safety and Reliability of Potable Reuse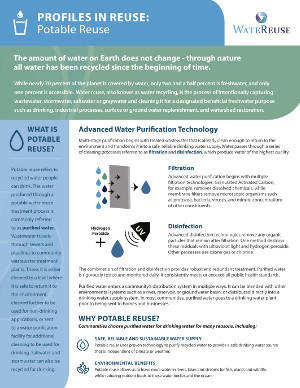 Use our flyer, Profiles in Reuse: Potable Reuse, to inform ratepayers, elected officials, and other stakeholders about the safety and reliability of using purified water as part of the drinking water supply. The flyer also supports WateReuse's Medical Community Initiative, which seeks to build support for potable reuse among medical and public health officials. This flyer is the first in a series of Profiles in Reuse that will serve as resources for member communication on water recycling. Download Flyer.
Conferences and Events
Webcast: Digital Water Applications for System Reliability in Water Reuse Systems
Presented by Champion Sponsor: Black & Veatch
In today's water reuse systems, it's more important than ever to have the ability to monitor total system performance from anywhere at any time. Join us on May 13 at 2 pm to learn about the latest digital water applications to ensure system reliability. The ability to implement digital water solutions in the form of connected monitoring, controls, and predictive analytics tools, especially in the form an integrated "digital twin" is invaluable to ensure reliability and continuous surveillance. Register Now.
Webcast: Creating the Water Workforce of the Future
Utility leaders are embracing the opportunity to develop a more diverse workforce that is representative of the communities they serve. Please join the U.S. EPA, WateReuse Association, and other partners on June 23 at 1:30 pm ET to learn how two communities are benefiting from their commitment to diversity in the workforce. Jennifer Zuchowski from Metropolitan Council Environmental Services in St. Paul, Minnesota will describe various diversity programs underway to train and hire women electricians. Howard Carter and Stacy Thompson from the Saco Maine Wastewater Treatment Plant in Saco, Maine will describe how focusing on employee development has enabled their organization to attract and retain a diverse workforce. Register Now.
Register for the 2020 WateReuse California Virtual Conference
Join WateReuse California for an easy to navigate, virtual conference experience beginning June 24-25 from the comfort of your office or home office. The conference will include more than 50 technical presentations with audience Q&A and handouts, live and interactive panel discussions, an interactive sponsor and exhibitor hall, and a virtual cocktail party reception. Kristin Peer, Deputy Secretary and Special Counsel for Water Policy at Cal EPA will give a keynote presentation on COVID-19 Challenges and California's Water Resilience Portfolio. Sessions will be presented on June 24 and June 25 and continue to be available for viewing until July 31, 2020. Register Now.
Upcoming Events