---
Washington Update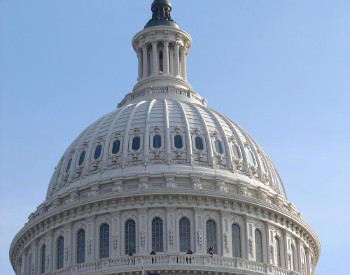 Senate Passes COVID Relief Package; Legislation Includes Relief for Water Utility Ratepayers and Localities
The Senate passed the $1.9 trillion COVID relief package Saturday through the budget reconciliation process, which allowed the Senate to pass the bill with a simple majority vote rather than the 60 votes that is typically required to end debate. The Senate's revised package goes back to the House before heading to President Biden's desk. The reconciliation package includes $500 million for the Department of Health and Human Services' Low-Income Household Drinking Water and Wastewater Emergency Assistance Program. Congress previously provided $638 million for the program in last year's COVID relief package. The bill also includes $350 billion to help states, localities, and tribal governments offset revenue losses due to the pandemic. WateReuse will continue to provide updates on the package as it moves through the process.
Bureau of Reclamation Releases Desalination and Water Purification Research Highlights
The Bureau of Reclamation is highlighting work done under its Desalination and Water Purification Research Program to remove technical obstacles to creating more resilient water supplies. The Research and Development Office's FY 2020 Highlights notes that Reclamation awarded $7 million in research grants for 30 projects that addressed challenges that ranged from potable reuse and innovative membranes to per-and-polyfluoroalkyl substances. A recently funded research report, "Tailoring Advanced Desalination Technologies for 21st Century Agriculture," proposes technology options to desalinate brackish groundwater to produce water suitable for specific crop types and growth needs.
EPA Announces Allocation Formula for the Sewer Overflow and Stormwater Reuse Municipal Grants Program
The U.S. EPA published a Federal Register Notice establishing the allocation formula for the upcoming Sewer Overflow and Stormwater Reuse Municipal Grant Program. This new grant program will provide funding for critical stormwater infrastructure projects in communities including combined sewer overflows and sanitary sewer overflows. The funding for this program was originally authorized 20 years ago but money was never appropriated until the 2018 and 2019 America's Water Infrastructure Act process, which secured $28 million and $40 million respectively. EPA's formula for distributing program funds to states is based on the following weighted scale: the most recent Clean Watersheds Needs Survey (50%), total population (16.7%), urban population (16.7%), and annual average precipitation (16.7%).
State Updates and Member Profiles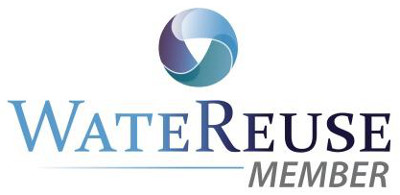 Welcome New Member!
The WateReuse Association welcomes back a returning member:
California: Strategic Water Plan Incorporates Indirect Potable Reuse and Aquifer Storage Recharge
The Yucaipa Valley Water District developed a comprehensive strategic plan integrating its water system, drinking water plant, wastewater plant, recycled water system, and its brine line. The plans key priorities include indirect potable reuse, Calimesa aquifer storage and recovery facilities, monitoring operations and reporting enhancements, public relations and outreach, energy efficiency improvements, septic tank elimination program, and advanced metering infrastructure. Read more.
Florida: Legislation Incentivizing Potable Reuse Passes through Committee
A bill incentivizing the development of potable reuse projects (HB 263) passed the Florida House Environmental, Agriculture and Flooding Subcommittee, 17-0. If the bill becomes law, Florida utilities would be required to eliminate non-beneficial surface water discharges within five years, and work to treat the water to meet drinking water standards instead. The bill includes hardship provisions for utilities unable to eliminate surface water discharges within five years. Read more.
Member Spotlight: Cindy Wallis-Lage Elected to National Academy of Engineering
Black & Veatch's Cindy Wallis-Lage and Dr. James Barnard were elected to National Academy of Engineering. Cindy Wallis-Lage was recognized for "applying innovative technology to complex, large-scale water infrastructure systems" along with her extensive experience in innovative resource recovery, wastewater treatment, and water reuse projects. WateReuse congratulates Cindy Wallis-Lage and Dr. James Barnard on the honored distinction. Read more.
International Update
NASA Increases Water Recycling on International Space Station
A new Brine Processor Assembly (BPA) allows increased water recovery at NASA's international space station. The BPA is added to the Environmental Control and Life Support System to boost the recovery from 85-87% to nearly 98% water recovery. Increasing the efficiency of the water recovery allows for longer duration exploration missions and reduces the need for water resupply from Earth. Read more.
Singapore's National Water Agency Aims to Increase Desalination Sustainability
Dupont Water Solutions secured a three-year $1.3 million grant to assess how Closed Circuit Reverse Osmosis (CCRO) technology can make seawater desalination more energy efficient and reliable at PUB, Singapore's National Water Agency. The grant comes from the National Research Foundation, Singapore. Dupont's patented CCRO process aims to operate at 15 percent lower energy than conventional systems. Read more.
Member Resources and Benefits
Profiles in Reuse: New Flyer Showcases Opportunities for Industrial Reuse
Do you need to introduce a new customer to the concept of industrial reuse or find innovative examples? The WateReuse Association's latest Profiles in Reuse flyer, Industrial Reuse, outlines the benefits of industrial reuse, makes the business case for industry to invest in water recycling, and presents brief case studies that illustrate the many ways in which businesses across the U.S. rely on water reuse to operate. The flyer is designed to introduce new audiences to the concept of industrial water reuse. View and download flyer.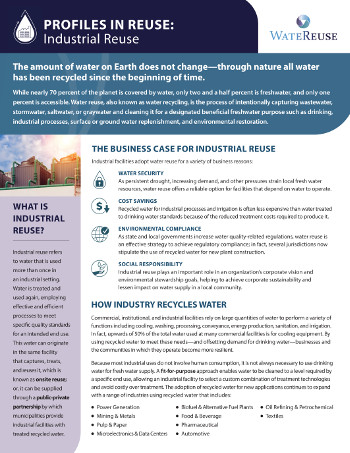 Job Opportunities from the WateReuse Career Center
Conferences, Webcasts and Events
More than 600 Water Professionals Register for the Launch of the 36th Annual WateReuse Symposium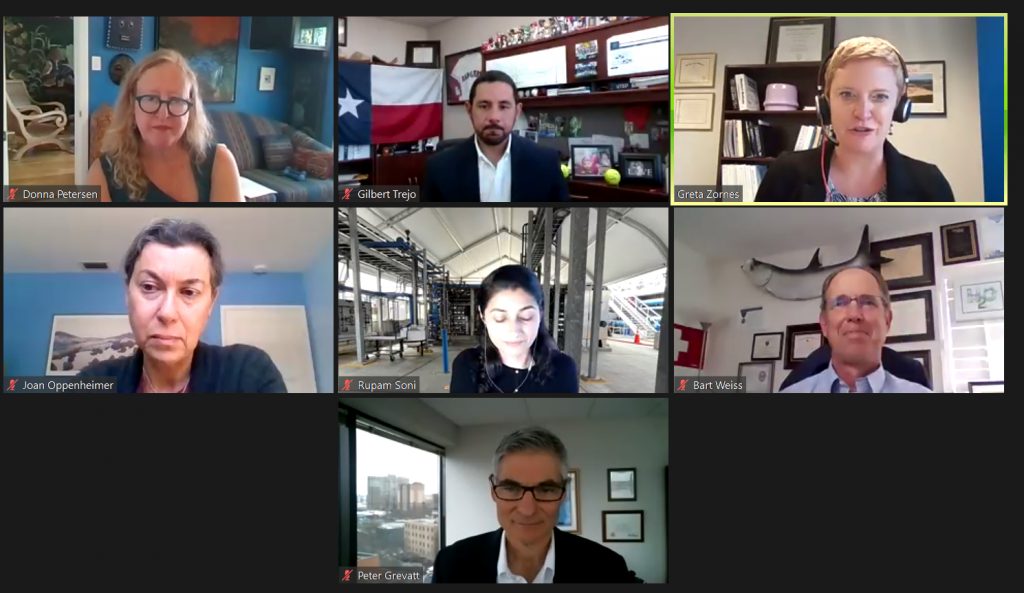 EPA Webinar: Cultivating a Positive Workforce Culture from Apprenticeship to Career
April 1, 2021
9 am PT | 12 pm ET
The latest webinar in the "Creating the Water Workforce of the Future" series focuses on building an inclusive and supportive workplace that encourages employee growth to attract and retain the qualified candidates. The presenters will include Joone Lopez from Moulton-Niguel Water District, Tim Friday from Caste Rock Water, and Eric Dunker from Arapahoe Community College. View the event flyer or register here.
18th Annual EPA Drinking Water Workshop: Small System Challenges and Solutions
August 30 – September 2, 2021
EPA's free annual drinking water workshop, held in partnership with the Association of State Drinking Water Administrators (ASDWA), will be virtual this year. The workshop will provide in-depth information and training on solutions and strategies for handling small drinking water system challenges with a focus on monitoring, distribution, source, and treatment topics. Learn more on the event page.
Upcoming Events