---

Washington Update
Join WateReuse for a Virtual Town Hall with Congressional Staff
Compressed Congressional Schedule Highlights Value of Advocacy to Advance Investment in Reuse
Water Sector Urges Congress to Fund Smart Water Technologies
Last week, WateReuse and more than a dozen other water sector associations and organizations delivered a letter to Congress, urging federal investments in smart water technologies as part of future economic stimulus legislation. Specifically, the letter calls on Congress to integrate smart water and digital information technologies into water infrastructure programs, including programs that support water recycling
National Water Reuse Action Plan (WRAP) Update
State Updates and Member Profiles
California: Paso Robles Serves as a Model for Implementing Reuse in a Small Community
The City of Paso Robles' new tertiary treatment facility will provide high-quality recycled water for irrigation compliant with Title 22 requirements without investment in costly advanced purification technologies. The facility helps the city build water resilience as part of its sustainable approach to water management. The irrigation water is expected to start serving city parks, public areas, and private sector wineries within the next two years as the city develops the distribution system. Read More.
New Mexico: New Mexico State University and ExxonMobil Team Up to Research Produced Water
ExxonMobil has entered into agreement with New Mexico State University to coordinate research focused on reusing wastewater produced during oil and gas operations. The university also has an agreement with the state environmental department "to advance scientific and technological solutions related to the treatment and reuse of produced water." The efforts are helping inform state officials as they draft rules regarding produced water. Read More.
New York: New York City Enacts Standards for Onsite Water Reuse
The City of New York recently passed a new law that provides standards for onsite non-potable water reuse systems (ONWS). Local Law 22, Ch. 13 was enacted as part of an ongoing effort to update the New York City plumbing codes to address modern challenges. The New York City Department of Environmental Protection, a WateReuse Association member, has a Water Conservation and Reuse Grant Pilot Program that provides commercial, industrial, and multi-family residential property owners with incentives to install onsite water reuse systems and other technologies.
Member Spotlight: Xylem Ranks in Top 20 among 100 Best Corporate Citizens, Globally
Xylem, a leading water reuse technology provider, has been named one of the 100 Best Corporate Citizens in 3BL Media's annual ranking of public companies. Xylem was recognized for its commitment to sustainability, innovation, diversity and inclusion, disaster relief, community impact, and employee volunteerism. Xylem's employees beat previous records with 58% of them contributing more than 70,000 volunteer hours in 2019. Read More.
Member Spotlight: Black & Veatch Finds Most Utilities Incorporate Water Reuse as Part of Sustainability Goals
A Black & Veatch survey of more than 300 utilities found 60% of respondents say water reclamation and reuse are part of their sustainability goals and metrics, demonstrating that an expanding portfolio of water reuse strategies is becoming the norm. Facing a diverse array of headwinds to their operations, U.S. water industry leaders are looking to accelerate innovation in strategy, operations and capital planning by harnessing digital assets and data analytics, Black & Veatch's newly released Strategic Directions: Water Report finds. Read More.
Global Update
Water Reuse Makes Water System Circular Economy Possible
The European Commission is funding a NextGen project centered on demonstrating innovative circular economy solutions for water in 10 cases across Europe. The cases assess how to increase efficiency and optimize reuse of water in agriculture, industry, and society. Read More.
WateReuse Communications Tools and Resources
Profiles in Reuse: Flyer Explains Safety and Reliability of Potable Reuse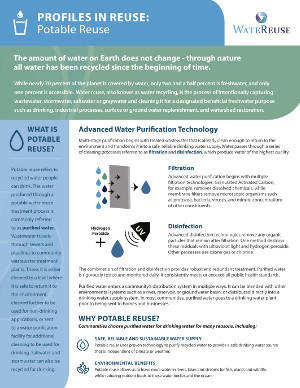 Use our flyer, Profiles in Reuse: Potable Reuse, to inform ratepayers, elected officials, and other stakeholders about the safety and reliability of using purified water as part of the drinking water supply. The flyer also supports WateReuse's Medical Community Initiative, which seeks to build support for potable reuse among medical and public health officials. This flyer is the first in a series of Profiles in Reuse that will serve as resources for member communication on water recycling. Download Flyer.
Awards and Recognition for Water Reuse
Water Sector Seeks Applications for Utility of the Future Today Recognition Program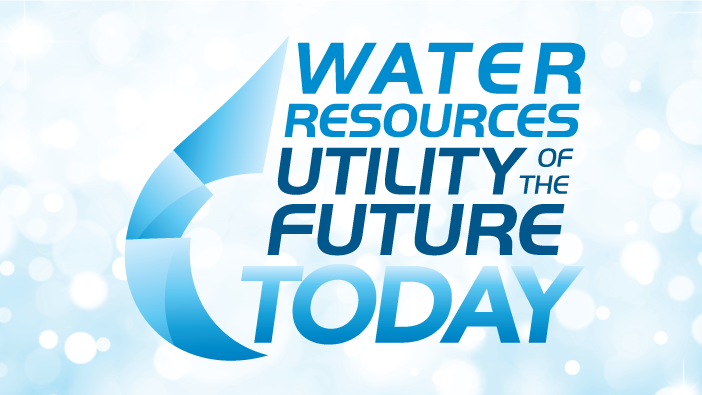 The application period is open for the Utility of the Future Today recognition program, which honors water resource recovery facilities for community engagement, watershed stewardship, water reuse, and recovery of other resources such as energy and nutrients. The Utility of the Future Today concept is as a model for utilities to achieve more efficient operations, enhanced productivity, and long-term sustainability. The WateReuse Association participates in the joint initiative with the Water Environment Federation, the National Association of Clean Water Agencies, and the Water Research Foundation Public and private water sector utilities of all sizes that can demonstrate achievement of the application requirements are encouraged to apply by July 17 at 5 p.m. EDT.
Conferences and Events
Webcast: Reuse for Managing Nutrients and Water Quality
WateReuse Pacific Northwest (PNW) section is holding a webinar on "Reuse for Managing Nutrients and Water Quality" Friday, July 17th from 11:00-12:30 PDT. Join us to hear presentations from Dave Clark (HDR Engineering) on "Reuse Opportunities in San Francisco Bay Nutrient Reduction" and Susan Schlangen (Water Systems Consulting) and Jarrod Kinner (Clean Water Services) on "Recycled Water for TMDL Compliance: Clean Water Services Case Study." The session moderator will be Chris Stoll from Kennedy Jenks. Register here.
Upcoming Events