---
Washington Update
Trump Administration Announces Finalized Rule on the National Environmental Policy Act
The White House Council on Environmental Quality (CEQ) released a comprehensive update to the National Environmental Policy Act (NEPA) for the first time in over 40 years. The final rule updated regulations applying to the development of infrastructure projects, the management of activities on federal lands, and environmental restoration. NEPA was signed into law by President Richard Nixon and requires federal agencies to consider the environmental effects of proposed projects before they are approved. Read CEQ's Press Release. Read final rule.
State Updates and Member Profiles
California: Los Angeles is One Step Closer to Recycling 100% of Treated Water
The City of Los Angeles broke ground on the Hyperion Membrane Bioreator (MBR) Pilot Facility with a virtual celebration. The pilot facility will test MBRs from three different manufacturers for one year, as part of the larger 15-year effort to transform Hyperion into a Zero Wasted Water Production Facility by 2035. The pilot is a joint effort between LA Sanitation & Environment, the Los Angeles Department of Water and Power, and the West Basin Municipal Water District.
Read More.
Member Spotlight: Local Agriculture is Critical to EMWD's Nationally Recognized Water Program
Farmers are using recycled water to meet irrigation needs and stay in business in Riverside County, California. Paul Jones, General Manager of Eastern Municipal Water District (EMWD), discussed EMWD's recycled water program and partnerships with the agricultural community in a recent blog post. EMWD recycles 100 percent of water produced at its water reclamation facilities. Read More.
Member Spotlight: Nanostone Water Announces New Appointment
Nanostone Water recently announced that Jonathan Pressdee has been named Executive Vice President of Global Business Development. Pressdee has 30 years of experience in the water industry, including more than 20 years in senior management positions with firms such as AECOM and Black & Veatch. Read More.
WateReuse Communications Tools and Resources
Use WateReuse Connect to Learn and Exchange Ideas with Peers
In this time of social distancing, opportunities for peer-to-peer networking are more important than ever. WateReuse members can use WateReuse Connect to access a member-to-member network of more than 7,000 water recycling practitioners, business leaders, regulators, academics, and technology providers. Recent discussion topics have included innovative partnerships, scheduling of recycled water deliveries, downstream flows, and COVID-19. Post your questions, observations, and unique challenges on our online platform to benefit from the unique experiences of other members across the nation and around the world. It's simple to use with your member login information. For help accessing WateReuse Connect, please email Member Services.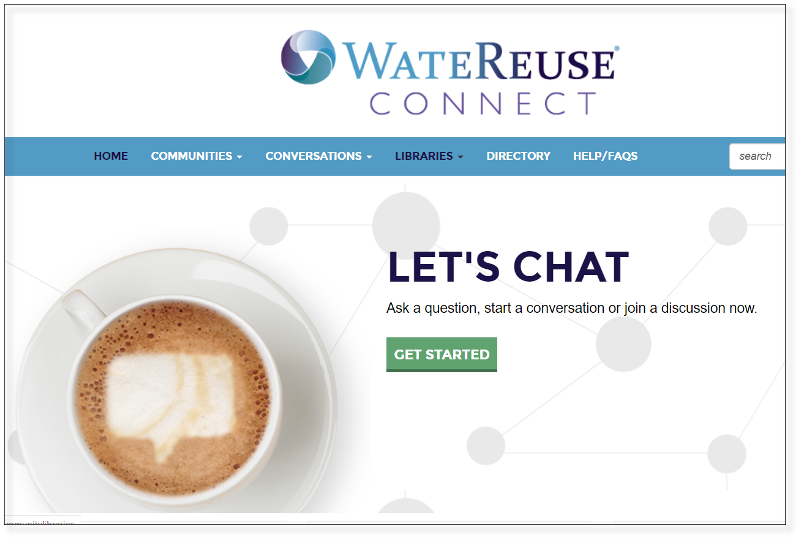 Conferences and Events
Reaching New Heights in Water Reuse: Register for the 35th Annual WateReuse Virtual Symposium
Learn about the latest developments in water recycling at the 35th Annual WateReuse Virtual Symposium, launching online September 14-16, 2020 using a virtual event platform that offers attendees, sponsors, exhibitors and presenters an experience very close to the experience of an in-person event.
Participate in the Annual WateReuse Symposium from any location and at your convenience—view presentations, chat with colleagues, and browse the exhibit hall. Join us for an in-depth look at the technology, policy, and research innovations that have propelled water reuse to new prominence as a water management strategy. Register today!
Upcoming Events