---
Washington Update
Coalition Releases Statement in Support of Water Recycling and Other Priorities
Last week, a coalition of water sector associations, companies, and organizations, including the WateReuse Association, released a set of joint legislative policy priorities, which will be communicated to the U.S. Senate and House of Representatives.
The document highlights the importance of reauthorizing and funding the Title XVI-WIIN Water Reclamation and Reuse Program and the Alternative Water Source Grants Pilot Program in upcoming legislation. It also calls for the creation of a federal Interagency Working Group of Water Reuse to facilitate coordination of reuse-related activities across federal departments.
Bureau of Reclamation Announces Availability of $20 Million for Water Reuse Projects
On July 10, the Bureau of Reclamation published the 2021 funding opportunity announcement for congressionally authorized Title XVI Water Reclamation and Reuse Projects. Applications are due on September 10, 2020, at 4 p.m. MDT. Reclamation anticipates that it will award $20 million to 6-10 projects. The recipients must provide at least 75% cost-share. Funding opportunity announcement number BOR-DO-20-F008 is available on grants.gov.
EPA Releases Water Utility COVID-19 Financial Impact Tool
U.S. Environmental Protection Agency released a tool to help water utilities assess the financial impact of COVID -19 on operations. The tool provides information about the financial and operational health of water utilities. The financial impact tool was developed by the EPA's Water Infrastructure and Resiliency Finance Center. Visit the EPA website to access the Water Utility COVID-19 Financial Impact Tool.
State Updates and Member Profiles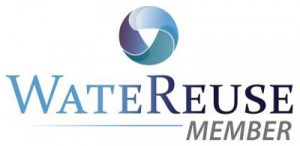 Welcome New Members!
The WateReuse Association welcomes the following new members:
Florida: New Law Provides $40 Million for Reuse, Mandates Potable Reuse Regulations
Nevada: Water Reclamation Featured in "Nevadans at Work" Video Series
Last week, the Clark County Water Reclamation District's water recycling facility was profiled in the video series, "Nevadans at Work." The facility recycles water for irrigation and cooling electrical plants. In the video, wastewater operator Gilbert Cruz leads a tour of the facility and discusses the treatment processes and technologies used. Watch here.
Research Update
WRF Names Trussell Technologies as Lead Researcher for COVID-19 Study
The Water Research Foundation announced that Trussell Technologies will lead the project Interlaboratory and Methods Assessment of the SAWS-CoV-3 Genetic Signal in Wastewater (project 5089). The project will gather information from over sixty U.S.-based laboratories and thirty laboratories outside the U.S. to provide an assessment of the methods currently used at laboratories and facilities to find reliable methods of measurement of the SAR-CoV-2 genetic signal. Read More.
WateReuse Communications Tools and Resources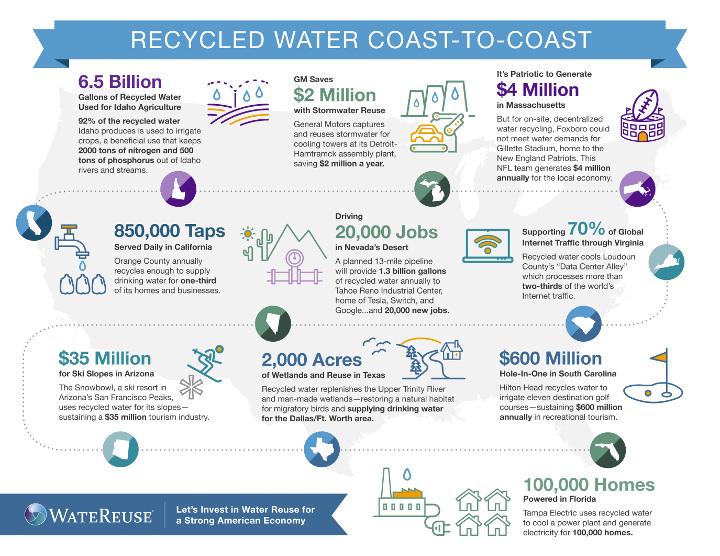 Need to Illustrate the Value of Water Reuse Investment? Use Our Flyer and Infographic
Utilities must make a compelling case to ratepayers, policymakers, and other stakeholders that investment in water recycling is the right decision. Use our flyer and infographic to illustrate that Investment in water reuse builds communities that are modern, sustainable and stable—ready for families to flourish and businesses to grow. The infographic highlights examples of recycled water from coast to coast and documents the value they bring.
Conferences and Events
Upcoming Events