---
Washington Update
Federal Agencies Host Summit on the Future of Water Infrastructure and Innovation
The Department of Energy's (DOE) Water Security Grand Challenge is hosting a virtual summit on October 27-28 focused on the future of water infrastructure and innovation, including water reuse and desalination. DOE is partnering with the White House Office of American Innovation, the Office of Science and Technology Policy, and Council on Environmental Quality in providing a summit focusing on the role of DOE and other federal agencies in supporting research and invention to achieve a more water secure future. Register here.
Feedback Requested: WateReuse Seeks Member Guidance on Implementation of National Water Reuse Action Plan
The WateReuse Association is seeking member guidance on implementation of the U.S. EPA's national Water Reuse Action Plan (WRAP). To help guide implementation of a range of actions, please complete our survey here. The WRAP was developed in partnership with WateReuse and other stakeholders. WateReuse is leading or co-leading a variety of actions, including developing a database to track and report state-level policies and regulations related to water reuse; establishing a water reuse award to recognize significant achievements in adopting and promoting water reuse in the industrial and corporate sectors; and helping to organize events related to stormwater reuse, inter-state collaboration, and workforce development.
Imagine a Day Without Water
WateReuse Highlights Water Recycling During Imagine a Day Without Water
The WateReuse Association participated in the national Imagine a Day Without Water education campaign on October 21. The campaign brings together diverse stakeholders to highlight how water is essential, invaluable, and in need of investment. Participants, including utilities, businesses, and national water organizations, organized events, resolutions, student contests, and social media engagement across the country. WateReuse used the campaign to increase awareness of the critical role that water recycling plays in a variety of water management scenarios.
Business Leaders Who Imagine a Day Without Water Turn to Water Recycling
WateReuse Executive Director Patricia Sinicropi discussed the important role of water reuse in ensuring sustainable fresh water supplies during the Imagine a Day Without Water conversation. Business leaders in food and beverage, clean tech, advanced manufacturing, energy and pharmaceuticals among other industries utilize water reuse technologies to provide "fit for purpose" water. Read More.
Water Sector Explores the Role of Public Art in Connecting Communities to Water
During the recent 35th Annual WateReuse Virtual Symposium, keynote speaker Peter Kageyama shared the power of art in connecting us with our communities, infrastructure, and water. Last week, the U.S. Water Alliance announced Benny Starr as its One Water Artist-in-Residence. Benny will work with the Alliance for one-year to bring arts and cultural strategies to the water sector. WateReuse will continue the conversation at the 36th Annual Symposium, which launches March 1, 2021. The Call for Presentations will request proposals for sessions that showcase the use of public art and education to showcase recycled water as a resiliency tool.
ICYMI: View Webcast Highlighting Pure Water Monterey Potable Reuse Journey
In conjunction with Imagine a Day Without Water, the WateReuse Association hosted an informative discussion of how Pure Water Monterey, a first-of-its-kind potable reuse project in California, navigated the process from permitting to design and construction. A recording of the webcast can be viewed here.
State Updates and Member Profiles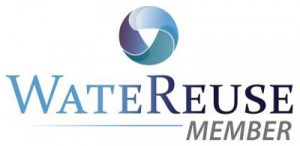 Welcome New Member!
The WateReuse Association welcomes the following new member:
Member Spotlight: SFPUC Leads National Partnership in Shaping Onsite Water Recycling Opportunities
Onsite non-potable water systems (ONWS) represent a significant opportunity to transform the way water is managed, explains Paula Kehoe, Director of Water Resources at the San Francisco Public Utilities Commission (SFPUC). In addition to its work in San Francisco, SFPUC is working on state and national efforts to establish guidance and policy frameworks to help local jurisdictions overcome barriers for onsite water reuse.
The National Blue Ribbon Commission (NBRC) for ONWS was established to craft model state policy and develop resources to demonstrate how onsite non-potable water systems can help utilities meet One Water goals. Read More.
Member Spotlight: NextEra Energy Embraces Reclaimed Water to Lower Impact on Fresh Water Supplies
Energy companies, like NextEra, have begun turning to alternative supplies of water in the face of growing water stress. In June 2020, NextEra and the Miami-Dade County Commission reached an agreement for the county to provide 15 million gallons of reclaimed water each day for cooling.
About 61% of existing fossil-fueled and nuclear power plants operate in areas that could face medium-high to extremely high-water stress in 2030. Fossil fuel and nuclear plants also make up 45% of the U.S. daily freshwater usage. Water reuse can help energy facilities lower their fresh water impacts as the industry works to diversify the nation's energy portfolio. Read More.
California: Santa Margarita Dedicates Recycled Water Storage Project
The Santa Margarita Water District hosted a socially distant dedication ceremony earlier this month for the Trampas Canyon Dam and Reservoir, marking an important step in securing water supply resiliency for the south Orange County community. The project will capture and store recycled water from the Chiquita Water Reclamation Plant and other recycled water supply sources. During the winter months, water demand is so low that treated wastewater currently flows to the ocean. With the new storage capacity in place, recycled water will be available for use in the summer when demands are high. Read More.
Section Update: UC Berkeley Student Receives Joint National Water Research Institute-WateReuse California Graduate Fellowship
Hannah Greenwald, a PhD student at UC Berkeley, received the 2020 National Water Research Institute (NWRI)-WateReuse California/Orange County Chapter graduate fellowship. The $5,000 fellowship recognizes a student researching advancements in recycled water treatment technology or policy for potable or non-potable reuse.
Greenwald's research is titled, "Transitioning to Direct Potable Reuse: Microbial Impacts in Distribution Systems." Greenwald, working under the guidance of advisor Dr. Kara Nelson, is studying microbial water quality in drinking water distribution systems during transitions to treated water augmented direct potable reuse.
International Update
Australia: Recycled Water Brings Green Spaces to Parkes Shire
Parkes Shire Council established a recycled water initiative to irrigate 16 open spaces with about 250 megaliters of high-quality recycled water. The Director of Infrastructure highlighted the community benefits of the plan in both providing green spaces and supporting water security. The use of recycled water for irrigation saves 185 megaliters of potable water for a community prone to water shortages and droughts. Read More.
Member Resources and Benefits
Profiles in Reuse: Flyer Explains Safety and Reliability of Potable Reuse
Use our flyer, Profiles in Reuse: Potable Reuse, to inform ratepayers, elected officials, and other stakeholders about the safety and reliability of using purified water as part of the drinking water supply. The flyer also supports WateReuse's Medical Community Initiative, which seeks to build support for potable reuse among medical and public health officials. This flyer is the first in a series of Profiles in Reuse that will serve as resources for member communication on water recycling. Download Flyer.
Conferences, Webcasts and Events
Webcast: Breweries and Reuse – Reuse is Brewing Up
The use of purified recycled water to brew beer has been an effective public education tool, but what is the market outlook for growth? Join us October 28 at 2 pm ET to learn about the market drivers and business strategies for breweries and water reuse providers within the beer brewing market. This presentation will provide, in dollars, a market size for water reuse technology providers and brewers as well as the outlook for this market. This information will help companies and municipalities plan for the future and develop comprehensive relationships. Register here.
Upcoming Events