---

2019 Annual Report Details New Partnerships and Strategic Growth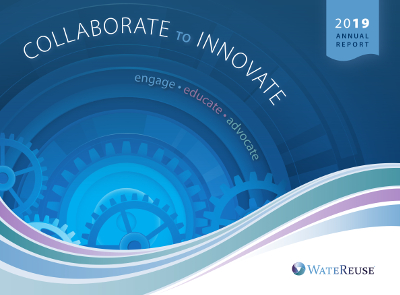 In 2019, the WateReuse Association built new partnerships and strengthened existing ones to engage our members and the public in a national movement for safe and sustainable water supplies. Highlights from the year include a new three-year strategic plan, developing policy recommendations for the National Water Reuse Action Plan, a record-breaking Annual WateReuse Symposium, a new collaboration with the National Blue Ribbon Commission for Onsite Non-potable Water Systems, and successful advocacy on Capitol Hill. Read the 2019 Annual Report to learn more.
Washington Update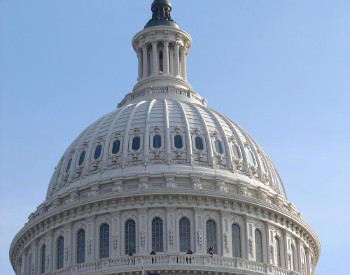 Watch On Demand: Water Reuse Action Plan Webcast Presents Implementation Details
The WateReuse Association hosted a webcast last Wednesday that provided an inside look at the recently released National Water Reuse Action Plan (WRAP), an EPA facilitated effort to accelerate the adoption of water reuse across the United States. EPA partnered with other governmental and non-governmental water sector organizations throughout the process, including WateReuse. Staff from EPA described the plan, its genesis, and plans for implementation. View the recording.
Be an Advocate for Reuse: Join Us for National Water Policy Fly-In
Make plans to join the WateReuse Association in Washington, DC April 27-28 for the National Water Policy Fly-In during Water Week 2020. Presented jointly by WateReuse, the National Association of Clean Water Agencies, the Water Environment Federation, and the Water Research Foundation, the Fly-In includes networking, education, and Capitol Hill visits to advocate on behalf of water utilities. Water Week is an opportunity to advance policy priorities, including greater federal investment in water infrastructure, and a celebration of the role utilities play in communities nationwide. WateReuse encourages our members to participate so that we can ensure that recycled water is an integral part of the Water Week message. Register today to reserve your space.
State Updates and Member Profiles
Welcome New Members!
The WateReuse Association welcomes the following new members:
California: Diablo Water and Ironhouse Sanitary Pursue Potable Reuse Program
The Diablo Water District and the Ironhouse Sanitary District have partnered to study the potential for water recycling in Oakley, including an indirect potable reuse project. A federal bill, H.R.5302, co-authored by Rep. Jerry McNerney (D-CA) and introduced at the end of 2019, could provide up to $5 million toward the design, planning and construction of the infrastructure necessary for the project. A grant from the California State Water Resources Control Board is funding half the cost of the current study of potable reuse options. Read More.
Florida: Sarasota to Recharge Groundwater with Reclaimed Water
Sarasota County has begun construction on a project that will upgrade the 12-million-gallon-per-day Bee Ridge Water Treatment facility to an 18-million-gallon advanced treatment facility. The project includes the drilling of two aquifer recharge wells, which will be used to replenish groundwater and prevent saltwater intrusion. The project is estimated to cost $157 million and is expected to be completed at the end of 2025. Read More.
WateReuse Communications Tools and Resources
Understanding Potable Reuse: New Video Targets Public Health and Medical Community
The WateReuse Association released a new video, Understanding Potable Reuse: A Safe and Sustainable Supply, which discusses the proven, science-based treatment processes that are used safely in communities around the world. In the video, experts from academia, public health, and utilities discuss the value of engaging with the medical community and including discussions of water in public health education. The video was produced as part of the WateReuse Public Health and Medical Community Initiative.
Conferences and Events
2020 WateReuse California Conference Postponed Due to Covid-19 Outbreak
In light of the recent state of emergency in California, San Francisco, and its surrounding counties due to the COVID-19 outbreak, the WateReuse California and WateReuse Association Boards of Directors have made the difficult decision to postpone the 2020 WateReuse California Annual Conference, which was scheduled for March 15-17. A joint WateReuse California/WateReuse Association board working group has been established to consider options for a future and will provide a status report by March 20. Learn More.
Webcast: Effective PFAS Treatment: Challenges and Solutions for Potable Reuse
Join us on March 25 at 2 pm ET to learn about the latest science on effective treatment for PFAS. This webcast focuses on the fate of PFAS in recycled water destined for potable reuse, and will include results from different advanced treatment processes ranging from bench-scale evaluations to permanent potable reuse treatment demonstration projects. The data illustrate important considerations during treatment selection, design, and operation to meet PFAS treatment goals. Register Now!
Upcoming Events