---

Member-Only Registration Opens March 26 for 35th Annual WateReuse Symposium
Get ready to register for this year's WateReuse Symposium! Learn about the dramatic expansion of water recycling throughout the United States and stay up-to-date on the latest water reuse technology, research, and policy approaches at the 35th Annual WateReuse Symposium, September 13-16, 2020, in Denver, Colorado. Organized around the theme Reaching New Heights in Water Reuse, the 2020 Symposium will feature a comprehensive technical program, plenary sessions that provide perspective on the future of water reuse, and an exciting keynote presentation by Peter Kageyama, author of For the Love of Cities. Following last year's sellout Symposium, WateReuse is offering an exclusive, member-only registration period beginning March 26. Mark your calendar today so that you can reserve your space at the 35th Annual WateReuse Symposium!
Washington Update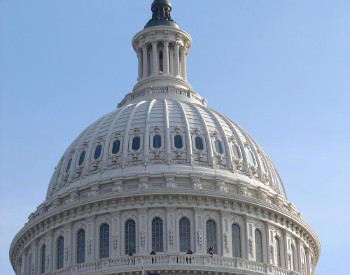 Be an Advocate for Reuse: Join Us for National Water Policy Fly-In
Make plans to join the WateReuse Association in Washington, DC April 27-28 for the National Water Policy Fly-In during Water Week 2020. Presented jointly by WateReuse, the National Association of Clean Water Agencies, the Water Environment Federation, and the Water Research Foundation, the Fly-In includes networking, education, and Capitol Hill visits to advocate on behalf of water utilities. Water Week is an opportunity to advance policy priorities, including greater federal investment in water infrastructure, and a celebration of the role utilities play in communities nationwide. WateReuse encourages our members to participate so that we can ensure that recycled water is an integral part of the Water Week message. Register today to reserve your space.
State Updates and Member Profiles
Arizona: Recycled Water Restores Habitat for 40 Species in Tucson
After 8 months of recharging the once dry Santa Cruz River with recycled water, more than 40 species of dragonflies, small mammals, coyotes and native wildlife have returned to downtown Tucson. WateReuse Association member Tucson Water sends nearly 2,000 gallons of recycled water to the river every minute. The project also recharges groundwater for storage. Read More.
Singapore Plans to Re-Release Beer Made from Recycled Water
Singapore's national water agency PUB will partner with Brewerkz, Singapore's longest-running craft brewer, to bring back NEWBrew for Singapore International Water Week in July. Made with NEWater – Singapore's own brand of ultra-high grade recycled water, the special brew is set to return with a new twist. A limited quantity will also be available for public sale in the month of July. Read More.
WateReuse Communications Tools and Resources
Profiles in Reuse: Flyer Explains Safety and Reliability of Potable Reuse
Use our flyer, Profiles in Reuse: Potable Reuse, to inform ratepayers, elected officials, and other stakeholders about the safety and reliability of using purified water as part of the drinking water supply. The flyer also supports WateReuse's Medical Community Initiative, which seeks to build support for potable reuse among medical and public health officials. This flyer is the first in a series of Profiles in Reuse that will serve as resources for member communication on water recycling. Download Flyer.
Conferences and Events
Webcast: National Water Reuse Action Plan: Collaboration and Implementation
Join us March 4 for an inside look at the national Water Reuse Action Plan (WRAP), an effort to foster greater consideration of water reuse facilitated by the U.S. Environmental Protection Agency (EPA) in partnership with other governmental and non-governmental water sector organizations. Staff from EPA will describe the plan, its genesis, and the all-important implementation phase. Register today to learn how you can stay engaged and collaborate on advancing water reuse as part of an integrated water resources management approach. Register Now!
Xylem to Host Automation & Controls Workshop
WateReuse Association member Xylem will host an Automation & Controls Workshop on April 15 in Garden Grove, California. The educational workshop will cover collections, biological treatment, and ozone system controls and solutions. George Hawkins, former CEO of DC Water, will provide a keynote presentation. Learn More.
Upcoming Events