---
Washington Update
Senate Subcommittee Hearing Focuses on Water Recycling
U.S House and Senate Defense Authorization Bills Exclude EPA PFAS Directives
Last week, both the House and the Senate passed their respective versions of the National Defense Authorization Act for fiscal year 2021. Both bills include provisions related to the study of Per- and Polyfluoroalkyl Substances (PFAS), and to the cleanup of the compounds on military bases. However, neither bill includes language previously sought to direct EPA to list certain PFAS as hazardous under the Comprehensive Environmental Response, Compensation, and Liability Act (CERCLA); nor do the bills direct EPA to establish primary drinking water regulations for PFAS within a specific timeframe.
U.S. EPA Releases First Quarterly Update on the National Water Reuse Action Plan Implementation
EPA SBIR Program Seeks to Invest in Water Reuse Technologies
The U.S. EPA Small Business Innovation Research (SBIR) Program is funding up to $100,000 for technology innovations that support water reuse. The program is looking for innovative ideas in water treatment or monitoring. Interested parties need to apply by August 28, 2020. Learn More.
State Updates and Member Profiles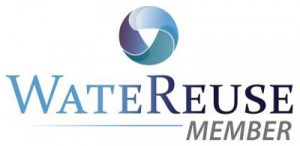 Welcome New Member!
The WateReuse Association welcomes the following new member:
New York: New York City Launches 2020 Pilot Program to Encourage Onsite Reuse
The New York City Department of Environmental Protection is using its 2020 Water Conservation and Reuse Grant Pilot Program to encourage onsite water reuse and other conservation measures in New York City. The program will award up to $1 million to institutional, multi-family residential, or commercial customers to implement projects that cost more than $50,000. This application round will extend from July 2020 through September 15, 2020 and interested parties may participate in an informational webinar on July 29. Read More.
Virginia: HRSD Secures Funding for $1 Billion Aquifer Recharge Project
The Hampton Roads Sanitation District (HRSD) recently secured $100 million from the Virginia Resources Authority to support its Sustainable Water Infrastructure for Tomorrow (SWIFT) program, which will inject purified recycled water into the rapidly depleting aquifer that provides drinking water in southeastern Virginia. In addition, HRSD expects to sign on the first chunk of a $930 million federal loan in September. The project will inject about 120 million gallons a day of treated water from five plants by 2030. Read More.
Member Spotlight: Clean Water Services CEO on New Approaches to Reuse and Restoration
Diane Taniguchi-Dennis, Chief Executive Officer at Clean Water Services, shared CWS's experience in expanding their reuse program to provide ecological benefits in a recent LinkedIn blog. CWS has long been an innovator, touting programs addressing public perception such as Pure Water Brew. Now, they are taking this innovative spirit and a one water approach to combine ecological restoration and water reuse. The utility aims to demonstrate the multiple benefits achieved with their Fernhill Natural Treatment System. Read More.
Global Update
Abu Dhabi National Energy Company Expands Recycled Water Distribution Program
The Abu Dhabi Distribution Company was awarded projects worth up to $245 million to expand recycled water distribution to nearly 85 million imperial gallons per day. The Abu Dhabi National Energy Company said the program expansion will allow recycled water use for municipal landscaping, commercial, and agriculture operations. Read More.
WateReuse Communications Tools and Resources
Engaging the Public Health Community on Water Reuse? Check out Our Online Resources
Although water reuse is a proven, science-based process that has been used safely in communities around the world for decades, the public is often skeptical when the concept is first introduced into a community. To build acceptance among medical and health professionals, WateReuse has launched the Medical Community Initiative and begun developing resources to support members in engaging with the public health community. Visit our website for videos, articles, and presentations that support engagement with medical professionals. New tools are being developed so check back for updates.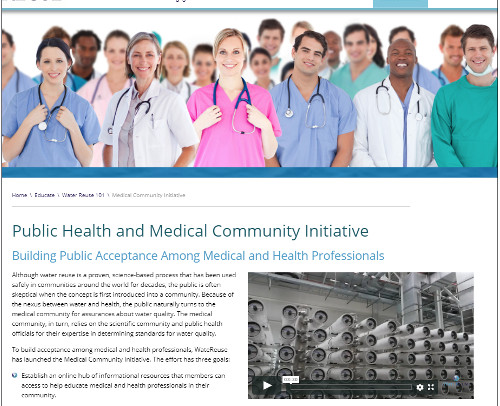 Conferences and Events
EPA Webinar: Water Reuse for Agricultural Purposes
Join the U.S. EPA Office of Research and Development, Safe and Sustainable Water Resources Research Program for a free webinar on July 29 from 2:00-3:00 pm ET. The presentation will cover two research topics: Inactivation of RNA Viruses by Solar and UV Irradiation for Agricultural Reuse and Emerging Contaminants in Agro-Food Systems. Learn more and register here.
Upcoming Events