---

Discover How Water Recycling Supports Economic Growth by Registering Today
Washington Update
WateReuse Delivers Letter Supporting Bipartisan Water Recycling Bill
On June 20, Senators Diane Feinstein (D-CA), Cory Gardner (R-CO), Martha McSally (R-AZ), and Kyrsten Sinema (D-AZ) introduced the Drought Resiliency and Water Supply Infrastructure Act (S. 1932). The WateReuse Association worked closely with the lead cosponsors to draft and build support for the legislation, which includes a 5-year, $100 million reauthorization of the Bureau of Reclamation's Title XVI Water Reclamation and Reuse competitive grant program. On June 14, the WateReuse Association organized a letter, signed by nearly 60 associations, water districts, and companies, expressing strong support for the legislation.
WateReuse Proposes EPA Action to Advance Reuse of Produced Water
In response to a draft EPA study, the WateReuse Association submitted comments to EPA today, proposing specific actions the agency can take to advance the safe reuse of water from onshore oil and gas extraction. The process of oil and gas drilling produces a high quantity of contaminated water, known as produced water, which can be treated and reused for various applications, such as industrial cooling. Reuse of produced water is currently quite limited, and could be significantly expanded to increase and diversify water supply while protecting public health and the environment.
Bureau of Reclamation Announces Funding for Water Reuse Research
The Bureau of Reclamation announced last week the availability of FY 2019 federal funding for communities to conduct research to explore the use of recycled water. Up to $150,000 per project is available for desktop research studies to develop science and decision-support tools, up to $300,000 per project is available for research to improve existing facilities, and up to $750,000 per project is available to study state-of-the-art technology. The funding is offered under the Title XVI water reuse program and applicants must provide at least 75 percent of the total project costs. Proposals are due September 23, 2019.
State Updates and Member Profiles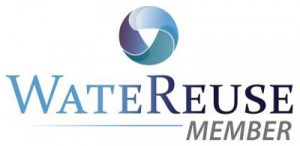 Welcome New Members!
The WateReuse Association welcomes the following new members:
Florida: Cape Coral Receives $3 Million for Reuse Pipeline
WateReuse Association member the City of Cape Coral received $3 million to build a reclaimed water pipeline in the state budget signed by Governor Ron DeSantis last week. The Caloosahatchee River Crossing pipeline will run from Fort Myers to Cape Coral to provide water for irrigation and reduce nutrients going into the river. Construction of the pipeline is expected to cost about $15 million and will be completed in 2023. Read More.
Groundwater Protection Council Studies Reuse for Produced Water
WateReuse Association member the Groundwater Protection Council released a report on June 24 that examines current regulations, practices, and research needed to expand the reuse of produced water, a byproduct of oil and gas production. Most produced water is reinjected deep underground for disposal or to enhance production, with less than one percent recycled for beneficial use. The report identifies challenges currently limiting the reuse of produced water and provides a framework for the evaluation of reuse options, focusing primarily on research needs. Read more.
Xylem Produces "Reuse Beer" for IWA Water Reuse Conference
WateReuse Association member Xylem partnered with Berlin, Germany's water utility and the Berlin Centre for Competence for Water to serve beer produced with recycled water at last month's International Water Association (IWA) conference on water reuse. To help build support for recycled water, Xylem has participated in several other events showcasing beer made with purified recycled water, including past WateReuse Symposiums. Xylem uses creative partnerships to highlight global water challenges and the opportunity to address issues like water scarcity with recycled water. Read More.
Conferences and Events
Webcast: Removing Barriers to Direct Potable Reuse
Upcoming Events