---

Washington Update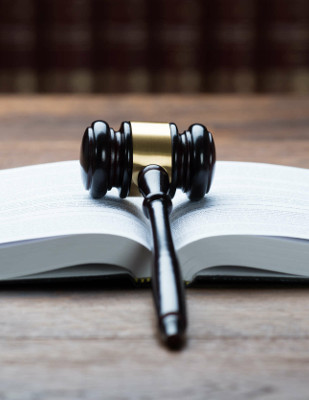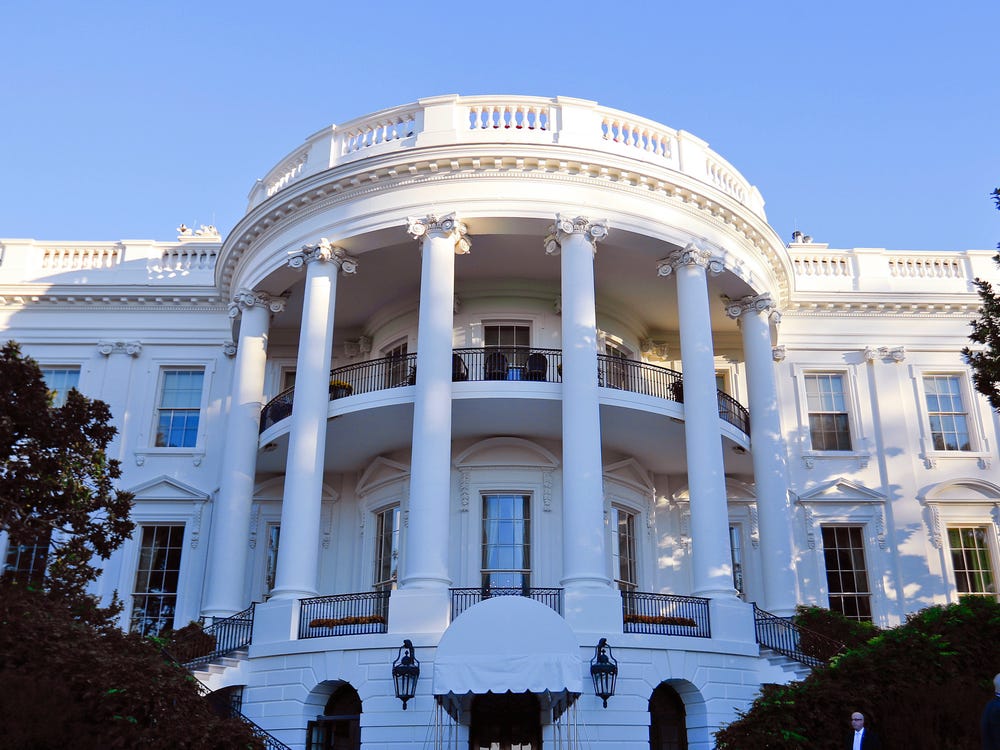 President-Elect Biden Releases Stimulus Proposal
Last week, President-Elect Biden released his proposal for the next economic stimulus package, asking Congress to provide $1.9 trillion in COVID relief. Biden has also said that he intends to release a second proposal in the coming weeks aimed at advancing longer term recovery goals. Last week's proposal includes $350 billion in aid to states and localities and $30 billion to help low-income households pay rent and utility bills. The package would also include billions of dollars in assistance to small businesses. Congress will aim to pass a stimulus package sometime in the early spring before certain relief benefits expire.
State Updates and Member Profiles
Welcome New Member!
The WateReuse Association welcomes the following new member: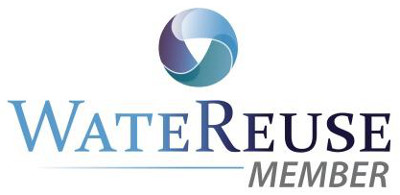 Section Update: Pacific Northwest Highlights New Water Reuse Initiatives and Workshops
The WateReuse Pacific Northwest quarterly newsletter was released last week with a welcome from new Section President Nick Smith of Stantec and an announcement of a new workshop series on advancing water reuse through state focused partnerships. The newsletter also spotlights the opening of St. Michael Medical Center in Silverdale, Washington, which will use Class A recycled water for non-potable uses on campus. Read more.
Alabama: Onsite Water Recycling Provides Hope in Rural America
Researchers at Columbia University are partnering with the MacArthur Foundation's Catherine Coleman Flowers in Lowndes County, Alabama to address the community's untreated sewage problem. The project aims to design a toilet that will filter, clean, and recycle waste onsite and then use the water in washing machines and nutrients for fertilizer. Many households in this rural community are unable to afford septic systems, and those that do are faced with challenging soil conditions not apt for those systems. Columbia's new Wastewater Innovation and Environmental Justice Lab works to find better and greener ways of managing waste through innovative sanitation policy and rural activism. Read more.
California: Federal Funding to Expand Desalination Capacity
The Eastern Municipal Water District (EMWD) has received a $25 million authorization to support its desalination program through the recently passed Water Resources Development Act (WRDA) that was signed into law in late December 2020. The funding will be authorized over several years to fund additional water supply wells, pipelines, and a new brine minimization technology that will increase local water supply availability and further reduce EMWD's dependence on imported water supplies. The current desalination process produces 75 gallons of fresh drinking water out of every 100 gallons of salty groundwater. The federal funds, delivered through the U.S. Army Corps of Engineers, supports new technology that will bring that recovery rate to more than 90 percent. Read more.
Florida: Reclaimed Water Helps Hillsborough County Earn LEED Platinum Certification
Hillsborough County has become the first county government in Florida to achieve Platinum LEED for Cities and Communities certification from the U.S Green Building Council thanks in part to its reclaimed water program. The Cities and Communities certification goes well beyond one building; it requires the integration of sustainability efforts across the community. Hillsborough's rigorous five year application process included demonstrating efforts such as their leadership on reclaimed water production and high water quality achievements. Read more.
Member Spotlight: Fish and Wildlife Highlights Eastern Municipal's Wetlands Reuse Initiative
The California Department of Fish and Wildlife is showcasing the natural beauty and flourishing wildlife in the first state wildlife area to be enhanced with recycled water. The San Jacinto Wildlife Area boasts 900 acres of restored wetlands from recycled water in Riverside County, CA. Eastern Municipal Water District uses the constructed wetlands to "polish" recycled water before it is distributed to farms, dairies, and the wildlife area. Read more.
Research Update
Breakthrough in Desalination Membrane Density Could Lead to Cheaper Water
Researchers with the University of Texas at Austin, Penn State, and DuPont Water Solutions discovered a large variation in desalination membrane density at the nanoscale. The researchers hypothesized that density at the nanoscale is the key to increasing how much clean water these membranes can create. In recently published findings, the researchers were able to demonstrate a 30-40% increase in efficiency with more uniform density at the nanoscale. Read more.
New Climate Model Incorporates Urban Climates
A team of climate scientists have developed a new climate model specific to urban climates that could aid communities in projecting future water recycling needs. The model aims to close the urban-global information gap in climate modelling to support more effective urban planning for climate-driven risks. The model generates city-level projections of temperatures and relative humidity through the year 2100. Initial projections of city humidity indicate urban vegetation could be a strong adaptive measure, illustrating one way city planners could use the tool. Read more.
International Update
Italian Greenhouse to Provide Crops Year-Round with Recycled Water
Italian company, Fellini Patrizio, announced plans to grow local grow crops throughout the winter months, using a solar powered greenhouse equipped with a water recycling system that will reuse up to of 90% of washing water. Over the next year, the company will test a variety of crops focusing on balancing crop protection with minimizing the input of energy, fertilization, plant protection, and water use. Read more.
Member Resources and Benefits
Profiles in Reuse: Flyer Explains Safety and Reliability of Potable Reuse
Use our flyer, Profiles in Reuse: Potable Reuse, to inform ratepayers, elected officials, and other stakeholders about the safety and reliability of using purified water as part of the drinking water supply. The flyer also supports WateReuse's Medical Community Initiative, which seeks to build support for potable reuse among medical and public health officials. This flyer is the first in a series of Profiles in Reuse that will serve as resources for member communication on water recycling. Download Flyer.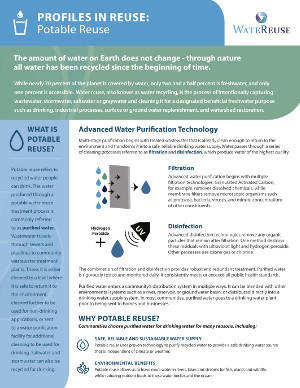 Conferences, Webcasts and Events
Webcast: Water Reuse Policy in the 117th Congress and Biden Administration
January 27, 2021
11 am PT | 2 pm ET
Please join us for a webcast with Washington insiders to examine what's on the congressional agenda for 2021 and what water-related priorities the Biden Administration is likely to push in its first year. Register here.
Webcast: Stormwater Capture Drivers, Impediments, and Future Visions
February 3, 2021
11 am PT | 2 pm ET
Join a group of stormwater management leaders from around the US to discuss stormwater capture motivations and drivers, barriers to progress, and future directions. The audience will learn about opportunities to market and advance stormwater capture. Register here.
Webcast: Communicating about Potable Reuse and Public Health –Tools for Success
February 17, 2021
11 am PT | 2 pm ET
This webcast will describe methods to communicate with stakeholders – including healthcare providers – regarding the human health safeguards associated with potable reuse implementation. Register here.
Upcoming Events