---

Profiles in Reuse: New Flyer Explains Safety and Reliability of Potable Reuse
The WateReuse Association released a new flyer, Profiles in Reuse: Potable Reuse, which members can use to inform ratepayers, elected officials, and other stakeholders about the safety and reliability of using purified water as part of the drinking water supply. The flyer also supports WateReuse's Medical Community Initiative, which seeks to build support for potable reuse among medical and public health officials. This flyer is the first in a series of Profiles in Reuse that will serve as resources for member communication on water recycling. Download Flyer.
State Updates and Member Profiles
Welcome New Members!
The WateReuse Association welcomes the following new members: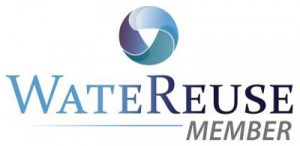 California: West Basin to Provide Recycled Water to 36 Sites in Industrial Park
WateReuse Association member West Basin Municipal Water District commemorated the connection of the Dominguez Technology Center to the district's recycled water system recently. The industrial park in Carson will use locally-produced, recycled water from West Basin to irrigate the landscape to save over 40 million gallons of drinking water per year. West Basin will produce approximately 135 acre-feet per year of recycled water to service 36 sites located on the business park's campus. Read More.
California: Olivenhain and NapaSan Announce Recycled Water Filling Stations
WateReuse Association members Olivenhain Municipal Water District and Napa Sanitation District announced the opening of recycled water filling stations, which allow residents and businesses to come to treatment plants to fill up with recycled water for irrigation or other non-potable uses. Olivenhain recipients must complete a user application, and bring their own water-tight containers. NapaSan issues permits to filling station customers.
Idaho: State's First Wetlands Reuse System Approved for Housing Development
WateReuse Association member the Idaho Department of Environmental Quality recently approved Idaho's first wetlands water reuse project for the Quigley Farm development in Hailey. The wetlands system is designed to use natural processes to treat and recycle water. A pressurized system will send effluent from decentralized septic tanks at individual housing units to gardens planted over gravel. Bacteria in the garden will treat the effluent 3 to 6 feet below the surface. Further filtration and ultraviolet disinfection technology will complete the treatment process. Read More.
WateReuse Customer Communications Tools and Resources
World Water: Read about the Latest Hot Topics in Water Reuse
The latest digital edition of World Water is available and features a special section on water reuse. The July/August issue includes a preview of the 34th Annual WateReuse Symposium, an update on the development of the U.S. Environmental Protection Agency's Water Reuse Action Plan, and an overview of the National Blue Ribbon Commission's pivotal role in advancing onsite water recycling. The publication also features reports on a new water reuse research alliance between federal agencies and universities, funding opportunities for pilot projects, trends in onsite water recycling treatment, the rapidly growing market for reusing water produced from oil and gas extraction, and a profile of potable reuse in Altamonte Springs, Florida. The WateReuse Association partners with the Water Environment Federation on the special water reuse edition of World Water, which is published there times per year. View the Issue.
Conferences and Events
Discover the Policy and Planning Issues Key to the Future of Water Reuse
Upcoming Events