---

Coronavirus pandemic is upon us all: The WateReuse Association is taking the coronavirus pandemic with the utmost seriousness it requires. The pandemic has already forced the postponement of several section conferences scheduled to take place through July.
At this point, the 35th Annual WateReuse Symposium scheduled for September 13-16 in Denver, CO will go forward as planned, and we will monitor the situation as we move into late Spring.
As many of our member organizations have done, Association staff in the national office is adjusting to telecommuting schedules to protect our health and make accommodations for our school children's schedules; however, we remain open for business, so please reach out. Stay safe.
Washington Update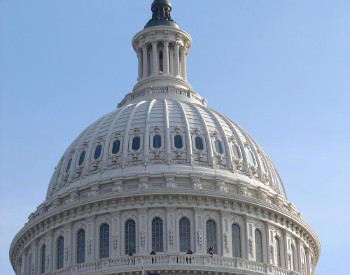 WateReuse Advocates for Increased Funding for Water Recycling in FY 2021
EPA Announces $62 Million WIFIA Loan for Water Recycling Facility in Morro Bay, California
The U.S. Environmental Protection Agency (EPA) recently announced a $62 million Water Infrastructure Finance and Innovation Act (WIFIA) loan to the City of Morro Bay, California, a WateReuse Association member, to replace its 63-year old wastewater treatment plant with a new treatment and water recycling facility. These improvements will reduce discharges into the ocean as well as increase water supply and flood resilience. Morro Bay, which has a population of 10,600, is the first small community nationwide to receive a WIFIA loan. The $126 million project will help Morro Bay reduce reliance on imported water and improve groundwater quality with the addition of highly treated water. The California State Water Resources Control Board will finance approximately $64 million from its Clean Water State Revolving Fund Loan Fund.
Federal Agencies Provide Guidance on Water and COVID-19
Federal agencies, including the U.S. Centers for Disease Control (CDC) and the U.S. Environmental Protection Agency (EPA) are providing guidance to water professionals and the public on water transmission and COVID-19. There is no evidence that the COVID-19 virus survives the disinfection process for drinking water, wastewater, and recycled water, according to the CDC. No COVID-19–specific protections, beyond routine practices to prevent exposure to wastewater, are recommended for employees involved in wastewater management operations. Some WateReuse members, including the Dublin San Ramon Services District and El Dorado Irrigation District in California, are including information about the safety of recycled water in their COVID-19 messaging.
State Updates and Member Profiles
California: Fallbrook Selects Hazen and Sawyer to Design Potable Reuse Project
WateReuse Association member the Fallbrook Public Utility District (FPUD) has awarded a $745,000 contract to Hazen and Sawyer, also a member, to design an indirect potable reuse pilot project. The pilot project will determine the feasibility of developing advanced purification facilities to treat existing water both from U.S. Marine Corps Base Camp Pendleton and from FPUD. FPUD and Camp Pendleton currently discharge approximately 2.6 million gallons per day of treated water into the Pacific Ocean through the Oceanside Outfall. The pilot project will consist of two pilot facilities and a tracer study. Read More.
California: Valley Water Employee Tests Positive for Coronavirus, CEO Norma Camacho Enters Self-Quarantine
WateReuse Association member Valley Water announced that an employee has tested positive for coronavirus, and at least eight other employees, including CEO and former WateReuse Association board member Norma Camacho, were in self-quarantine as a result. In a statement, Camacho reassured the community that the virus is not impacting the safety of the drinking water or the district's ability to supply water in Santa Clara County. Valley Water's system includes three water treatment plants, a recycled water purification center, and a water quality laboratory. Read More.
California: Ukiah's Recycled Water System Passes Vineyard Frost Protection Test
The City of Ukiah, a WateReuse Association member, conducted a successful recycled water system test last week to test the capacity of its new recycled water system that is providing recycled water to vineyards for frost protection and irrigation. The recycled water system was built to eventually deliver recycled water to approximately 650 acres of agriculture, 20 acres of pasture, and 15 acres of turf, including three parks and a school. The project also includes a 66-million gallon reservoir, and a pumping station that can deliver 3,500 gallons a minute. Read More.
California: Metropolitan's Regional Recycled Water Program Receives National Recognition
Engineering News-Record California and Northwest, an engineering and construction publication, has recognized WateReuse Association member the Metropolitan Water District of Southern California as this year's Owner of the Year. This recognition is for Metropolitan's Regional Recycled Water Program and start-up of the Advanced Purification Center, an effort to meet Southern California's need for an additional water source through innovation and efficiency. Read More.
WateReuse Communications Tools and Resources
Need to Illustrate the Value of Water Reuse Investment? Use Our Flyer and Infographic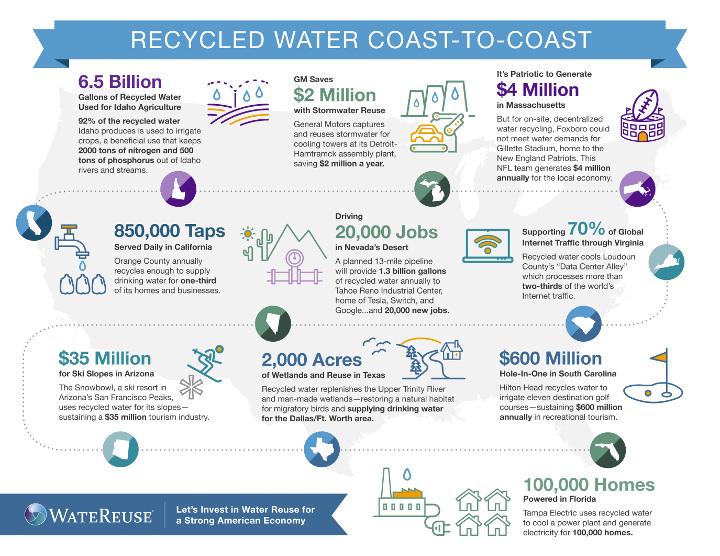 Utilities must make a compelling case to ratepayers, policymakers, and other stakeholders that investment in water recycling is the right decision. Use our flyer and infographic to illustrate that Investment in water reuse builds communities that are modern, sustainable and stable—ready for families to flourish and businesses to grow. The infographic highlights examples of recycled water from coast to coast and documents the value they bring.
Conferences and Events
Webcast: Effective PFAS Treatment: Challenges and Solutions for Potable Reuse
Join us on March 25 at 2 pm ET to learn about the latest science on effective treatment for PFAS. This webcast focuses on the fate of PFAS in recycled water destined for potable reuse, and will include results from different advanced treatment processes ranging from bench-scale evaluations to permanent potable reuse treatment demonstration projects. The data illustrate important considerations during treatment selection, design, and operation to meet PFAS treatment goals. Register Now!
Webcast: Breaking Down Implementation Barriers for Onsite Non-Potable Water Systems
What are the key components of a successful onsite non-potable water system? Join us April 15 at 2 pm to learn about a Water Research Foundation guidance manual and interactive training modules to tackle critical knowledge gaps businesses and utilities. The presentation will cover treatment goals, effective design, strategies for effective operation and monitoring, and regulatory and permitting frameworks. Register Now!
Upcoming Events