---


June 25, 2018
Join Business Thought Leaders at the 33rd Annual WateReuse Symposium
Register today and join key CEO's of some of the leading companies in the water reuse space for a roundtable discussion on where the water reuse market is heading and the opportunities they are advising clients to consider during the Opening General Session of the 33rd Annual WateReuse Symposium, September 9-12, in Austin, Texas.  REGISTER TODAY to take advantage of early-bird registration rates! Don't miss this opportunity to engage Carollo Engineers' B. Narayanan, Black & Veatch's Cindy Wallis-Lage, Suez's Heiner Markhoff, and Xylem's Patrick Decker in a discussion about the future of the water reuse market and how it might impact your organization.
Washington Update
House Passes Farm Bill after Second Attempt
Senate Consideration of WRDA Pushed to after July 4 Recess
State Updates and Member Profiles
Welcome New Members!
The WateReuse Association welcomes the following new members:
Arizona: Pima County to Resurrect Dormant River with Recycled Water
WateReuse Association member Pima County Wastewater Management plans to use recycled water to revitalize Tucson's Santa Cruz River, which has not seen year-round flow in 70 years. Once permitted, the city proposes creating an initial stream through downtown Tucson 20 feet wide using as much as 3.5 million gallons of recycled water per day. Recycled water is currently used locally to irrigate parks, schools, and other facilities. Read More.
California: West Basin Reaches Milestone of Producing 200 Billion Gallons of Recycled Water
WateReuse Association member the West Basin Municipal Water District, an industry leader in producing and delivering recycled water for more than 300 sites with 400 connections, has now achieved a major milestone of producing more than 200 billion gallons of recycled water. West Basin is a wholesale water agency that also provides imported drinking water to nearly one million people in 17 cities and unincorporated areas in Los Angeles County. To date, the district conserved enough drinking water to provide for 5.5 million people for one year through its water recycling program. Read More.
California: City of San Diego Wins Award for Pure Water Brew Event
The Public Relations Society of America recognized WateReuse Association member the City of San Diego with an Award of Excellence for using beer brewed with purified water to educate the public about the city's Pure Water Demonstration Facility at an event last year. The city partnered with Stone Brewing to brew beer using purified recycled water from the demonstration facility. Nearly 250 community leaders attended the event to taste the beer and celebrate the partnership. Read More.
California: Duffy Named HDR's Water Reuse Practice Lead
Jennifer Duffy has been named HDR's water reuse practice lead, based in the firm's San Diego office. In this role, Duffy will work collaboratively with different practice groups at HDR, especially reuse, desalination and membrane, to grow the reuse program. She will continue to participate in key utility management pursuits and partner with water quality and treatment leaders to advance HDR's global water reuse capabilities. Read More.
Texas: Midland Moves Forward with Deal to Supply Reclaimed Water for Oil and Gas Exploration
The City of Midland and Pioneer Natural Resources have agreed to split costs overruns in a public-private partnership, in which the oil and gas company is paying for upgrades to a treatment facility in exchange for reclaimed water. The agreement will give Pioneer Natural Resources tens of billions of gallons reclaimed water over at least a 28-year period to use for hydraulic fracturing operations across the Permian Basin. In return, the City of Midland is receiving $110 million for improvements at the water treatment facility and will receive as much as $2.5 million annually for the reclaimed water. Read More.
Wisconsin: Technology Company to Invest $30 Million in Water Recycling System
Foxconn Technology Group plans to invest in a $30 million recycling system that will significantly reduce the amount of water it has to draw from Lake Michigan for its proposed manufacturing complex in southeast Wisconsin. Foxconn expects to reduce water intake from 3.5 million gallons per day, down to 2.5 million gallons per day. The water will also be distilled, allowing the company to recycle, recover and reuse it. Read More.
Association News
Nominations Due Wednesday, June 27 for the 2018 Awards for Excellence in Water Reuse
The WateReuse Association is accepting nominations for the 2018 Awards for Excellence in Water Reuse through Wednesday, June 27. The WateReuse Awards for Excellence celebrate communities, businesses, public-private partnerships, non-profit organizations and individuals that are making significant contributions toward advancing the adoption of water reuse in their community or elsewhere. The award categories have been modernized to showcase and celebrate the wide range of innovative ways in which water reuse is being deployed across the country, and the individuals and organizations leading these efforts. Learn More.
Conferences and Events
Webcast: From Collection System to Tap: Designing Direct Potable Reuse Systems for Resilience
How can you build a potable reuse system that runs without disruption and gives you the ability to respond to and recover from issues quickly? Join us on Wednesday, July 11 at 2 pm EDT to learn about a new Water Research Foundation report that provides direct potable reuse (DPR) resilience guidance essential for any utility planning, designing or considering a DPR system. The webcast will discuss DPR resilience techniques at each stage from wastewater source control through wastewater treatment, advanced water treatment, and distribution. Register Now.
Webcast: Water Reuse: From Aspiration to Implementation
How can a utility or business make the leap from a concept to a successful water recycling program? Join us on Wednesday, July 18 at 2 pm EDT for an insightful panel discussion of the realistic challenges, priorities and planning steps involved in developing a water reuse program. Moderated by Jon Freedman of SUEZ Water Technologies & Solutions, the panel will provide case studies, lessons learned, financing tips, and recommendations to help utilities and industry take water reuse from an aspiration to implementation. Panelists include representatives from a utility, industry, and the U.S. EPA. Register Now.
 Upcoming Events
Mar
11
Mon
2024 WateReuse Symposium

@ Hilton Denver City Center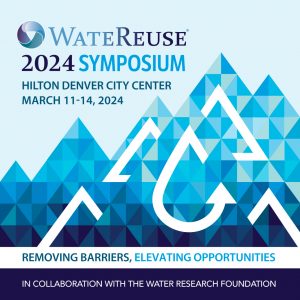 The 39th Annual WateReuse Symposium is a celebration of a unique moment for water reuse. New funding, new collaborations, and new regulatory frameworks are elevating opportunities for reuse projects nationwide. As water reuse practitioners, we have reached this summit together. Together we can remove barriers and empower safer, more resilient, and more sustainable communities and businesses with water reuse.
Mar
8
Sun
41st Annual WateReuse Symposium

@ InterContinental Los Angeles Downtown