---

Don't Miss the 34th Annual WateReuse Symposium, Register by June 21 for Best Rates
Washington Update
State Updates and Member Profiles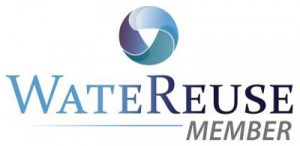 Welcome New Members!
The WateReuse Association welcomes the following new members:
Arizona: New Holding Ponds Expand Recycled Water Uses
The City of Williams recently received a permit from the Arizona Department of Environmental Quality for recycled water holding ponds that will provide a more reliable flow of water to its primary customer, the Elephant Rocks Golf Course. The city has also begun distributing recycled water to Fann Construction for repavement projects. The treatment plant can process 900,000 gallons per day and the holding ponds can hold 13 million gallons, allowing the city to provide recycled water for more uses. Read More.
Florida: Black & Veatch, Brown and Caldwell to Develop Sustainability Blueprint for Winter Haven
WateReuse Association members Black & Veatch and Brown and Caldwell have been selected to develop a water sustainability blueprint for the City of Winter Haven, Florida that incorporates all forms of water, including recycled water. The City Commission adopted a Sustainable Water Management Plan in 2010 that established a long-term approach that recognized how water is connected to Winter Haven's economic future and quality of life. Read More.
Florida: St. Johns River Sets New District Record for Water Reuse
WateReuse Association member the St. Johns River Water Management District reclaimed a record 218 million gallons of water per day last year, according to its annual report released last week. Across the district, more than 50% of wastewater flows have been reused beneficially since 2010. In addition, total water use in the district was down 7% last year because of water reuse, conservation, and rainfall. Read More.
Association Updates
WateReuse Congratulates New WEF Executive Director, Expands Partnership
USGBC Seeks Volunteers for LEED Committees, Including Water Efficiency
The US Green Building Council (USGBC) is accepting applications for professionals with expertise in building and community operation and design to serve on LEED Committees, including the Water Efficiency Technical Advisory Group (WE TAG). WE TAG recommends solutions to rating system development and maintenance questions for high volume water users, utility owners and operators, decentralized water systems, and related issues. The deadline for submissions is August 30, 2019. Buildings frequently receive LEED credits for onsite water recycling systems. California Urban Water Agencies and WateReuse are engaging with WE TAG on options for buildings that use municipally treated recycled water to receive LEED credits as well.
Conferences and Events
Webcast: Removing Barriers to Direct Potable Reuse
The number of direct potable reuse (DPR) projects in operation or in development in the United States is growing. Where is DPR moving forward and why? On July 10, join nationally recognized water experts to hear their perspectives on recent scientific, technical, and policy developments in DPR. Learn how the water sector in Arizona, California, Colorado, Florida, and Texas is proactively collaborating with policymakers to advance the discussion on DPR and remove barriers to implementation. The regulatory frameworks created in these states are changing the national discussion about water supply management and establishing models that can be used elsewhere. Register now.
Upcoming Events