---


July 2, 2018
Combine Business with Pleasure at the 33rd Annual WateReuse Symposium
Do not miss the opportunity to learn about the latest innovations in water reuse and network with the most knowledgeable people in the sector, while also having a great time at the 33rd Annual WateReuse Symposium in Austin, Texas on September 9-12. Be sure to register by July 31 to take advantage of early-bird registration discounts. A robust program that includes in-depth technical presentations and big-picture plenary sessions is combined with lots of fun, including a Lone Star Welcome Reception, some of the best BBQ in Texas, live music at the legendary Mohawk, and an optional sunset river cruise featuring Austin's nightly "bat show." Register Now!
Washington Update
Senate Passes Title XVI Funding Bill, Queuing Potential Reauthorization Effort
Senate Follows House to Pass Farm Bill
State Updates and Member Profiles
Welcome New Members!
The WateReuse Association welcomes the following new members:
Dribble Water Management Systems LLP
California: WateReuse CA Pushes For Recycled Water Policy Changes
Last week, WateReuse California submitted comments on proposed amendments to the California Recycled Water Policy.  Last updated in 2013, the policy includes a number of significant changes for recycled water agencies in California. These changes include permitting, potable reuse bioassay monitoring, the wastewater change petition process, the goals for California water recycling and more. WateReuse California and other California recycled water agencies testified at a recent water board hearing raising a number of concerns. Final adoption of the Policy is expected in December.  See written comments.
California: Pure Water San Diego Environmental Impact Report Approved
WateReuse Association member Dudek announced the certification of the Pure Water San Diego Environmental Impact Report and Environmental Impact Statement. The milestone marks the completion of a three-year analysis of the proposed Pure Water Program by Dudek. One of the most ambitious water recycling programs in the nation, the Pure Water facility seeks to treat 83 million gallons per day to produce potable water for San Diego's more than three million residents. Read More.
Colorado: Court Blocks Coors Water Reuse Plan
The Colorado Supreme Court ruled against Coors Brewing Company last Monday, ruling that the beer company must first obtain a new water right to reuse or lease water to other businesses once water leaves its Golden, CO manufacturing plant. Coors wanted to reuse water after it left its treatment plant and lease water rights for that water to other companies. The Coors' water reuse plan was opposed by surrounding communities. Read More.
Florida: JEA is Studying Two Approaches to Potable Reuse
WateReuse Association member JEA is testing two treatment processes for potable reuse as part of a $2 million project. The first method is a biological process that involves the use of iron and ozone. The second method is a typical reverse osmosis treatment train. The two-year pilot test could result in a potable reuse facility within the next ten years. Read More.
Conferences and Events
Webcast: From Collection System to Tap: Designing Direct Potable Reuse Systems for Resilience
How can you build a potable reuse system that runs without disruption and gives you the ability to respond to and recover from issues quickly? Join us on Wednesday, July 11 at 2 pm EDT to learn about a new Water Research Foundation report that provides direct potable reuse (DPR) resilience guidance essential for any utility planning, designing or considering a DPR system. The webcast will discuss DPR resilience techniques at each stage from wastewater source control through wastewater treatment, advanced water treatment, and distribution. Register Now.
Webcast: Water Reuse: From Aspiration to Implementation
How can a utility or business make the leap from a concept to a successful water recycling program? Join us on Wednesday, July 18 at 2 pm EDT for an insightful panel discussion of the realistic challenges, priorities and planning steps involved in developing a water reuse program. Moderated by Jon Freedman of SUEZ Water Technologies & Solutions, the panel will provide case studies, lessons learned, financing tips, and recommendations to help utilities and industry take water reuse from an aspiration to implementation. Panelists include representatives from a utility, industry, and the U.S. EPA. Register Now.
 Upcoming Events
Mar
11
Mon
2024 WateReuse Symposium

@ Hilton Denver City Center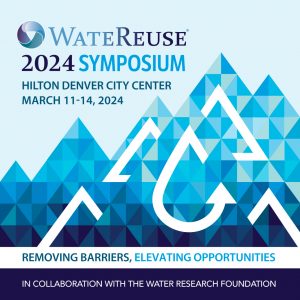 The 39th Annual WateReuse Symposium is a celebration of a unique moment for water reuse. New funding, new collaborations, and new regulatory frameworks are elevating opportunities for reuse projects nationwide. As water reuse practitioners, we have reached this summit together. Together we can remove barriers and empower safer, more resilient, and more sustainable communities and businesses with water reuse.
Mar
8
Sun
41st Annual WateReuse Symposium

@ InterContinental Los Angeles Downtown