---
Washington Update
Congressional PFAS Taskforce Outlines Priorities
The Congressional PFAS Task Force sent a letter signed by 132 Republican and Democratic Members of Congress outlining immediate actions the administration could take to address per- and polyfluoroalkyl substances (PFAS). The letter urges the Administration to establish a nationwide drinking water standard for PFAS, and to designate the chemicals as a hazardous substance. The task force is founded and co-chaired by Congressman Dan Kildee (D-MI-).
Watch Recording: National Water Reuse Action Plan (WRAP) Webinar Discusses Stormwater Capture and Reuse
State Updates and Member Profiles
Arizona: Department of Water Resources Awards Grant for Agricultural Reuse
The Arizona Department of Water Resources awarded a $250,000 grant to EPCOR, a privately-owned utility, to build a new recycled water pipeline for agriculture water users in the Phoenix metropolitan area. The pipeline will deliver up to 2,200 acre-feet of reclaimed water from the Pecan Wastewater Treatment Plant to the New Magma Irrigation and Drainage District in San Tan Valley. The project supports the Lower Colorado Basin Drought Contingency Plan goals to offset agricultural water use with alternative sources. Read more.
Minnesota: Stormwater Capture Helps Golf Course Reduce Pollution
Como golf course in Saint Paul recently completed work on a stormwater capture project that cleans 11 million gallons of runoff from surrounding roads, parking areas, and paths. The project is expected to prevent about 55 pounds of phosphorous from entering Como Lake each year. The project was completed in partnership with the city of Saint Paul and Capitol Region Watershed District. Read more.
WateReuse Members Paving the Way for More Potable Reuse
Potable reuse is here to stay and likely to expand, according to a recent article in Future Human, which discusses the use of purified recycled water for drinking in North American cities. The article cites the work of several WateReuse members who are implementing potable reuse and educating the public on the topic, including the City of San Diego, Xylem, and El Paso Water. WateReuse Executive Director Patricia Sinicropi was quoted: "Direct potable reuse is going to be the future for many communities. We have the technology." Read more.
Wetlands Projects Showcase Environmental Benefits of Water Recycling
Water reuse projects that restore or construct wetlands provide more than water management benefits; they also help address climate change. Globally, wetlands store nearly two times the amount of carbon than the world's forests and are home to 40% of animal species. The International Union for Conservation of Nature notes that preserving and restoring wetlands is key to regulating the planet's climate. Read more.
International Update
Investors Eye Growth of Water Recycling in India
While India has less than 5% of the world's water resources, water demand is expected to increase to 1.5 trillion cubic meters by 2030. This growth makes water recycling an intriguing option for both water providers and investors. Experts have begun comparing the investment cost of building new water treatment versus updating existing systems to use the nearly 70% of wastewater that goes directly into rivers and lakes. Read more.
Research Update
Solar Thermal Desalination Technologies Shine Light on Future Treatment
Researchers around the world are assessing solar thermal technologies that could prove to be more cost effective than traditional reverse osmosis desalination. The U.S. Department of Energy established a solar desalination prize aimed at producing 1,000 liters of usable water for $1.50. Researchers at Rice University, National Renewable Energy Laboratory, and University of California, Berkley believe solar-thermal desalination systems will be able to handle water with twice the salt concentration of sea water. Read more.
Member Resources and Benefits
Now Available! New Activity Booklet Provides Water Reuse Education for Late Elementary and Early Middle School Students
The Project WET Foundation and the WateReuse Association announce the release of a new Water Reuse booklet that introduces students to the world of water reuse with fun activities that develop math and science skills. Students will learn about the urban water cycle, the treatment processes that make water safe to use again, and much more! The booklet was produced with the support of the Arizona, Colorado, Florida, and Texas WateReuse State Sections. Check out the booklet highlights in this short video.
The booklet is available on the Project WET store. WateReuse members interested in ordering 250 copies or more through March 20 will receive a 20% discount using the coupon code: WATEREUSE.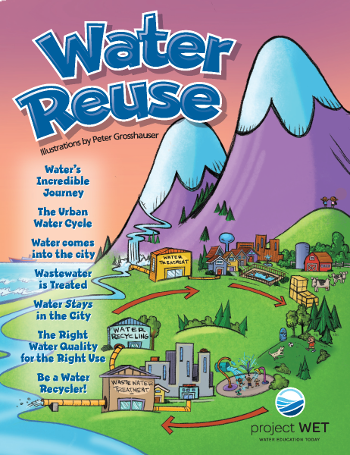 Conferences, Webcasts and Events
CDC Webinar: COVID-19 Vaccinations for Essential Workers in the Water Sector
February 10, 2021
10 am PT | 1 pm ET
The Centers for Disease Control and Prevention (CDC) is hosting a series of webinars on COVID-19 vaccination for essential workers. The webinar is for essential workers of the Water Sector will provide an overview of vaccine distribution and implementation and briefly cover safety and efficacy. Participants are encouraged to submit any questions they have when they register so the presenter can address any FAQs. Register here.
Webcast: Communicating about Potable Reuse and Public Health –Tools for Success
February 17, 2021
11 am PT | 2 pm ET
This webcast will describe methods to communicate with stakeholders – including healthcare providers – regarding the human health safeguards associated with potable reuse implementation. Register here.
EPA's Water Infrastructure Finance and Innovation Act (WIFIA) Eligibility Webinar
February 23, 2021
11 am PT | 2 pm ET
Learn about WIFIA's different project type eligibilities to help determine if your project is a good fit for financing. There will be a short question and answer period at the end of this webinar. Register here.
18th Annual EPA Drinking Water Workshop: Small System Challenges and Solutions
August 30 – September 2, 2021 EPA's free annual drinking water workshop, held in partnership with the Association of State Drinking Water Administrators (ASDWA), will be virtual this year. The workshop will provide in-depth information and training on solutions and strategies for handling small drinking water system challenges with a focus on monitoring, distribution, source, and treatment topics. Learn more on the event page.
Upcoming Events