---
2023 WateReuse Symposium
Submit a Presentation Proposal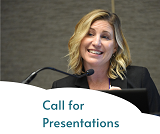 The Call for Presentations is now open! WateReuse invites water recycling thought leaders, practitioners, researchers, and early career professionals to share their expertise and advice by submitting presentation proposals for the 2023 WateReuse Symposium.
Deadline: September 30, 2022.
Nominate an Award Recipient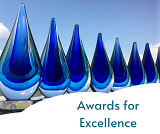 WateReuse is now accepting nominations for the 2023 Awards for Excellence. The program recognizes WateReuse members, their projects and their partnerships that have made significant contributions in support of greater adoption of water reuse.
Deadline: October 14, 2022.
Save the date for the 2023 WateReuse Symposium March 5-8 at the Marriott Marquis in Atlanta, Georgia!
The Annual WateReuse Symposium is the premier conference on water recycling — attracting more than 800 water professionals globally for knowledge-sharing, networking, and intriguing discussions! The event is planned in collaboration with The Water Research Foundation and will include engaging sessions on the latest reuse-related research projects.
Reimagining Water Together
The 38th Annual WateReuse Symposium will bring together water professionals to envision the critical role of water recycling in the future of water management nationwide. Sessions will highlight how diverse communities can benefit from water reuse across the country, including how water recycling is delivering benefits to underserved communities. WateReuse is pleased to bring the Symposium to Georgia and the Southeast, a region that is quickly emerging as a water recycling hotspot.
From multi-agency programs to building-level treatment systems, the Symposium will explore how businesses, industries, and communities can work together to implement water recycling programs to ensure environmental, economic, and public health resilience for diverse communities and diverse beneficial uses.
A Look Back: the 2022 WateReuse Symposium
The 2022 WateReuse Symposium ran from March 6-9 in San Antonio, Texas, and on-demand from March 21-April 30, 2022.