---
WRTX: Tel Aviv to Texas: Lessons Learned from the 2022 WateReuse Israel Delegation
When:
February 15, 2023 @ 2:00 pm – 3:30 pm
2023-02-15T14:00:00-05:00
2023-02-15T15:30:00-05:00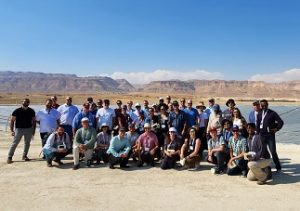 February 15, 2023 Time: 1:00pm CT | 2:00pm ET
As a global leader in water reuse, Israel takes a very intentional and integrated approach to producing and maintaining its water supply. They combine desalination, water recycling of municipal wastewater and stormwater capture, and reuse to ensure sustainable supplies. Nearly 90 percent of Israel's treated wastewater is reused for agricultural irrigation purposes.
In November 2022, over 40 representatives from the U.S. water sector, including utilities, industry, states, and the federal government, traveled to Israel as part of a science, technology, and policy informational exchange focused on water reuse practices. This intensive week of learning about the Israeli approach to managing its water resources included several delegates from Texas.
The panelists will share their general experience as part of the delegation (5-10 mins each) and then we will ask a few prepared questions about lessons learned and how those could be applied to Texas communities. If time allows, we will take questions from the audience.
Moderator: 
Paula Paciorek, Division Manager, Houston Water Planning
Presenters:
Special Introduction by Omer Bab, Director of Trade and Regulatory Policy, Embassy of Israel and Danny Greenwald, Senior Deputy Director General for Regulation, Israel Water Authority
Eva Steinle-Darling, Water Reuse Technical Practice Director, Carollo Engineers
Hunter Adams, Environmental Laboratory Supervisor, City of Wichita Falls – Cypress Environmental Laboratory
Erika Crespo, Assistant Deputy Director, Water Quality Division, Texas Commission on Environmental Quality (TCEQ)
Kobe Nagar, CEO and Co-Founder, 374 Water