---
Australian Water Reuse Perspectives
When:
January 30, 2023 @ 5:00 pm – 6:30 pm
2023-01-30T17:00:00-05:00
2023-01-30T18:30:00-05:00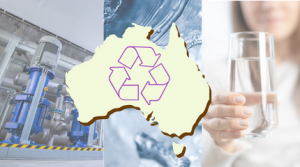 Hosted by WateReuse Association's International Reuse Committee
Date & Time:
US & Canada: Jan 30, 5:00pm-6:30pm ET | 2:00pm-3:30pm PT
Sydney, Australia: Jan 31, 9:00am-10:30am AEDT
PDHs: 1.5 hours
WateReuse Members: Free; Others: $49
Join us on January 30 to hear about ways that the driest inhabitated continent on earth – Australia – is utilizing water recycling.
Communities recognize that water is too precious to use just once. Water recycling has a long history for irrigation, industrial use, and purple pipes for household outdoor use and toilet flushing. In Western Australia, Perth's Groundwater Replenishment Scheme provides purified recycled water for drinking, and other cities are now exploring this option. This webcast will cover Australia's experience with water recycling, the future and regulatory outlook, and the emerging use of recycled water for green hydrogen, as Australia moves towards a decarbonised future.
Moderator: Danielle Francis, Manager Policy and Strategy, Water Services Association of Australia (WSAA)
Presenters:
Kate Miles, Head of System and Asset Planning, Sydney Water
Nick Turner, Senior Principal of Strategic Programs, Water Corporation
Simon Prunster, Energy and Emissions Specialist, Yarra Valley Water
David Cunliffe, Principal Water Quality Adviser, SA Health in South Australia