---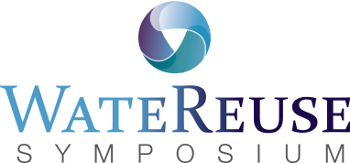 34th Annual WateReuse Symposium off to a Great Start in San Diego
The 34th Annual WateReuse Symposium is underway at the Marriott Marquis in San Diego, California. This year's Symposium sets a new record with over 1,000 people from 39 states and 12 countries in attendance. The Symposium began Sunday morning with tours of innovative technology at Pure Water San Diego, the Padre Dam Municipal Water District, and the Carlsbad Desalination plant. Sunday afternoon sessions included a Water Reuse Boot Camp, which provided a two and half hour introduction to planning and operating a water recycling program. Sunday concluded with a Welcome Reception for attendees to meet and greet and prepare for the next three days of learning, knowledge sharing, and networking.
Opening General Session
WateReuse Association President Paul Jones moderated this morning's Opening General Session, which featured a thought-provoking keynote from a veteran environmental journalist, an engaging panel discussion on communicating the value of water reuse, and welcoming remarks from San Diego Mayor Kevin Faulconer.
From Water Diversion to Water Reuse: Tackling Scarcity in the 21st Century
Journalist and historian Peter Annin opened the 34th Annual WateReuse Symposium with keynote address that delved into the fraught history of water use. Annin took the audience on a historical journey of water diversion programs across the country that both serve as cautionary tales and illustrate the benefits of creating a sustainable, locally controlled water supply through water recycling. Annin is the director of the Mary Griggs Burke Center for Freshwater Innovation, author of The Great Lakes Water Wars, and a former Newsweek reporter.
Making the Pitch: How to Speak With Elected Officials and Customers about the Value of Water Recycling
WateReuse Awards for Excellence Luncheon and Business Meeting
Awards Luncheon Honors the Best in Water Reuse for 2019
The WateReuse Association's Awards for Excellence recognize individuals and projects that have made significant contributions in support of water recycling. The awards honor advocacy achievement, outreach and education, utilities and communities that champion water recycling, recycled water users, businesses that demonstrate innovation in water reuse, and up and coming professionals. This year the WateReuse President's Awards was given to the National Blue Ribbon Commission for Onsite Non-Potable Water Systems for their role in advancing broader reuse applications. View the full list of winners.
New Board Members Approved, New Symposium Schedule Announced
WateReuse Association members approved the Board of Directors' nomination to fill two Board seats during the annual business meeting held at the Monday luncheon. Paula Kehoe of the San Francisco Public Utilities Commission and Deven Upadhyay of Metropolitan Water District of Southern California begin their terms In January 2020. A change in the schedule for the Annual WateReuse Symposium was also announced. Beginning in 2021, the Annual WateReuse Symposium will be held in March each year, enabling our national conference to be held in hurricane-prone regions and avoid conflicting with WEFTEC. Beginning in 2021, WateReuse California's conference will be held in September.
Still Ahead…
Water Reuse Action Plan Announcement
The 34th Annual WateReuse Symposium continues for the next two days with a robust technical program, informative plenary sessions, and networking events. A highlight for Tuesday will be the release of the draft national Water Reuse Action Plan and a roundtable discussion featuring top water officials from federal agencies.
Beverage Made with Purified Water
Locally roasted coffee and homebrewed beer made with purified recycled water from the City of San Diego's Pure Water Demonstration Facility will be showcased Tuesday during two special events. In the afternoon, Symposium attendees will be served hot- and cold-brewed coffee made with purified water. The evening reception at the Maritime Museum will feature a "Pure Brew" competition where attendees will judge the best of ten homebrewed beers from members of San Diego's Quality Ale and Fermentation Fraternity.