---
2023 WateReuse Symposium Tours
Join us for tours of exciting Atlanta-region water reuse projects, offered in conjunction with the 2023 WateReuse Symposium! The different tours highlight the diversity of project types and end uses for recycled water.
Water Innovation in Gwinnett County:
The Water Tower and F. Wayne Hill Water Resources Center
Sunday, March 5, 2023
12:00 pm – 4:30 pm
*Sold Out*
Includes lunch. Bus departs from the Marriott Marquis Atlanta.
The Water Tower (TWT) launched in 2019 and opened its water innovation campus located in Buford, GA in April 2022. Convening the public and private sector water industry with academia and nonprofits, TWT aims to expedite the implementation of innovative water and wastewater solutions. A live demonstration area helps innovators demonstrate their technologies in real-world conditions using water flows from the adjacent F. Wayne Hill Water Resources Center. The field training center provides resources for hands-on water, wastewater, and maintenance technician training. Next door is Gwinnett County's F. Wayne Hill Water Resources Center, an award-winning advanced wastewater treatment facility. Because the Center returns water to Lake Lanier, it meets or exceeds some of the most stringent effluent quality limits in the nation. The ozone, granular activated carbon, and membrane treatment processes are on the cutting edge of wastewater purification technology. Nutrient and energy recovery programs also make the Center a valuable community asset.
Onsite Reuse Systems:
Georgia Tech and Piedmont Hospital
Sunday, March 5, 2023
1:00 pm – 4:30 pm
*Sold Out*
Bus departs from the Marriott Marquis Atlanta.
Visit two cutting-edge examples of onsite water reuse in Atlanta. The Kendeda Building at Georgia Tech is the first building in Georgia – and the 28th worldwide – to receive the Living Building Certification. The building features a 50,000-gallon rainwater cistern, 12 foam flush toilets, 4 waterless urinals, a composting toilet system that converts solids and liquids into fertilizer onsite, and a greywater system that pumps to a constructed wetland at the main entrance of the building. The WaterHub at Piedmont Hospital recycles up to 250,000 gallons per day of wastewater from the hospital using a MBR-RO system for cooling tower and boiler use.
Clayton County Natural Treatment System
Wednesday, March 8, 2023
11:30 am – 4:30 pm
Ticket: $85, includes lunch.
Bus departs from the Marriott Marquis Atlanta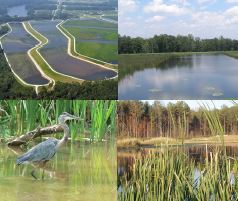 Join WateReuse for an in-depth technical tour of Clayton County Water Authority's indirect potable reuse system. During Georgia's second worst drought on record, this system kept Clayton County's raw water reserves at 77% of capacity or higher. The tour will begin at the Shamrock Community Center on the shores of the Shamrock/Blalock Reservoir, a major source for drinking water in the region. Visitors will then explore the E.L. Huie Jr. Constructed Treatment Wetlands, a 263-acre natural treatment system that uses plants, soils, and naturally occurring bacteria to polish recycled water before sending it to the drinking water reservoirs. The tour concludes at the W.B. Casey Water Reclamation Facility, where the process begins to transform up to 24 million gallons of wastewater each day into clean and safe drinking water.
Please wear closed-toe shoes. In the event of rain, visitors will tour the Terry R. Hicks Water Production Complex.