Facts & Stats
Recycled Water from Coast-to-Coast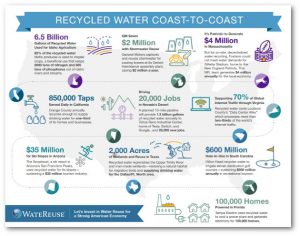 National Blue Ribbon Commission for Onsite Non-potable Water Systems
The National Blue Ribbon Commission advances best management practices to support the use of onsite non-potable water systems within individual buildings or at the local scale. A partnership of the US Water Alliance and the Water Research Foundation, the commission aims to progress innovative solutions for One Water management. To support the adoption of onsite non-potable systems, the commission has developed the following tools and resources based on best practices underway in local communities and world-class research:
Research
Case Studies
Agricultural Reuse
Direct Potable Reuse
Industrial Reuse
Desalination
Policy
Tools and Guidelines (Members Only)
Helping People Understand Potable Reuse: A Flexible Communication Plan for Use by Public Information Professionals
This get-going kit has been pulled from the larger document known as Model Communication Plans for Increasing Awareness and Fostering Acceptance of Direct Potable Reuse (13-02). The plan is flexible and is designed to be adapted to the specific needs and situations of an individual community.
Manual of Practice: How to Develop a Water Reuse Program
This manual was developed to assist communities in implementing the use of reclaimed water in their service area. It addresses planning, design, construction, operations, public outreach, regulatory compliance, institutional and organizational considerations, and economics issues.
Site Supervisor Training Manual
This manual is designed to train property managers, landscape supervisors, gardeners, and others on the use of reclaimed water. The document is customizable and allows agencies to adapt its contents to their specific needs by simply including those items that apply and leaving out those that do not.