---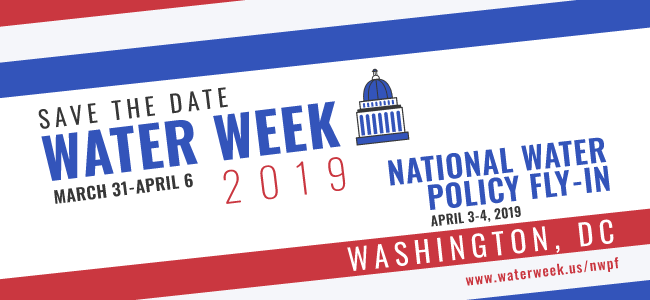 Water Week 2019
Do not miss Water Week 2019, March 31–April 6, and its anchor event the National Water Policy Fly-In on April 3-4 in Washington, DC. The National Water Policy Fly-In brings together the nation's water sector to speak with one voice to Congress and the Administration. With a new Congress in place, your attendance and engagement are more critical than ever. WateReuse urges members to join us in Washington DC to ensure that the water reuse message is an integral part of the Water Week message.
The National Water Policy Fly-In is presented jointly by the WateReuse Association, National Association of Clean Water Agencies (NACWA), the Water Environment Federation (WEF), and the Water Research Foundation (WRF).
For more information, contact WateReuse Policy Director Greg Fogel.
Water Week 2019 Congressional Briefing
Next Generation Water Management: How Water Reuse is Taking Hold Across the Country
Date: April 3, 2019
Time: 10:00 – 11:00 am
Location: SC-4 in the United State Capitol Building
This Congressional briefing will highlight how utilities across the country are using water recycling in a variety of ways to produce a multitude of benefits for their residents.
Panel Speakers:
Paul Jones, General Manager, Eastern Municipal Water District, CA (Moderator)
Alan Weland, VP/General Manager, SUEZ Water Long Island
Gilbert Trejo, Chief Technical Officer, El Paso Water
Martha Tremblay, Technical Services Department Head, LA County Sanitation Districts
Note: Attendees who are not Congressional staff should enter above ground on the Senate side of the Capitol. When you enter the building, ask security for directions to the SC-4.
Quick Links
Prepare for DC
What to expect: Prepare for the National Water Policy Fly-In by attending a free Webcast hosted by WEF on Thursday, March 14 from 1:00 – 2:30 PM EST – details will be sent to Water Week Registrants!
Recycled Water Coast to Coast: Infographic on the economic value of water reuse
Map of Capitol Hill
Capitol Hill Restaurant List