---
National Priorities Water Research Program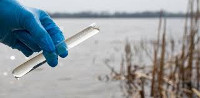 Background
To tackle the nation's greatest challenges with water quality and supply, Congress established the National Priorities Water Research Grant Program, a competitive grant program, in 2011. Since then, not-for-profit organizations such as the the Water Research Foundation have leveraged more than $20 million in federal funding to produce $25 million in applied research projects that offer real-world solutions for a variety of challenges, including:
systemwide nutrient management,
water scarcity due to severe and sustained weather events such as drought,
impact of aging infrastructure on water quality, and
life-cycle cost of green and gray infrastructure.
Benefits
Investing in research can reduce the cost of water infrastructure projects.
The competitive grant program ensures the most important research projects are funded.
Research provides the science needed to develop next-generation technology and innovative solutions to meet the growing demand for clean water.
Peer-reviewed, applied research provides the best available science to ensure utilities meet stringent federal and state standards for water quality.
Grant recipients leverage federal funding with private sector revenue, including state funding, membership dues, charitable contributions and in-kind professional services, to generate, on average, $4 in total funding for every $1 of federal investment (source: WE&RF).
Funding History
| Budget Year | Funding in Millions |
| --- | --- |
| 2021 | $7.5 |
| 2020 | $6 |
| 2019 | $5 |
| 2018 | $4.1 |
| 2017 | $4.1 |
| 2016 | $4.1 |
| 2015 | $4.1 |
| 2014 | $4.2 |
| 2013 | $4.2 |
| 2012 | $4.2 |