---
2018 Membrane Technology Conference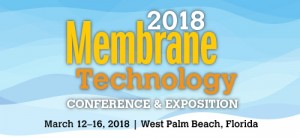 March 12–16, 2018 | Palm Beach Convention Center | West Palm Beach, Florida
The WateReuse Association is excited to partner with AWWA, AMTA  and WEF for the 2018 Membrane Technology Conference. Join us to explore how the latest developments in membrane technology can enhance water reliability and quality. Each year the conference reveals new directions in water and wastewater treatment technologies, desalting and membrane bioreactor application.
Pre-Conference Workshop: Membranes in Action with Reuse
March 12, 2018, 1:00 – 4:15 p.m.
Presented by WateReuse Association
The WateReuse Workshop will showcase the effective use of membrane technology in four water reuse projects, including two for drinking water, one for groundwater replenishment, and one for environmental restoration.
Compare & Contrast: Ultrafiltration, Reverse Osmosis and Nanofiltration
Learn about the design and operational protocol for testing four different ultrafiltration membrane modules, three reverse osmosis membrane elements, and one nanofiltration membrane element during a two-year potable reuse demonstration study for the City of Daytona Beach, Florida.
Jo Ann Macrina, P.E., City of Daytona Beach
Robin Cook, City of Daytona Beach
Jennifer Roque, P.E., Tetra Tech
Dave MacNevin, P.E., Ph.D., Tetra Tech
Brian Foulkes, P.E., Tetra Tech
Making History with the Right Combination of Membranes
Learn how the City of Clearwater's Groundwater Replenishment Program is using three different membrane technologies in its advanced treatment facility, which will be the first facility of its kind in the State of Florida.
David Porter, P.E., City of Clearwater
Lan-Anh Nguyen, P.E., City of Clearwater
Jarrett Kinslow, P.E., Tetra Tech
Emilie Moore, P.E., Tetra Tech
How Membrane Technologies Can Support Environmental Restoration
Learn how Miami-Dade Water and Sewer Department piloted membrane technologies for indirect potable reuse and rehydration of Biscayne Bay Coastal Wetlands.
James Ferguson, P.E., Senior Program Manager, Miami-Dade Water and Sewer Department
Using Membranes to Make Potable Reuse a Reality
Learn how to take a potable reuse project from concept to construction based on the experience of El Paso, Texas. You'll go through every phase of implementation, from needs analysist to planning and piloting to design and construction.
Gilbert Trejo, Chief Technical Officer at El Paso Water Utilities
Chris Hill, Vice President, Arcadis
Brent Alspach, Director of Applied Research at Arcadis
Dan Olson, Southeast Texas Water Team Leader, Garver