---
Navigating the WateReuse Virtual Symposium
Getting the Most Out of the Virtual Symposium
Upon entering the virtual event space, you will arrive in the lobby where you can greet other attendees and visit the help desk – or navigate to the session rooms, networking lounge, or exhibit hall.
Use the platform's chat features to see who is in a session with you or elsewhere on the platform and strike up conversations with individuals or groups.
Ensure a Successful Virtual Symposium Experience
Review FAQs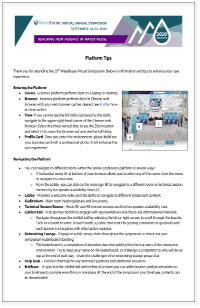 Review our platform tips to enhance your user experience.
Create a Plan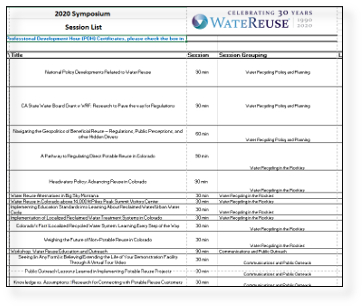 Use this handy session list to organize your calendar and track professional development hours.
Participate in Virtual Social Activities
Xylem Virtual Happy Hour and Game Night
Tuesday, September 15 | 5:00 pm MT
Bring your favorite beverage and hors d'oeuvres and join us for some virtual fun and get to know your colleagues at the 35th Annual WateReuse Virtual Symposium.
Engage and Network with Colleagues
As an attendee, you will be able to engage in so many ways – Be Visible on the Live Days!
Build your business card – add your photo and title
Attend all of the live sessions to maximize your opportunities for engagement with the largest gatherings
Attend the Monday evening debate and vote
Attend the Tuesday evening game night and participate
Set calendar reminders for yourself when you want to be in the live chats and live sessions – that way you won't miss the opportunity
The leaderboard is a compilation of attendee data that publicly lists the top users of the interactive environment – Try to keep your name on the leaderboard, or challenge a competitor to who will be on top at the end of each day – share the challenge in the networking lounge group chat
Miss someone to chat? You can always pull up their name and hit the email button to send them a note
Have a presenter you want to connect with? Be sure to attend their live chat designated time and engage them in the group chat.